London Attack: ISIS Claims Responsibility; Attackers Had Twice Been Referred to Police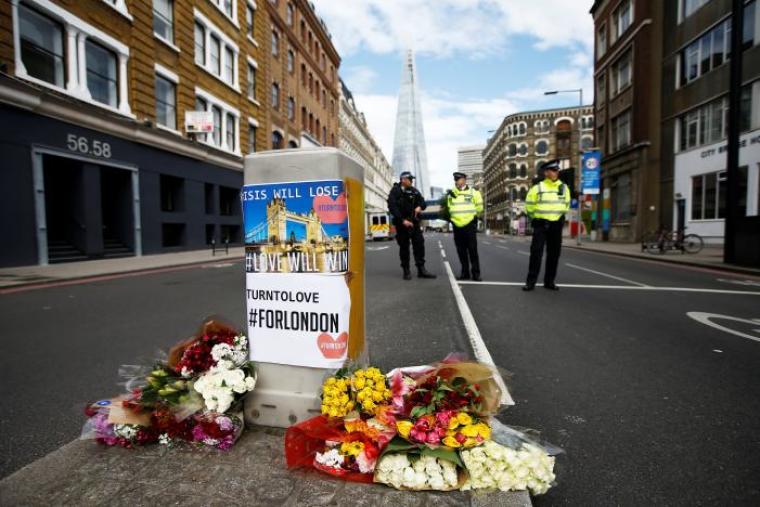 The Islamic State terror group has claimed responsibility for the London attack, and a former friend of one of the three terrorists who were killed says he referred the man to anti-terror police ­after learning about his radicalization through videos of a controversial American preacher. Police say they will release the names of the three men "as soon as operationally possible."
A statement published on Islamic State's "news agency" Amaq says a "detachment" of its fighters had carried out the attack, in which seven people were killed and at least 48 were wounded, according to Independent.
The statement quotes "sources," a phrase often used for attacks that are inspired, and not directly commissioned, by Islamic State, which is also known as IS, ISIS, ISIL or Daesh.
Two days before the three men hit pedestrians with their vehicle and knives on London Bridge on Saturday night, ISIS weekly newspaper al-Naba spoke about the recent attack in Manchester and another "inevitable" terror assault in Britain, according to PJ Media.
An article, titled "Blessed Battle of Manchester: A new lesson for tyrants, Crusader States," said Britain thought it "was safe from the wounds of the Mujahideen… Protected by the sea they have long relied on isolating themselves" and that "their exit from the European Union would save them." The article continued, "A soldier from the Islamic State" in Manchester "has unleashed terror throughout their country, they rushed to spread the army in the cities, mobilizing police and security in the streets for fear of a new attack," which "is inevitable, God willing."
Meanwhile, a former friend of one of the three terrorists claimed he had been radicalized while watching YouTube videos of the controversial U.S. hate preacher Ahmad Musa Jibril, and said he contacted the British authorities ­after becoming concerned over his friend's extremist views, according to The Telegraph, which said a neighbor also claimed she had contacted police in east London after the suspect tried to convert her children to Islam and radicalize them.
"We spoke about a particular attack that happened and like most radicals he had a justification for anything and everything and that day I realized I needed to contact the authorities," the former friend was quoted as saying. "He used to listen to a lot of Musa Jibril. I have heard some of this stuff and it's very radical. I am surprised this stuff is still on YouTube and is easily accessible. I phoned the anti-terror hotline. I spoke to the gentleman. I told him about our conversation and why I think he was radicalized."
After the attack, British Prime Minister Theresa May called for regulation of online content via international agreements.
The world needs new rules for cyberspace to "deprive the extremists of their safe spaces online," she said, according to Independent. "We cannot allow this ideology the safe space it needs to breed – yet that is precisely what the internet, and the big companies that provide internet-based services provide. We need to work with allied democratic governments to reach international agreements to regulate cyberspace to prevent the spread of extremist and terrorism planning."
She also said "things need to change" to counter the terrorist threat. "While we have made significant progress in recent years, there is — to be frank — far too much tolerance of extremism in our country. So we need to become far more robust in identifying it and stamping it out across the public sector and across society. That will require some difficult, and often embarrassing, conversations. But the whole of our country needs to come together to take on this extremism, and we need to live our lives not in a series of separated, segregated communities, but as one truly United Kingdom."
Similarly, U.S. President Donald Trump urged on Sunday the international community to stop being "politically correct."
"We must stop being politically correct and get down to the business of security for our people," Trump wrote on Twitter. "If we don't get smart it will only get worse."
He continued, "At least 7 dead and 48 wounded in terror attack and Mayor of London says there is 'no reason to be alarmed!'"
Last month, British intelligence officers said the U.K. is home to 23,000 jihadist extremists who are potential attackers.
Officials had earlier said that about 3,000 people in the country were known by them for posing a threat and who were under investigation, but there are 20,000 others who have featured in previous inquiries and are categorized as posing a "residual risk," Sunday Times quoted Whitehall sources as saying at the time.