Louie Giglio's Anti-Slavery 'End It' Movement in Social Media Blackout
Pastor Louie Giglio and supporters of the global "End It" anti-slavery campaign are participating in a day-long social media blackout today in order to raise awareness for the 27 million people living as slaves.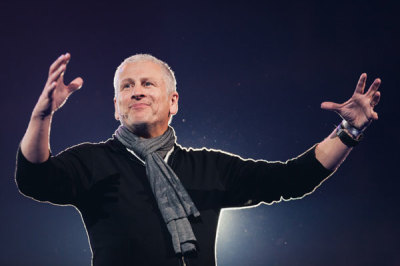 Giglio, who preaches at Passion City Church in Roswell, Ga., recently held his popular Passion 2013 conference, which attracted an attendance of 60,000 young Christians at the Georgia Dome. Over $3 million was raised to help deliver the 27 million men, women, and children around the world who are currently enslaved out of bondage.
For the entire day on Wednesday, Giglio and all those who have pledged their voices to fight slavery have gone quiet on social media websites and blacked out their profiles, posting simply a link to an inspirational video that highlights the mass-scale problem currently afflicting humanity.
"Today, we've disappeared," the organization, founded by Giglio, says over a black screen on their website. "In brothels. In factories. In quarries. Working as slaves. In 161 countries. Including our own. Today, we join them and quiet our voices on social media and our website. Tomorrow, we'll be back to shine a light in the darkness. To end it."
Giglio is currently touring around the country with worship singers Chris Tomlin and Kari Jobe in the Burning Lights Tour, which last week delivered a sold-out Madison Square Garden show in New York. Tomlin's CD debuted at No. 1 on the Billboard 200 list in January, only the fourth time in history that a Christian music album has entered the chart at that position.
In an interview with CNN in January, Giglio reflected that Jesus Christ was the "the ultimate abolitionist, the original abolitionist," which is what brings hope to the world in the fight against global slavery.
The Passion 2013 conference heavily promoted the "End It" movement, and inspired students to raise money and join the campaign.
"In that cause, they wanted to lift their voices for those who have no voice. Not only did [the students] raise money … they want to bring awareness to the nation for people who have no clue that this is going on," Giglio explained.
"It's not any one person or organization that's going to solve this. It's every one of us, doing what we can, at the level of influence we have, to not only shine a light on slavery, but to end it," Giglio added.
The Georgia pastor has met with and worked with President Barack Obama over the End It campaign. He was initially invited to deliver the benediction at the second inauguration ceremony on Jan. 21, but later declined after a number of left-wing websites unearthed a controversial sermon concerning homosexuality he preached nearly 20 years ago.
Giglio explained that the focus of his ministry was to talk about the power of God's goodness, grace and love, and how it can move and inspire the world.
"Indifference is not an option," the End It Movement video states, encouraging everyone to join in the important cause.