Louisiana City Votes to Add 'In God We Trust' Stickers to Police Vehicles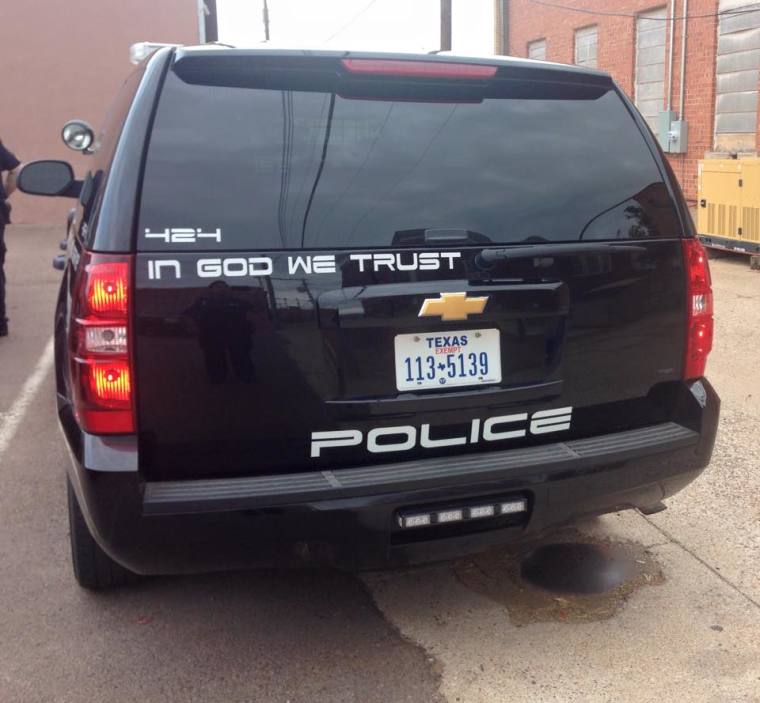 The city council in Lake Charles, Louisiana, has made the unanimous decision to have "In God We Trust" decals placed on 200 vehicles, including police patrol cars, fire trucks, and public works vehicles.
City Councilman Rodney Geye, who sponsored the measure to have the decals placed on city vehicles, told local station KPLC-TV that he believes the stickers will help civilians have trust in local law enforcement.
"I think when the citizens of Lake Charles see such stickers displayed on our vehicles they have a feeling of trust in their elected officials," Geyen told the local media outlet.
The city council voted in November to allow the God-themed stickers to be placed on community vehicles.
Several other cities in Louisiana, including the cities of Sulphur and Vinton, have already implemented the campaign to put the stickers on city-owned vehicles.
Other cities throughout the U.S. have also started to use "In God We Trust" stickers on vehicles, but not without criticism from some local citizens who argue the decals are a violation of the separation of church and state.
The city of Childress, Texas, announced earlier in 2015 that it would be placing the stickers on its police squad cars, with Police Chief Adrian Garcia telling the Red River Sun newspaper in September 2015 that he chose to allow the stickers following ongoing tension between civilians and police in the U.S.
"I think with all the assaults happening on officers across the country ... it's time we get back to where we once were," Garcia told the local media outlet.
Childress' decision to use the stickers also garnered attention from the nation's largest atheist organization, the Freedom From Religion Foundation, which wrote a letter to the city and to Garcia encouraging them to remove the stickers.
Despite complaints from the atheist group, Texas Attorney General Ken Paxton issued an opinion determining that the decals were not a violation of the First Amendment.
"Displaying 'In God We Trust' on police vehicles is a passive use of a motto steeped in our nation's history that does not coerce citizen approval or participation," Paxton wrote in his opinion, issued in November 2015.
"A law enforcement department's decision to display the national motto on its vehicles is consistent with that history. Thus, a court is likely to conclude that a law enforcement department's display of 'In God We Trust' on its patrol vehicles is permissible under the Establishment Clause of the U.S. Constitution," Paxton added.