'Lynchburg Revival' Takes Stand Against 'Toxic' Evangelicalism, 'America First' Christianity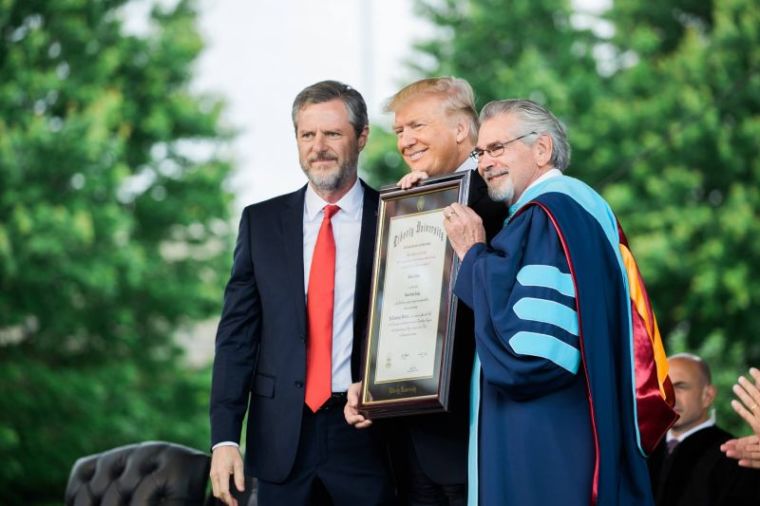 Shane Claiborne and a cadre of progressive Christians are spearheading a "revival" this weekend at an event to draw a contrast to the "America First" Christianity they say Liberty University President Jerry Falwell Jr. and pro-Trump Christians promote.
What is being called "Red Letter Revival: A Revival of Jesus & Justice" is being held at the EC Glass Civic Auditorium in Lynchburg, Virginia, and features speakers and musicians that include well-known progressive faith leaders like the Rev. William J. Barber, Tony Campolo, and Lisa Sharon Harper, among several others.
The Red-Letter Revival in Lynchburg has been months in the making and was planned in part to be a witness against what they see as the corruption of Christian faith by conservative evangelical Christians, particularly their willingness to embrace President Donald Trump and his policies.
"We are not coming to condemn Falwell Jr., but to counter the doctrine of 'America First,' with the Christian message — that we cannot put allegiance to a nation-state ahead of our allegiance to the Kingdom of God as taught by Christ, in which the last are first," wrote Jonathan Martin, one of the organizers, in a Feb. 21 editorial.
"We are not looking to demonize anyone, but rather to proclaim the One at whose name demons tremble. We are believing God for the Lynchburg Revival to be a powerful counter-witness to white Christian nationalism — marked by fasting, repentance, prayer, preaching, worship, and foot-washing."
He went on to explain that Lynchburg has "symbolic power," given that it's the city from which Falwell Jr. has promoted "President Trump's brand of Christian nationalism," yet "we believe it can be known as ground zero for a mighty move of God."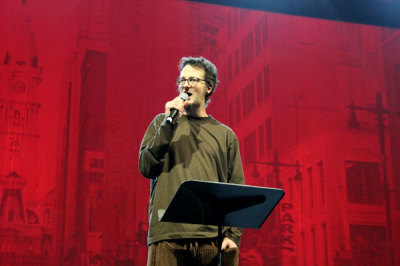 Claiborne said on his social media pages Thursday that two weeks ago he sent Falwell "a sincere request to pray" together during the revival event, asking for his permission for participants to visit campus and pray with students, faculty and alumni.
He received a response Thursday.
In a letter dated April 4, which Claiborne shared on Twitter, Liberty University Police Department informed Claiborne that he was restricted from being on both the LU campus and the Thomas Road Baptist Church premises. Should he choose to trespass he would be arrested and face potentially jail time and a $2,500 fine.
Yet even some of those sympathetic to the spirit of the Lynchburg event recognized something seemed disingenuous.
Writing on his blog Thursday, Messiah College history professor John Fea noted that while he admires Claiborne's work and is not a fan of either Liberty or Falwell — he regards him as Trump's "rabid court evangelical" — the Lynchburg Revival is without question a "direct attack on Falwell Jr. and his university."
"How does Claiborne expect Falwell to respond in light of some of Claiborne's recent tweets?" Fea asked, citing a Wednesday Twitter post from Claiborne that included an April 3 Associated Press news story headline that read "Virginia Revival to Protest 'Toxic' Christianity."
"I have strongly criticized Falwell's comments about Trump," Fea reiterated, adding, "but if Falwell Jr. prays with Claiborne, it looks like he (Falwell) is admitting that he is wrong about Trump and that the Christianity he promotes at Liberty is indeed 'toxic.' If Falwell Jr. doesn't pray with Claiborne, he looks like a jerk."
"The fact that Claiborne shared these letters via Twitter makes it look like there is more going on here than just a request for prayer. Did Claiborne really believe Falwell Jr. would take him up on this offer?"
Likewise, Karen Swallow Prior, a Liberty University English professor, also took issue with Claiborne's approach.
"A personal invitation isn't personal when it's posted all over Twitter, is it?" she asked him on Twitter.
He replied: "I sent the personal email two weeks ago. And I called and wrote him a month ago. Banning prayer on the biggest Christian university in the country deserves a public response. We even wanted to do a communion service."
Swallow Prior said: "Shane, prayer hasn't been banned here. I love you, brother, I do. But you are becoming the thing you say you are against."