Trump Shouldn't Apologize if Stormy Daniels Affair True, Jerry Falwell Jr. Says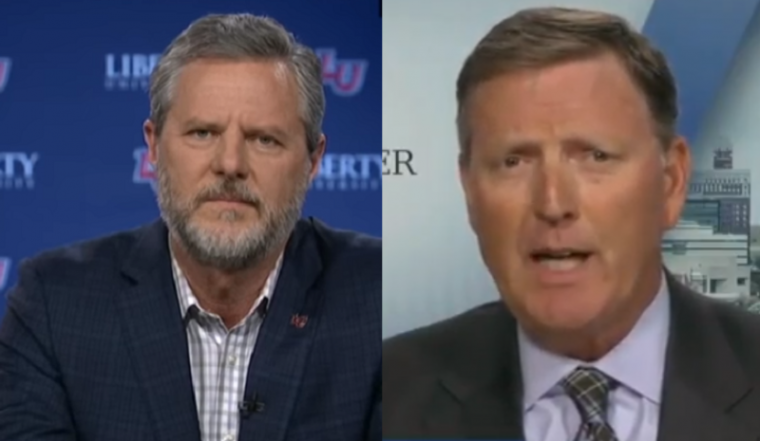 Liberty University President Jerry Falwell Jr. and Bob Vander Plaats, president and CEO of The Family Leader, are at odds over whether President Donald Trump should apologize if his alleged affairs with adult movie star Stormy Daniels and other women are true.
"I don't think he needs to come forward. I think everyone knows his past," Falwell told CNN's Erin Burnett last Wednesday. "I'm one of the 85 percent of evangelicals who supported him. We knew about his past as a real estate mogul, as sort of a playboy, as the owner of a beauty pageant, and we supported him for one reason: because of his position on the issues."
He added: "When you choose a doctor or lawyer, or when you decide which movie to watch, you don't check the doctor or the lawyer's past to see if they've had an extramarital affair. I enjoy movies, whether the actors and actresses have behaved their whole lives or not. Same thing with musicians. It's just that we are all sinners. Nobody understands that better than evangelicals."
Falwell also pointed out that he believes that President Trump is now a changed man and doubts there will be any issue with infidelity in the White House.
"I think he's had a change of heart," Falwell said. "I don't think there's any chance of anything like this happening in the White House like Bill Clinton was accused of or John Kennedy was accused of ... I think just like with Bill Clinton, many of his supporters stuck with him no matter what he was accused of, even rape I believe he was accused of."
Speaking on MSNBC on March 23 however, Bob Vander Plaats, a prominent evangelical who serves as president and CEO of The Family Leader, said, if the allegations of infidelity against the president are true, he must come clean publicly.
"I believe that if these affairs are true, I believe he should own it, he should confess it. He should say 'I'm sorry.' He should reach out to Melania and his family. He should also reach out to the country and say he's sorry," Plaats said.
Falwell disagreed with Plaats' position, telling Burnett: "I know Bob well and I respect his opinion. Not all evangelicals agree. Evangelicals are diverse in their opinions and I respect his opinion. I just don't happen to agree with it and I believe what Jesus said. Let he who is without sin cast the first stone."
In an op-ed for CNN last Thursday, Plaats warned that it is dangerous to look at forgiveness and faith through the lens of politics.
"In the past week, both Erin Burnett of CNN and Katy Tur of MSNBC have engaged in a national conversation about evangelicals and forgiving a most controversial subject: Donald Trump.
"I want us to look higher than headlines — to look through God's eyes, rather than our own. For God doesn't look at us like we look at each other, doesn't judge as we judge, and isn't swayed by politics. The Bible insists that God holds us all to the same standard: his own perfection," Plaats said.
"We must remember that God is no 'respecter of persons.' In other words, he holds everyone to the same perfect standard, whether peasant or president or pastor. And he stands ready to forgive all who would repent and believe," he continued.
He noted that in order to demonstrate that you believe in Christ, believers also have to be Christlike.
"Those who believe, however, are also called to be obedient. To follow the God they believe in. And no occupation is excused from this obedience. When we come to have faith in Christ, it necessarily impacts everything we do. We are not only called to believe in Christ; we are called to be like Christ," he said.