Man Arrested After Shooting Pastor, Girlfriend and Infant Son at Alabama Church; 'Heroic' Congregation Fights Back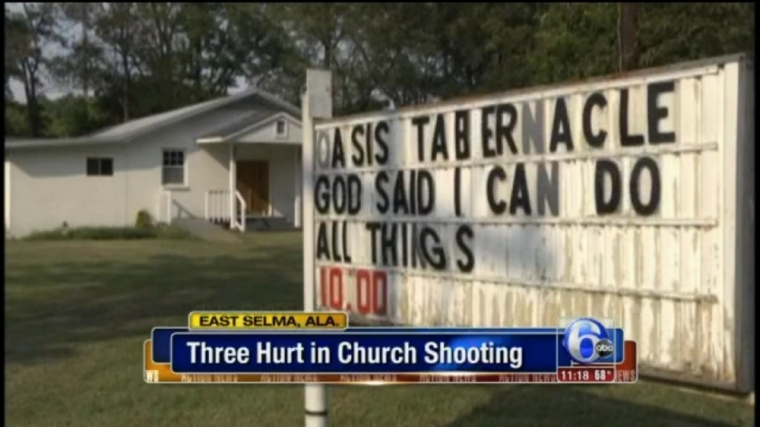 A 26-year-old man has been arrested in Selma, Alabama, after shooting a pastor, his girlfriend, and his infant son during a Sunday morning church service. Members of the congregation at Oasis Tabernacle Church have been praised as heroes for wrestling the gun away from the attacker and preventing him from shooting others.
The Associated Press reported that the pastor was taken to a local emergency room for treatment, while the woman and her baby were sent to a hospital in Birmingham.
The suspect, James Junior Minter, reportedly walked in and sat in the front row during the church service on Sunday morning, when he pulled out a gun and shot his 24-year-old girlfriend in the jaw and shoulder. His 1-month-old son was shot in the hand, while 61-year-old Pastor Earl Carswell was shot in the leg after he grabbed the attacker.
Other members of the congregation then stepped up and wrestled the gun away from Minter, who ran away from the church but was arrested by police less than a mile away.
"The mother is in critical condition. She and the baby were sent to Birmingham for medical treatment. The pastor is at a local hospital in Selma," Dallas County District Attorney Michael Jackson told CNN.
Police said that a possible motive for the shooting could have been a dispute over child visitation rights, and noted that there is ongoing domestic violence between Minter and his girlfriend.
Jackson said that "a whole lot more people could have been shot" had the congregation members not wrestled the gun away.
Former Selma Mayor and Ebenezer Missionary Baptist Church minister James Perkins asked for prayers for the victims.
"It's hard to comprehend it, it's hard to understand it, but a lot of people are struggling. A lot of people are stressed," Perkins said. "We walk by faith, not by sight. We still have to believe that there's goodness in most people."
There have been a number of church shootings in America in recent months, with a deadly incident back in June in Charleston, South Carolina, leaving nine people dead.
The suspect, 21-year-old Dylann Roof, a white man, later admitted there were racial motives behind the shooting at Emanuel African Methodist Episcopal Church, a historic black church that had welcomed Roof in to pray with the congregation.