Man arrested for throwing smoke bombs at New Jersey church's anti-racism event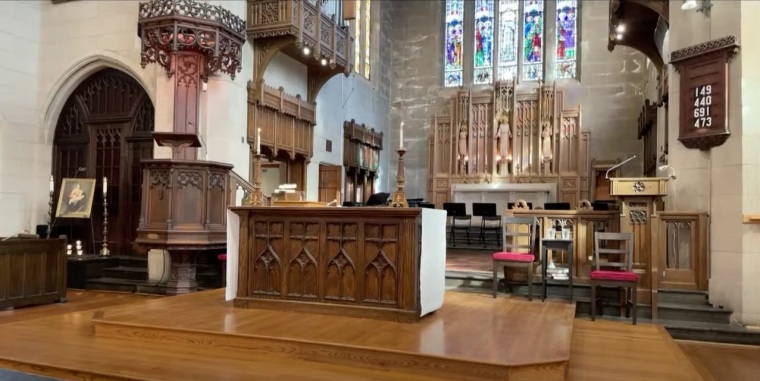 A man was arrested for allegedly throwing smoke bombs into a crowd and attempting to pepper spray church attendees during an anti-racism event. 
Trinity Episcopal Parish of Asbury Park hosted an anti-racism concert in January that was disrupted when an individual attacked attendees and vandalized the church's property.
Nicholas G. Mucci, a 28-year-old resident of Toms River, was arrested Saturday and charged with aggravated assault, arson, causing or risking widespread injury or damage, possession of a weapon for unlawful purposes, terroristic threats and possession of a destructive device.
New Jersey Attorney General Matthew J. Platkin said in a press statement Monday that his state "is, and always will be, a state that values the rich diversity of all cultures, religions, and ideals."
"This attack targeted people exercising their freedom of expression as they left a house of worship," stated Platkin. "Our perseverance in investigating and bringing to justice the person responsible for this attack demonstrates our commitment to protecting the rights of all New Jerseyans to live free from the threat of violence and fear."
Laurie Doran, director of the New Jersey Office of Homeland Security and Preparedness, was quoted in the press release as saying that the "investigation was a great example of outstanding teamwork and collaboration among all levels of government."
"I am proud of the men and women of NJOHSP and all of our partner agencies who protected the residents of New Jersey by successfully mitigating this serious threat," Doran stated.
On Jan. 27, Trinity Episcopal held a concert organized by a social justice advocacy group known as the One People's Project and was centered on anti-racist activism.
As the concert was ending, an individual wearing a mask threw smoke bombs at the crowd, shouted "White lives matter too," and drove off before returning later on and trying to pepper spray some concert attendees who were still at the church.
Additionally, according to a statement released by the church and the Episcopal Diocese of New Jersey on Jan. 30, an unknown party damaged an LGBT pride flag next to the church's sign. The flag had been vandalized a couple of times before.
The Rev. Chase Danford, rector at Trinity Episcopal, was quoted in the church statement as saying that he was thankful that no one was harmed in the concert attacks.
"We are incredibly grateful for the support we have received from the Asbury Park Police Department, the Monmouth County Prosecutor's Office, state Senator Vin Gopal, and Governor Phil Murphy," Danford said at the time.