Man Who Shot Pope John Paul II in 1981 Brings White Roses to Late Pontiff's Tomb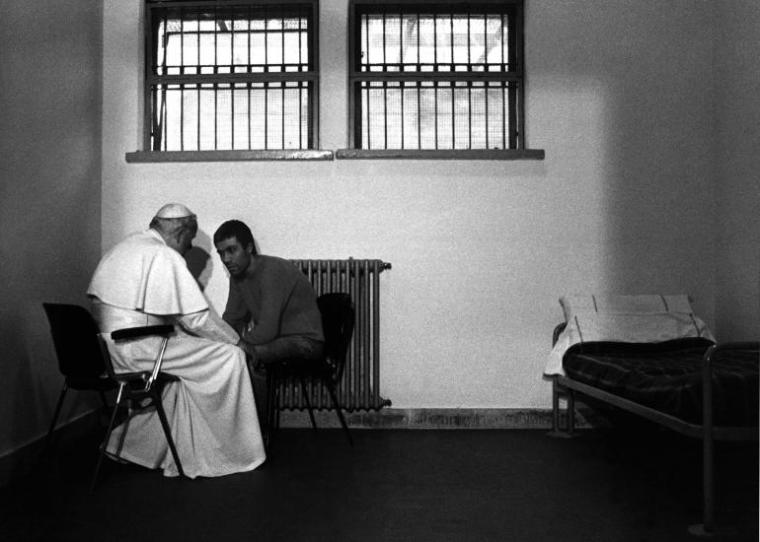 The man who attempted to assassinate former Pope John Paul II in 1981 visited the late pontiff's grave at the Vatican on Saturday, placed flowers on his tomb and also requested to meet with Pope Francis, Italian media outlets have reported.
Mehmet Ali Agca, now 56 years old, made an attempt ot the pope's life on May 13, 1981, by shooting the pope twice at close range while the pontiff was traveling in an open vehicle through St. Peter's Square in the Vatican City. Although the attack did not kill John Paul II, it left the pope critically wounded with one bullet going through his abdomen and another that just barely missed his heart.
Agca, who is originally from Turkey and was a member of the far-right neo-fascist group Grey Wolves, was initially given a life sentence for the assassination attempt. However, Agca only served 19 years in Italian prison before he was pardoned by Italian President Carlo Azeglio Ciampi in 2000.
After Agca was released from Italian jail, Agca was deported back to Turkey where he was given another life sentence for the 1979 murder of a newspaper editor, but the sentence was reduced to just 10 years in a Turkish prison.
While Agca was still in jail in Italy in 1983, the pope visited Agca to let him know that he was forgiven for the shooting. The pope had also visited with Agca's mother and brother.
On Saturday, Agca called an Italian newspaper, La Repubblica, to announce that he arrived at the Vatican for the first time since he shot John Paul II over 33 years ago, Reuters reports. Exactly 31 years to the day that the pontiff visited Agca in the Roman prison, Agca laid down two bouquets of white roses on John Paul II's tomb and asked to meet with the current pontiff, Pope Francis.
Agca's visit to the Vatican was confirmed to Reuters by the Vatican's deputy spokesman, Father Ciro Benedittini.
Agca told the Italian news source ANSA earlier in December that he wanted to visit the tomb because he was not able make it to his funeral in 2005 to pay his final respects since he was still imprisoned at the time.
"I would like to go to the tomb of John Paul II, who visited me in prison," Agca said. "I couldn't go to his funeral, so I would like to pay my respects to a spiritual brother."
Although Agca wanted to have a face-to-face meeting with Pope Francis, the Vatican rejected his request. When Pope Francis visited Turkey last month, Agca also made a request to visit with the pope but his request was denied then as well.
"He has put flowers on the tomb of John Paul II. It think that is enough," Vatican spokesman Federico Lombardi told La Repubblica.
Agca said that he accessed Italy after traveling, with the "help of a few friends," through Greece and Austria. After visiting the Vatican and laying down the flowers, Agca was detained by Italian police.
On Monday, Italian judicial officials ordered Agca to be "expelled" from Italy because he had accessed the country without a visa. Agca is scheduled to be deported back to Istanbul via a Turkish airlines flight on Monday night, police officials told ANSA.
Agca is not the only one to make an attempt on Pope John Paul II's life. In 1982, a Spanish priest tried to stab the pontiff with a bayonet. Although the Pope was injured in the attempt, he escaped with non-life threatening wounds. Additionally in 1995, an Al-Qaeda assassination plot against the pope was spoiled.
Pope Saint John Paul II was canonized in April 2014.