Manhattan's Calvary Baptist Church to Host Conference on Church Education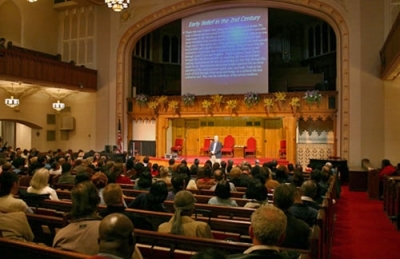 In a bid to capitalize on the resources of churches to help close the stark achievement gap in education among urban learners, Calvary Baptist Church in New York City will host a conference focused on renewing the church through literacy and leadership on Thursday.
The full day conference, billed "Educate: Empower," will feature Bible-based workshops on topics such as leadership and training for ministry, responding to the need for Bible knowledge, professing Christ through your profession and empowering the body of Christ through churches and ministries as well as individuals and families.
Leadership for the workshops will be provided by the New York School of the Bible, New York Divinity School, Literacy3, The Urban Ministry Institute, Child Evangelism Fellowship, Prison Fellowship, Children's Bible Fellowship, Gang Bureau of the Brooklyn DA and New York State Chaplains Task Force.
Featured speakers will include Don Davis, president of The Urban Ministry Institute; Lt. Col. Anthony Johnson, professor at West Point; the Rev. Mike Velardo, dean at New York School of the Bible; and Paul de Vries, president of New York Divinity School.
In a CP column last Christmas, de Vries, who is also a pastor, highlighted the need for churches to become more engaged with the education of the communities they belong to.
"How can the church filled with powerful worship, prayer and preaching on Sundays not be open during the week specifically to train children, youth and adults to read and understand the very Word that empowers the church in the first place?" he asked.
"Especially liberating is education that honors God and empowers all people even to read and study the Bible, the handbook of liberation. As Frederick Douglass so profoundly observed, 'once you learn to read, you will be forever free,'" he explained.
"Improving our schools would be a nice step, but God's architecture of education is much greater. Homes and churches must be restored to their divine educational roles in training children, youth and adults – not only in reading, writing and arithmetic, but also in relationships, responsibility and religion, areas long neglected in our schools."
Interested parties can still register for the conference online at a cost of $40 per person. A party of three or more will cost $30 per person which will cover lunch, snacks and a resource packet.
Calvary Baptist Church is close to ten subway lines: A, B, C, D, E, F, N, Q, R and 1. Economical parking will also be available at a cost of $13 for the day with a church sticker.