Manny Pacquiao Invites Timothy Bradley to Bible Study After Final Fight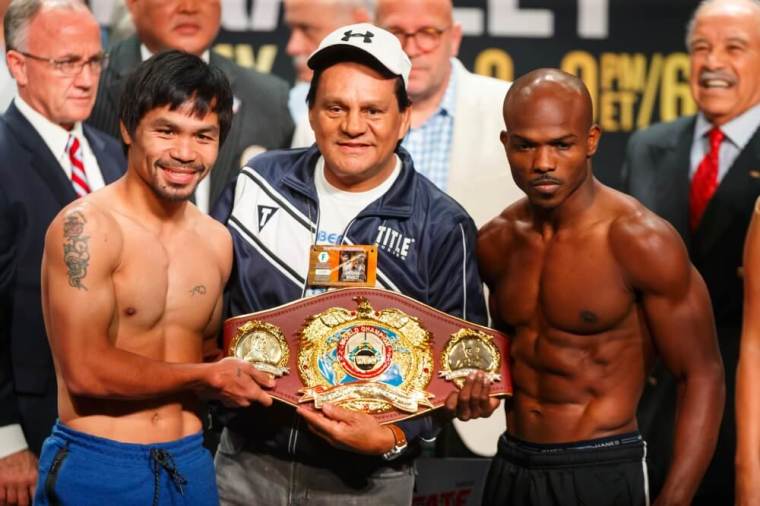 Professional Filipino boxer Manny Pacquiao invited Timothy Bradley to a Bible study immediately after they fought a 12-round bout in Las Vegas Saturday,
Following their bout, Pacquiao invited Bradley to the Sunday evening Bible study, which Bradley reportedly ended up not attending.
"Drowned out by the cheers at MGM Grand Arena, Pacquiao and Bradley chatted in the ring shortly after the Filipino boxing champion sent the fighter from California tumbling down for the unanimous victory," reported the Inquirer.
"'What time?' Bradley asked Pacquiao, the only part of the conversation heard over the mic as the crowd stayed up on its feet to give Pacquiao a fitting farewell."
Pacquiao's invitation came after he celebrated what he described as his final fight.
The retirement announcement corresponds with Pacquiao's decision to reenter Philippine politics, running for a seat in the legislature in May.
"Pacquiao, 37, has maintained throughout training camp that this would be the finale to his Hall of Fame career. He's seeking a senate seat in the Philippines next month, and said he wants to focus on serving the people of his native country," reported The Desert Sun.
"So, naturally, the first question Pacquiao fielded after Saturday's fight was whether this really was the end, or if his performance was strong enough to make him reconsider walking away?"
The Desert Sun further reported that during the post-fight press conference Pacquiao was asked multiple times by the reporters present if he indeed was going to retire.
"One reporter suggested that if Pacquiao wanted to serve the people of the Philippines, the best way would be to continue fighting and make money to donate," the Sun continued.
"Later in the post-fight news conference, perhaps looking for another way to ask the same question, a reporter asked Pacquiao if he can definitively say that he'll never fight again. Only then did Pacquiao offer a glimmer of hope that fans might see him in the ring one more time."