Manny Pacquiao Talks Daily Routine for Bible Knowledge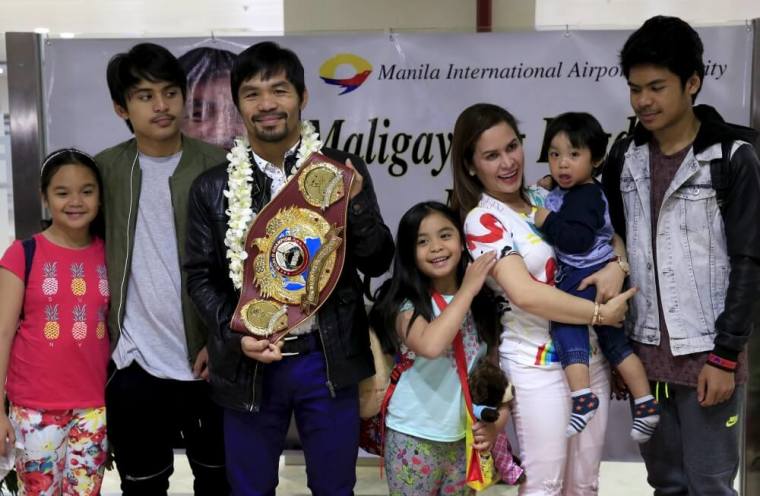 Manny Pacquiao publicly speaks about his Christian faith often. Now, the Filipino senator is revealing where his knowledge of God comes from.
"Our devotion everyday and night is reading the Scriptures and [meditating] on it," the Filipino boxer turned senator wrote on Instagram. "I learn a lot about the knowledge of the secret of the Kingdom of God. Thank you Lord Jesus."
While Pacquiao has spoken about his devout Christian faith for some time, a trip to Israel last November strengthened that faith. In his fourth visit to the country, Pacquiao sat in an area that had once been frequented by Jesus.
He revealed the impact that the experience had on his faith.
"Sitting in the place where Jesus taught the people everyday. Reminding me that we must be faithful and obedient to Him and enable us to be save," Pacquiao wrote on Instagram last year.
"We must follow Him that's how we can really say we believe God. John 8:47 [47] Whoever belongs to God hears what God says. The reason you do not hear is that you do not belong to God."
As one of the top ranked pugilists in professional boxing, Pacquiao's faith carried over into his career. Before his big fights, Pacquiao revealed he had prophetic dreams about his opponents.
Before beating Timothy Bradley in what he called his last fight in April, Pacquiao told the Las Vegas Review-Journal that he dreamed about the outcome. Although he did not share his exact dream, Pacquiao said "I had a dream about this fight. What I dreamed before, I dream now."
The Christian fighter and politician went on to reveal some of the previous dreams he had concerning his big fights. In his 2015 fight against Floyd Mayweather, Pacquiao dreamed that there would be a controversial loss which took place in reality.
"In my dream, I saw there was a problem. In the morning, I told my company, my friends and my pastor," he said. "This is one month before the fight. In my dream, I had lost the fight and there was a controversy."
The fighter previously spoke to The Christian Post about the importance of Christian athletes using their platforms to share their faith.
"I think every Christian athlete should be open about their relationship with the Lord, as well as every believer. That is what the Bible commands," Pacquiao told CP. "When I am vocal to others about my faith and my hope of eternal life, it helps those fans of mine and those who watch me to know they can also have a hope."