Manny Pacquiao vs. Timothy Bradley Live Stream Watch Online: Pac-Man Delays to Catch Celtics Heat Game
Manny Pacquiao will defend his title against the undefeated Timothy Bradley Saturday night in what many fans are anticipating to be a tough contest for the man known as the best pound for pound boxer in the world. The eagerly awaited fight can be viewed on HBO Pay Per View TV or by live stream (details below).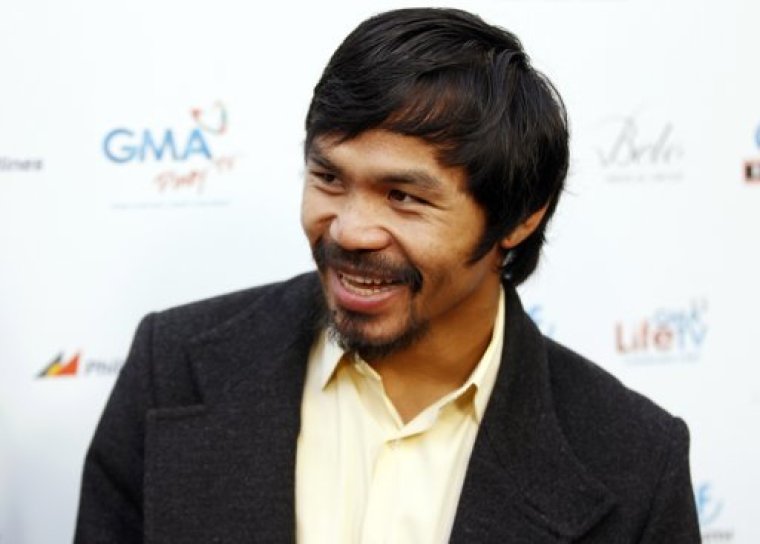 Despite the big fight, Pac-Man is also a Boston Celtics fan, and has asked his promoters to ensure that his bout will not begin until the Celtics' game against the Miami Heat ends so that he can catch the NBA action.
The extraordinary request may cause many to believe that Pacquiao will not get the best pre-fight preparation for his fight, but the Pac-Man is a huge Celtics fan. It has been reported that he wanted to ensure the final buzzer sounds on the Celtics' Game 7 Eastern Conference finals contest before he has to take to the ring.
According to A. Sherrod Blakely of CSNNE.com fight promoter Bob Arum has ensured the undercard fights for the Pacquiao bout do not commence until 9 p.m. The Celtics vs. Heats NBA game tips off at 8.30 p.m. and the Pac-Man should therefore have plenty of time to watch some of the game, find out the result, before fixing his mind on defending his WBO welterweight title.
Arum has reported, "Now Manny, the Heat, the Celtics and sports fans watching the basketball game won't have to make a choice between events. They will be able to watch both."
Celtics coach Doc Rivers upon hearing of Pacquiao's request said, "Pretty cool…That's cool."
There are three scheduled fights on the undercard at the MGM Grand in Las Vegas for Pacquiao fight; Guillermo Rigondeaux vs. Teon Kennedy; Mike Jones vs. Randall Bailey; Jorge Arce vs. Jesus Rojas.
Bradley is the undefeated challenger trying to take Pacquiao's title. However, many critics have questioned his power prior to the fight; he has only knocked out 12 of his 28 previous opponents.
However, he is well-known to be hard to hit, and he will not be an easy target for Pac-Man. Most commentators are suggesting Bradley will try to box a full 12 rounds and take the fight on points. To do that his strategy would have to be spot on and be executed to perfection.
Bradley commented before the fight, "There is no secret to this, order to beat the champion you've got to take it to the champion. We are setting out to win this fight and not sit around and look pretty. I don't care what (Pacquiao trainer Freddie) Roach says or what Pacquiao says, I am ready to go."
Pac-Man is the stronger of the two fighters, and it is his style to go for the knock out blow within the 12 rounds. He also comes into the fight with something to prove following his last bout with Juan Manuel Marquez, which he controversially won on points, with many critics feeling Marquez may have edged the contest.
Pac-Man has told the Washington Post, "I want to prove that I'm still young, and I can still fight."
Pacquiao is the first eight-division world champion; having won six world titles, as well as the first to win the lineal championship in four different weight classes. He is arguably the best pound for pound boxer in the world right now.
The coverage will begin at 9 p.m. ET and can be viewed on HBO Pay Per View TV or by live stream by visiting HERE.