Tens of Thousands Expected to March for Life Despite Threat of Winter Storm Jonas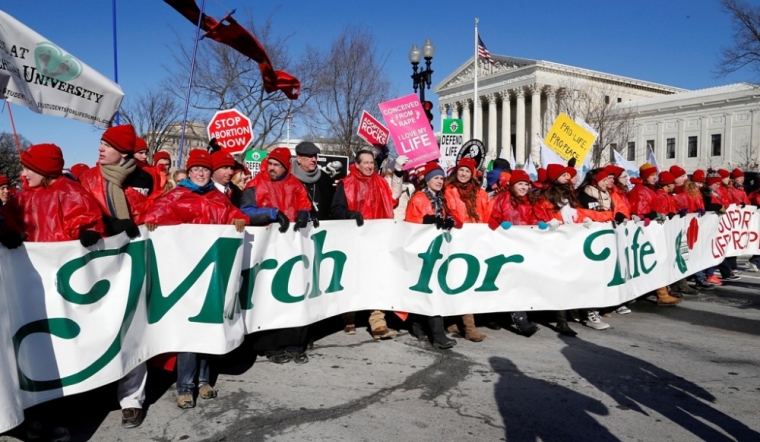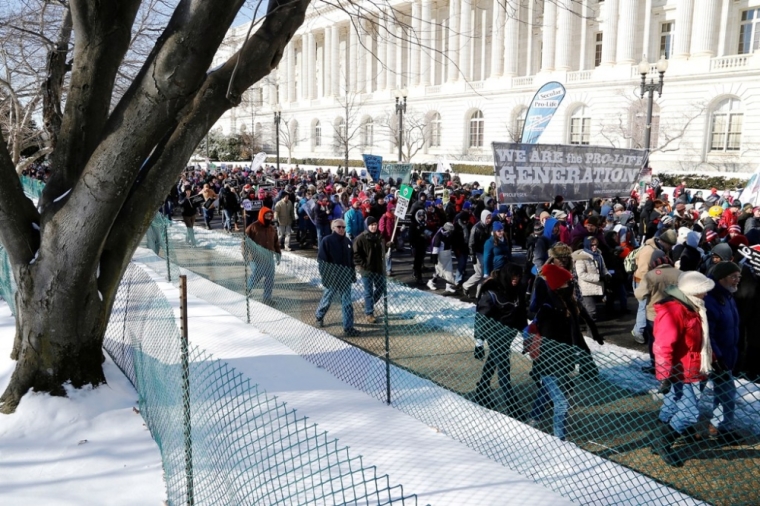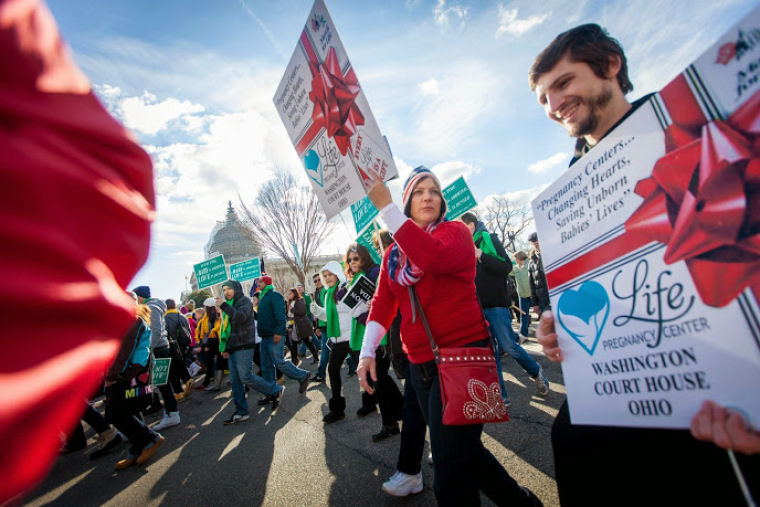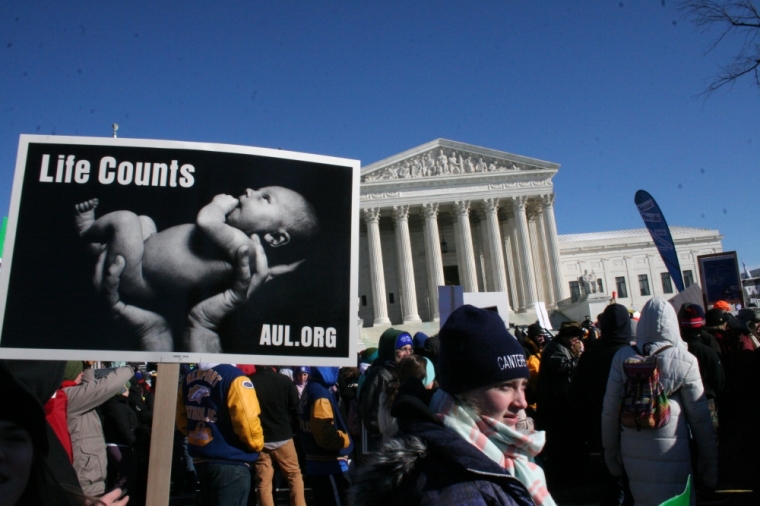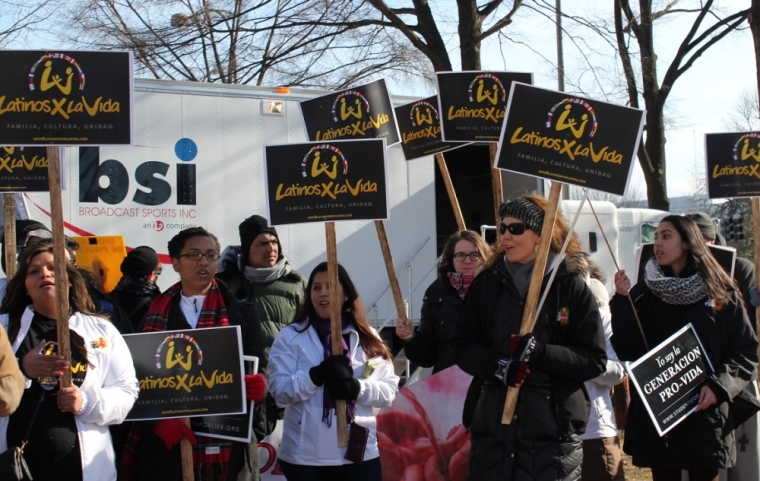 View Photos
Tens of thousands of pro-lifers from across the nation are expected to gather on the National Mall Friday to protest America's embrace of abortion during the annual March for Life rally, which this year holds the theme "pro-life and pro-women go hand in hand."
Although forecasts are calling for snow this upcoming weekend, activists are still planning to bear the frigid temperatures and march down Constitution Avenue in Washington D.C. on the 43rd anniversary of Roe v. Wade with the purpose of speaking in defense of the nearly 60 million babies that have been aborted since the Supreme Court legalized abortion in 1973.
The march is set to take place at 1 p.m. and will be preceded by musical acts and an hour-long rally near the Washington Monument that will feature a number of prominent Christian speakers such as Republican presidential candidate Carly Fiorina, Southern Baptist Convention ethicist Russell Moore, social conservative leader Jim Daly, and a number of other prominent pro-life activists and politicians.
Participants will march down Constitution Avenue until they arrive behind the U.S. Capitol building and in front of the U.S. Supreme Court building. At around 3 p.m., women who have had abortions will provide testimonies of how their abortions caused devastation and pain in their lives. At around 3:30 p.m., participants will have a chance to meet and present their concerns to members of Congress.
"There are so many confusing messages about women and what it means to be pro-life; especially this year, we are going to hear a lot in the media and different political messages as we are entering into this election cycle about what it means to be a woman and some of the 'war on women' rhetoric," March for Life President Jeanne Mancini told The Christian Post.
"We very much chose the theme with that in mind, wanting to tell the truth about the fact that pro-life is pro-woman and that we want to offer a beautiful and powerful alternative the old and soggy messages that we are hearing right now from abortion proponents about the false 'war on women.'"
Although the threat of a major East Coast snowstorm this weekend might prevent some pro-lifers from attending the rally, organizers believe that the snow will have only a small impact and believe the event will go on without a hitch.
"I joke with my kids that God wants to make sure that we are really committed to this issue because the whether is frequently so bad," Maureen Ferguson, senior policy adviser with the Catholic Association, told CP. "But people always show up in massive numbers in rain, snow or frigid temperatures. We are a hardy bunch and committed to the cause."
As Catholics have historically dominated attendance at past March for Life rallies, The Southern Baptist Ethics & Religious Liberty Commission and Focus on the Family will host a Evangelicals for Life conference in Washington that will take place the day before and the morning of the march in hopes of encouraging more Evangelical Protestants to join their Catholic brothers and sisters in participating in the March for Life.
"A number of years ago we began to do outreach to Evangelicals because they are so pro-life but they weren't really coming to March for Life very often," Mancini, who will speak at the Evangelicals for Life conference on Friday morning, said. "So, we have had a lot of collaboration and planning for this for a while. I am beyond delighted that Evangelicals for Life is kicking off this year."
As Fiorina, the former CEO of Hewlett Packard, is the only presidential candidate scheduled to speak at the rally, Mancini confirmed that although other presidential candidates are welcome to attend the rally, Fiorina was the only candidate invited to speak.
"Mrs. Fiorina was chosen not because she is running for president but because she has been so articulate and she embodies the theme so well," Mancini said. "Her voice on the public stage over the course of the last few years has been very powerful in terms of this messaging. We didn't invite her with her candidacy hat, so to speak. She is committed to not speaking on her campaign, she is speaking on the theme."
As many on the left advance the notion that pro-lifers are in the midst of a so-called war on women, Mancini said she believes that such rhetoric might have impacted the opinions of moderate individuals who don't consider themselves to be in the pro-choice or pro-life camp.
Ferguson stated that if abortion proponents really wanted to help women, they would advocate for programs that would help make it so that pregnant mothers wouldn't have to choose between raising a child or aborting the child in order to continue down a career path.
"The message is that women deserve better and that we should refuse to choose," Ferguson said. "The idea that abortion is good for women is just a lie. Women are left wounded both physically and emotionally through abortion and we should have better choices than being pressured into abortion when we find ourselves in a difficult situation."
Contact: <ahref="mailto:samuel.smith@christianpost.com">samuel.smith@christianpost.com,
@IamSamSmith
(Twitter)