'March for Marriage' Looks to Rally Support for Marriage Ahead of Supreme Court Arguments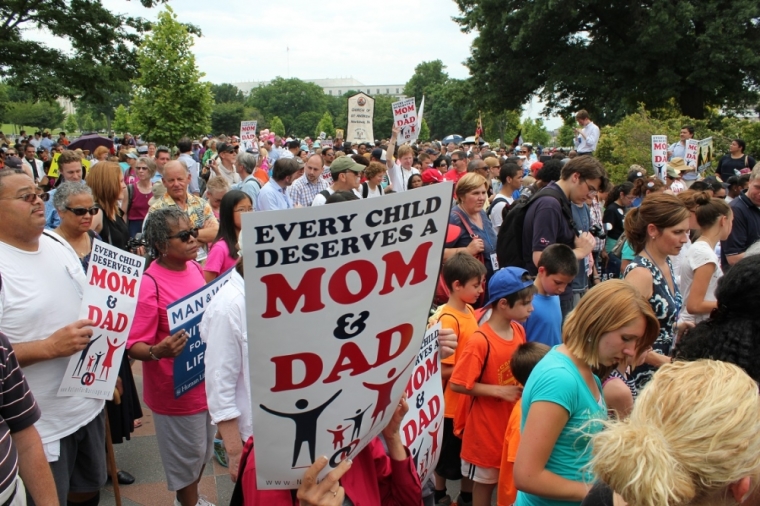 Supporters of traditional marriage will participate in the third annual "March for Marriage" on Saturday, three days before th U.S. Supreme Court hears oral arguments on gay marriage.
The Washington, D.C.-based National Organization for Marriage is organizing the event.
"The 2015 March for Marriage is our last, best opportunity to reach the U.S. Supreme Court before they decide whether marriage as it has existed throughout our history is unconstitutional," reads the event's website.
"Please join us on April 25 for this critical March for Marriage to tell the U.S. Supreme Court to reaffirm the legitimacy of state marriage laws."
Attendees will first gather at the National Mall on Saturday morning and then after hearing from assorted speakers will march towards the Supreme Court building off First Street Northeast.
From 1998 to 2012, voters in 30 states passed amendments to their state constitutions defining marriage as being between one man and one woman.
Since 2013, a wave of decisions from federal judges and appellate courts have declared these bans unconstitutional and in several instances the Supreme Court has declined to intervene.
After the Sixth Circuit Court of Appeals upheld four state constitutional marriage bans, the highest court in the nation agreed to decide the matter, scheduling oral arguments for April 28.
Scheduled speakers for this year's March for Marriage will include NOM President Brian Brown, New York State Senator Ruben Diaz, Coalition of African American Pastors President the Rev. Bill Owens, and Archbishop Carlo Maria Vigano of the Papal Nuncio.
The first March for Marriage was held in 2013 on the day that the Supreme Court heard arguments in the Windsor vs. United States case, which eventually struck down a crucial component of the federal Defense of Marriage Act.
March attendees were met with a roughly equal number of counter-protesters who supported striking down DOMA and California's Proposition 8.
In 2014, nearly a full year after the Supreme Court ruled 5-4 to strike down a crucial part of DOMA and to deny an appeal in the Prop 8 case, NOM organized its second annual March for Marriage.
By contrast to the first one, only a handful of counter-protesters demonstrated against the March, which included notable speakers like former U.S. Senator Rick Santorum and former Arkansas Governor Mike Huckabee.
"I think it's so important that people of faith, and frankly even people who believe that marriage is the foundation and cornerstone of society, are here," said Huckabee to The Christian Post at last year's rally.
"Not to express what we're against, because this isn't about being against something. This is about being for marriage. And that's why we're here."