Marco Rubio at CPAC: What It Means to Be a Conservative in 21st Century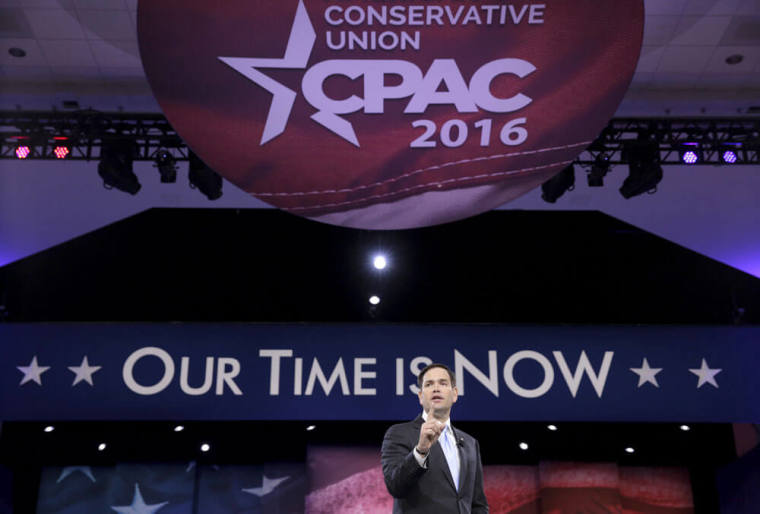 Speaking at a major gathering of conservatives in Maryland on Saturday, Sen. Marco Rubio of Florida said there's a growing amount of confusion about what conservatism is, and went on to explain what it is and what it is not.
"We must re-embrace the principles that made us the greatest nation to begin with," Rubio said at the Conservative Political Action Conference in National Harbor, Maryland, and asked, "What does it mean to be a conservative in the twenty-first century?"
"It is time for us to understand that conservatism is not built on personalities," the Republican presidential candidate said.
"Being a conservative cannot simply be about how long you're willing to scream, how angry you're willing to be or how many names you're willing to call people. That is not conservatism. Conservatism has never been about fear or about anger – not at it's best," he said, alluding to the GOP frontrunner Donald Trump.
"Do people have a right to be fearful of the future right now? Yes, because for over two decades, leaders in neither party solved the problems before us," Rubio continued. "Do people have a right to be angry about not just the political class but every institution in society? Absolutely, but neither anger nor fear will solve our problems. It can serve to motivate us, but it will not solve our problems."
He added: "What will solve our problems is a specific set of ideas built on bedrock principles that made America the greatest nation to begin with and applying those principles to the unique challenges of this new century."
Rubio said those principles aren't complicated. "It begins with the motion that this nation was founded on a powerful spiritual principle that our rights do not come from government. Our rights do not come from our laws. Our rights do not come from our leaders. Our rights come from God."
Rubio noted that CPACs are attended by a large number of youngsters. "These young Americans have the chance to fulfill an incredible potential and destiny, but we have to give them a chance, and they won't have a chance if a Hillary Clinton or Bernie Sanders is elected," he said. "And they won't have a chance if the conservative movement is hijacked by someone who is not a conservative."
About Trump, he said, "If you had told me a year ago that the front-runner at this stage in the Republican campaign would be a supporter of Planned Parenthood, who says he doesn't stand with Israel, who has a long record of supporting government-sponsored health care, I would say, on what planet would that be the Republican front-runner? But it's happened. And I think we have to ask ourselves why we allowed that to happen."
On Friday, Republican candidate Texas Sen. Ted Cruz told the gathering that we are only one U.S. Supreme Court justice away from having religious liberty abolished, as he sought to highlight the importance of having a conservative filling the Supreme Court seat vacated by the death of Justice Antonin Scalia.
"I give you my solemn commitment that every justice I put on the Supreme Court will be a principled constitutionalist, faithful to the law, who will vigorously protect the Bill of Rights," Cruz said.
Also at CPAC on Friday, conservative economist and CNBC senior contributor Larry Kudlow argued that much of the reduction of economic growth in America is being caused by an increase in poverty resulting from a reversal in the traditional child-rearing paradigm.