Marco Rubio on Attacking Donald Trump: 'I Don't Want to Do Anything Jesus Wouldn't Be Proud Of'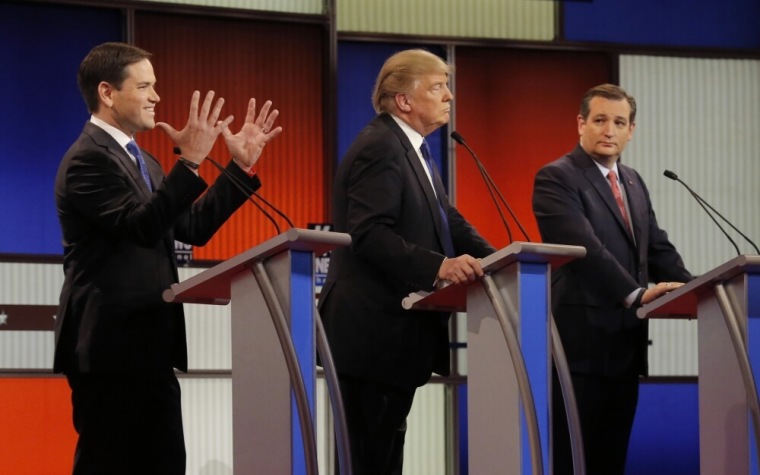 Presidential candidate Marco Rubio says he doesn't want to "do anything that Jesus wouldn't be proud of" when waging attacks against fellow politicians, including Donald Trump.
The Florida senator made his comments Thursday following the Republican debate in Michigan, telling Fox News' Bill O'Reilly that he would not attack Trump in a way that would be looked down upon by God or his children.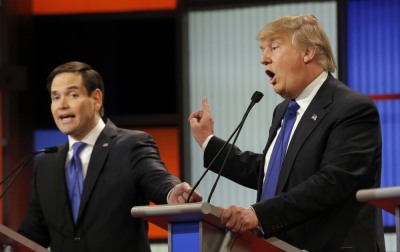 "If I don't do it, it'll be because I don't want to do anything, for example, that Jesus wouldn't be proud of, to be honest with you," Rubio said. "Or that my kids would look at and say, 'I don't want you to keep doing that.'"
The presidential candidate went on to say that if anyone deserves personal attacks, it's Trump.
"There comes a point where you have to stand up to someone and you have to be clear that if you want to make this about personal attacks, there's a long list of personal attacks that could be made about you," he said, adding "If anyone deserves to be hit with that, it's him. He's literally spent a year doing that."
Rubio followed up on his comments in an interview with CNN's "New Day" on Friday, calling Trump the "most vulgar person."
"Donald Trump has been perhaps the most vulgar — no I don't think perhaps — the most vulgar person to ever aspire to the presidency in terms of how he's carried out his candidacy," the Florida senator told host Alisyn Camerota.
Rubio and Trump have engaged each other in attacks in recent weeks. During Thursday night's debate, Rubio targeted the real estate mogul over his Trump University, which is facing a class action lawsuit after enrollees say they paid thousands of dollars in tuition to take non-accredited courses.
Rubio accused Trump of "trying to do with the American voter what he did to the people who signed up for this course — making promises he has no intention of keeping."
The exchanges between the two candidates got more heated earlier this week when, during a rally in Virginia, Rubio accused Trump of having "small hands."
"He's always calling me Little Marco. And I'll admit he's taller than me. He's like 6'2, which is why I don't understand why his hands are the size of someone who is 5'2," Rubio said over the weekend. "And you know what they say about men with small hands? You can't trust them."
Trump responded to the comment during Thursday's debate, saying "Look at those hands, are they small hands?" as he raised his hands to the audience. "And, he referred to my hands — 'if they're small, something else must be small.' I guarantee you there's no problem. I guarantee," Trump added.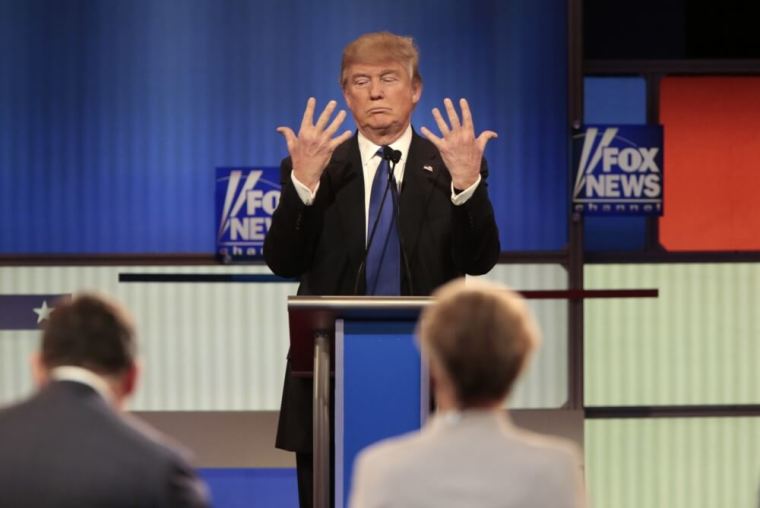 After the debate, CNN's Dana Bash questioned Trump about referencing the size of his penis during the debate.
"I can't believe I'm gonna ask you this question, but do you realize you're probably the first person in American history, maybe world history, to make a joke about your you-know-what on a debate stage?" she asked.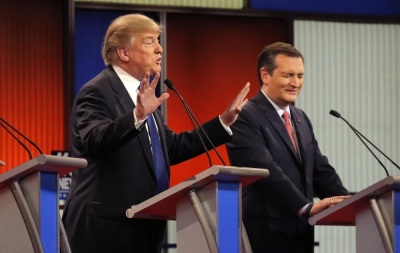 Trump denied that he made such a reference, claiming he "only made a joke about my hands," as those around him laughed.
The real estate mogul has also waged his own attacks on Rubio, mocking the presidential candidate to a crowd in Fort Worth, Texas last week.
"Let's talk about our lightweight senator from Florida, who's losing big in the polls," Trump said, describing Rubio as a "nervous basket case."
"You had to see him backstage. He was putting on makeup with a trowel," Trump joked, referencing a recent debate.
 "I don't wanna say that. I will not say that he was trying to cover up his ears. I will not say that. He was just trying to cover up — he was just trying to cover up the sweat that pours [...] Did you ever see a guy sweat like this?"
Trump then proceeded to pour a bottle of water on the stage, exclaiming "It's Rubio!"
Although Trump has been leading Rubio in national polls, the senator maintains that he will win Florida in the upcoming March 15 primary.
"I just know the people of Florida, and I've won there before and we know how to win there," Rubio told O'Reilly on Thursday.