Mariah Carey Talks Nicki Minaj Death Threat, Rapper Dismisses Allegations
"American Idol" judges Mariah Carey and Nicki Minaj are butting heads again following reports that they recently settled their differences. Their feud was reignited over a statement made by Barbara Walters regarding a conversation that she had with Carey.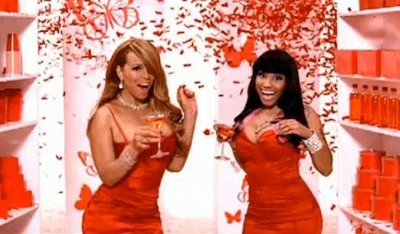 The Grammy award winning singer allegedly spoke exclusively with "The View" co-host after her vicious confrontation with Minaj, claiming that the rapper made death threats against her life.
"Nicki walked off the set and multiple people heard Nicki say, 'If I had a gun I would shoot the bitch,'" Walters quoted Carey as saying on Thursday.
Minaj, whose real name is Onika Tanya Maraj, reportedly became enraged with Carey, 42, over jabs that were allegedly made while filming for the show in Charlotte, North Carolina on Tuesday. Sources claim that Carey repeatedly disrespected Minaj, 29, which prompted the rapper to fly off the handle, although she denied making violent threats in a Twitter rant on Thursday.
"Hey yAll. Lets just say nicki said smthn about a gun. ppl will believe it cuz she's a black rapper. Lmao. I'll then hit up Barbara n milk it," Minaj sarcastically tweeted.
"Ironically no camera or mic heard the gun comment tho. Lol @ the struggle. Not even the producers believed u. Say no to violence barbz," another tweet read.
"Barbara walters didn't reach out from our team barbz. I guess we're too dangerous. Don't shake if u don't wannA get shook!!!! LmAooooooooooo," she went on.
"I guess it hurts 2 have the producers tell u to ur face that nicki is the best judge we've had since simon. Awww, poor u. Keep them lies cmn," another tweet read.
On Wednesday, a video of the argument surfaced and immediately went viral on social networking sites. In it, Minaj is heard blasting Carey as their fellow panelists Keith Urban and Randy Jackson nervously watch on.
"I told them I'm not ------- putting up with her ------- highness over there! ... Figure it out!" Minaj is heard ranting in the video.
It was later reported that the pair had resolved their differences, although Minaj made it clear that she is now furious again over allegations that she threatened to use a gun.
"I thought we resolved it yesterday but I see u want ur pity party to continue. So I'm bout to po dot tea," Minaj tweeted.
Nicki Minaj and Mariah Carey Fighting on American Idol (WARNING LANGUAGE)