Mark Lowry Takes on Controversial Church Topics at the Dinner Table With Friends (Watch)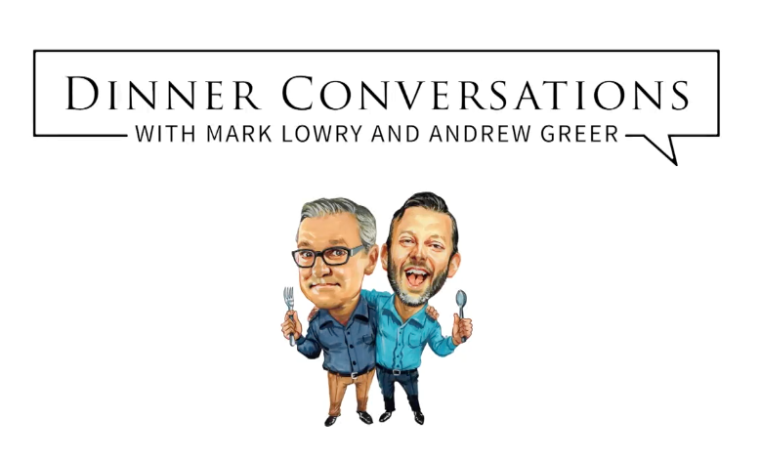 "Dinner Conversations" is a new series and video podcast by award-winning Christian artist and comedian Mark Lowry and author and singer Andrew Greer who sit down at a dining table in Nashville to discuss issues that Christians face on a daily basis.
"Dinner Conversations" launched in November and was the No. 1 video podcast on iTunes. The new series features food and great conversation between "Mary Did You Know?" writer Lowry, Greer and some of their industry friends as they casually share with the world the conversations that often start around the dinner table.
Featuring humor, advice, tears and laughter, these episodes will consist of conversations with people such as Nicole C Mullens, Mark Schultz, Anita Renfroe and Point of Grace. Some of the topics touched on in these sit-downs are depression, grief, racism, and blended families.
Below is an edited transcript of an interview Lowry did with The Christian Post in which he opens up about some of these hot-button topics which are peacefully discussed at the dinner table while crossing generational lines.
Christian Post: What made you want to sit down for these non-scripted, intimate conversations?
Mark Lowry: Well, I was thinking about retiring a year ago, and I thought, you know, I can sit at home in my La-Z-Boy, on Facebook, and reach more people than I can on a tour. Because I reach 30,000 to 40,000 people for every Facebook post, some even reach 50,000 to 60,000.
And I thought, if it's about reaching people, and not about making money, why bother touring? Sit in a La-Z-Boy! So I called Andrew Greer and told him what I wanted to do. He had interviewed me for a CCM magazine article and I loved his questions, and I loved that it was from a millennial perspective. He's a millenial, you know! So I never specifically thought, OK, I want to sit down and have non-scripted, intimate conversations, because the only kind of conversations I've ever had are non-scripted, and the best ones are intimate, and so that's why we created "Dinner Conversations."
CP: In one the episodes featuring the band Point of Grace you all spoke about law versus grace, which is taught in the Bible. From your experience in ministry throughout the years, why do you think some Christians continue to live by the law, sometimes forgetting the grace we all have in Jesus?
Lowry: Because it's easier! It's harder, yet easier. It's easier for our brains to have a list of rules and say, "If we keep these rules, we're in, and if we don't keep these rules, we're out." The problem with grace is that it doesn't play by the rules. It covers sin, and it washes away shame. It releases you from self-hatred. You then realize, through grace in Jesus, and believing in Jesus, and agreeing with Jesus, that you evidently were worth dying for.
How rude for the created to tell the Creator "I wasn't worth it. You didn't do a good job when you made me. I wasn't worth dying for." You don't get a choice! He's the one who gets to decide. The potter gets to tell the pot what the pot's worth. The pot doesn't get to tell the potter what the pot's worth. And the potter thought you were worth dying for, and how rude not to agree with Him.
So I just have to remind myself of that whenever I start wanting to crawl back under the law. It didn't work for Paul, didn't work for Peter. And that circumcision thing, thank God they're not still worried about all that! How did you check circumcision at the door? I could see you checking the length of our hair, that was the big thing when I was a kid  that if your hair touched your ears you're in bad shape, but circumcision, whew, that was a tricky one.
CP: The quote "Pentecostals get all the miracles" stood out to me because it spoke to the differences in the Church. Would you say certain gifts and functions are reserved for certain denominations or do you believe we should all operate together in unity when it comes to the gifts and blessings mentioned in the Bible?
Lowry: Well, wouldn't that be nice? There wouldn't be denominations if we operated in unity. But I also think the Pentecostals have done a great thing for the Kingdom of God. I think Baptists have done a great thing, oh, Protestants, I should say, have done a great thing for the Kingdom of God, so whenever Satan tries to divide, it's just really God multiplying.
CP: Growing up in the church under stringent rules sometimes makes the younger generations resentful. During your discussions, you touched on that. What advice can you offer to anyone dealing with that to help them fully walk in their freedom?
Lowry: Well I think I hear you saying how to help parents, maybe? Not overkill their kids with a bunch of rules and law that really don't matter, like hair, the length of hair? They use 1 Corinthians 11:14: "Doth not even nature itself teach you it's a shame for a man to have long hair?" That's the scripture that we had memorized right up there with John 3:16.
But the next scripture, I do believe, and I need to check this out, it's been a long time since I've looked at this, says something about but if there's going to be contentions, if you're going to be contentious about this, there is no law on this. So I would tell parents to decide what really matters. If I were a parent, I'd want to say "OK, does hair really matter? Does this really matter? Am I taking my preference, wrapping a scripture around it, and calling it a conviction?" That's a great question.
CP: "He's a lot nicer than they told us" is a great quote from one of your episodes about God, can you expound on that?
Lowry: I also said that on my Hollywood DVD when I was talking to my mom about grace. I was talking this out because, even on that DVD, I'm working out my salvation on stage and people just buy tickets to come hear it. God is so much nicer than you can imagine. I know "nice" is an odd word, but He loved you enough to die for you. And if you think of a great parent, then you got a glimpse of God, a great father, a great mother, and how they look at their children. How you, if you're a parent, you look at your children.
If you're normal, if you're healthy, you look at your children and you see your image, and you want the best for them. And you applaud when they take their first steps. And you are their biggest fan when they first sing in church. And, you know, that's a normal healthy person, father, parent, I believe. Well, multiply that by infinity and that's how God sees you. So I say that's pretty "nice."
Check out "Dinner Conversations" HERE. Also watch Lowry's and Greer's Christmas Special below.