Mars Hill Sells Ballard Campus for $9 Million to Nearby Quest Church, Led by Eugene Cho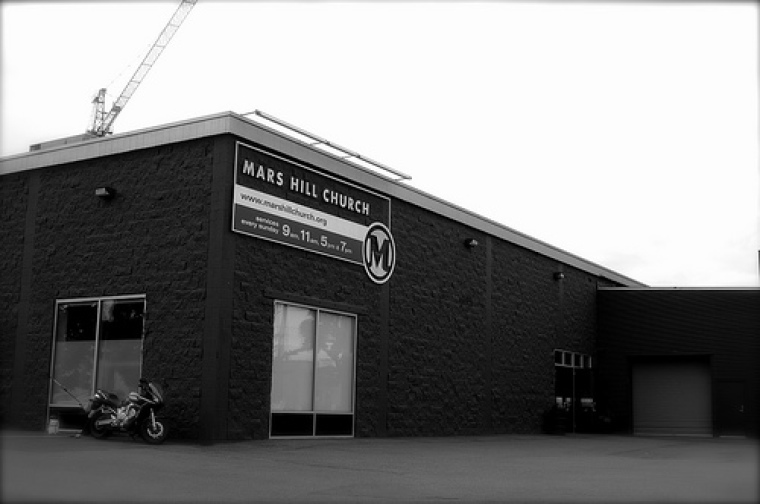 Although multiple real estate interests were in the running to purchase the prime urban Seattle property owned by the now-defunct 15,000-member megachurch Mars Hill, the Ballard neighborhood church facility will remain a sanctuary, as a nearby congregation won the bidding on Tuesday with a $9-million offer.
After Mars Hill, which owned 15 properties across five states, announced its plans to dissolve into a number of independent churches last fall, after controversy sounded the leadership of its head pastor, Mark Driscoll, the congregation put up for sale nearly $25 million worth of its properties in late October.
The real estate company Colliers International announced Tuesday that nearby Quest Church won the sale of the 40,000 square-foot property with a $9-million bid, even though the facility in the bustling Ballard shopping district was bid on by nine different real estate developers.
Mars Hill will take a $4.2-million profit on the sale of the sanctuary, as it purchased the location in 2003 for $4.8 million and upgraded the facility to seat over 1,000 people, the Puget Sound Business Journal reported.
Quest Church, which is currently located about a three-minute drive from the Mars HIll location, plans to move into the building at some point later in the year. Founded in 2001 by Eugene and Minhee Cho, the congregation has grown to nearly 1,000 members and has outgrown its current facility.
"It's almost doubled in size from 350 to 400 regular attendees when [my wife and I] first arrived in 2009 to an average of 800 now every week," Quest Church member Brian Bantum told the Seattle Pacific University student newspaper The Falcon. "We just needed more space."
Bantum explained that in Quest's current facility, the children's ministry rooms were all beyond capacity.
"When the Ballard building came on the market, it was great to purchase a place that had the capacity we needed but was relatively in the same area," Bantum added.
Although the Chos and Quest Church are happy to be moving into a bigger facility that fills their needs, the congregation is distraught by what has happened to the congregation of their "brothers and sisters in Christ."
"Like many people, I was grieving about what happened," Eugene Cho told MyBallard.com. "While we may have some theological differences, we consider them brothers and sisters in Christ."
According to the website, the move will also allow Quest Church to move closer to one of its "core ministries" called the Bridge Care Center, which is a drop-in center for homeless people in the neighborhood. The center provided over 20,273 resources for 684 people in 2014.
Surrounded by controversy over his "divisive" leadership style, former Mars Hill lead pastor Mark Driscoll announced his resignation last October from the multi-city church, after receiving a number of calls asking him to step down. Driscoll originally took a six-week leave of absence in August while a committee of elders conducted a review of the charges made against him and his leadership style. Driscoll and his wife founded Mars Hill in 1996.
"I readily acknowledge I am an imperfect messenger of the gospel of Jesus Christ." Driscoll wrote in his resignation letter. "Specifically, I have confessed to past pride, anger and domineering spirit. As I shared with our church in August, 'God has broken me many times in recent years by showing me where I have fallen short, and while my journey, at age 43, is far from over, I believe He has brought me a long way from some days I am not very proud of, and is making me more like Him everyday.'"
Following Driscoll's resignation, Mars Hill's teaching pastor, Dave Bruskas, announced later in October that the church was going to dissolve by the end of 2014 and that its 13 regional congregations would need to go independently or merge with another church.
"Following much prayer and lengthy discussion with Mars Hill's leadership, the board of Mars HIll has concluded that rather than remaining a centralized multi-site church with video-led teaching distributed to multiple locations, the best future for each of our existing local churches is for them to become autonomous self-governed entities," Bruskas wrote in a letter to the congregation.