Martin Bashir Calls Sarah Palin 'America's Resident Dunce;' Suggests Someone Should Poop in Her Mouth for Comparing National Debt to Slavery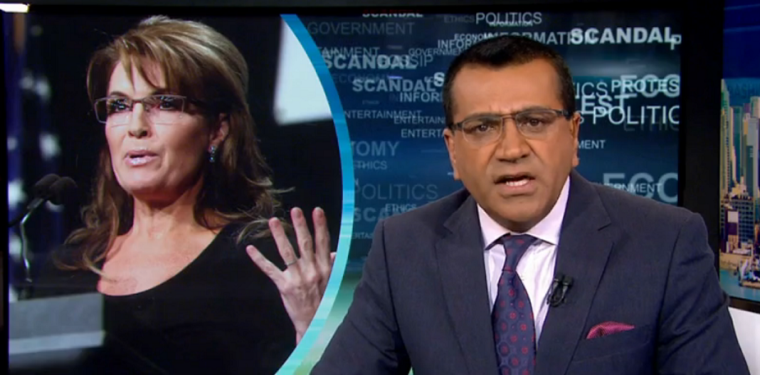 In a scorching critique of a speech in which Sarah Palin compared the national debt to slavery, MSNBC host Martin Bashir suggested that perhaps someone should poop and urinate in the mouth of the former governor of Alaska and GOP vice presidential nominee.
Mocking her as "America's resident dunce" for using the analogy, Bashir played a clip of the remarks Palin made two Saturdays ago while promoting her book, Good Tidings and Great Joy: Protecting the Heart of Christmas, at the annual Iowa Faith and Freedom Conference.
"Our free stuff today is being paid for today by taking money from our children and borrowing money from China," she explained.
"When that note comes due — and this isn't racist so try it anyway, this isn't racist — but it's going to be like slavery when that note is due, right? We are going to be beholden to a foreign master," she said.
Bashir dismissed Palin's analogy as distasteful and disrespectful to anyone who knows anything about slavery and its history.
"Given her well-established reputation as a world class idiot, it's hardly surprising that she should choose to mention slavery in a way that is abominable to anyone who knows anything about its barbaric history," said Bashir, who then proceeds to dish out a taste of what slavery looks like from the diary of a West Indian slave master called Thomas Thistlewood who "kept copious notes for 39 years."
Thistlewood was the son of a tenant farmer who moved to the island of Jamaica in 1750.
In 1756 Thistlewood records, "A slave named Derby catched eating canes. Had him well flogged then pickled, then made Hector [another slave] s**t in his mouth."
Bashir then quotes a similar incident from Thistlewood's diary. "Flogged Punch [slave] well and then washed and rubbed in salt pickle, lime juice and bird pepper; made Negro Joe pi** in his eyes and mouth."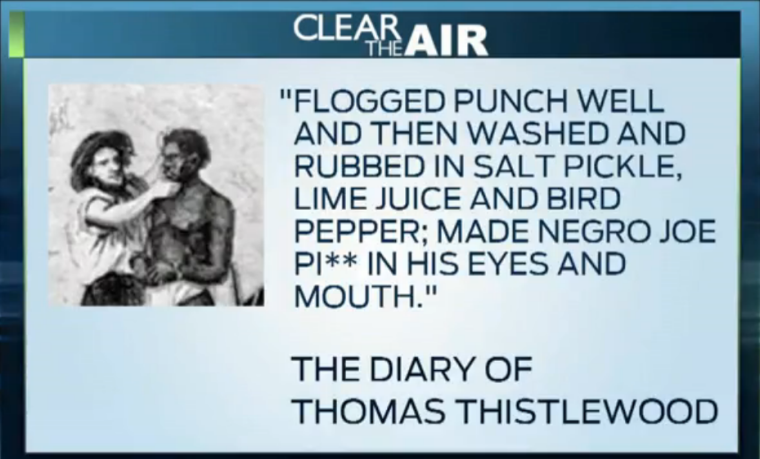 "This became known as 'Darby's Dose,'" said Bashir. "I could go on, but you get the point. When Mrs. Palin invokes slavery, she doesn't just prove her rank ignorance. She confirms, if anyone truly qualified for a dose of discipline from Thomas Thistlewood, she would be the outstanding candidate," he said.
Watch complete video below.