Matt Chandler identifies powerful reason Christians should be members of local church
Matt Chandler identifies powerful reason Christians should become members of local church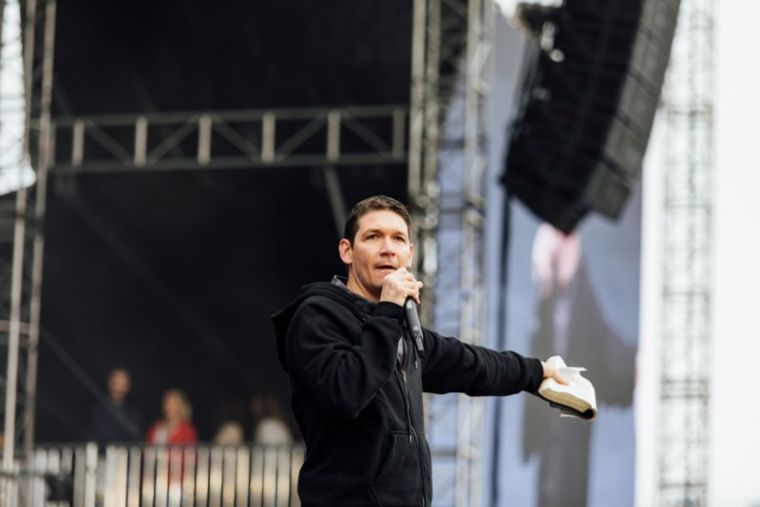 Matt Chandler, lead pastor at the Village Church in Flower Mound, Texas, identified the "unfortunate" reason why many Christians aren't members of a church and explained why it's important to belong to the local Body of Christ.
Chandler explained that today, there's a general suspicion of any kind of institution or organization: "The rhetoric goes that 'all institutions, all organizations will ultimately abuse their power and their authority and therefore are not to be trusted and to be rejected,'" he said.
The "unfortunate" way that mentality has played out for Christians, Chandler said, is that they will go to church, but don't necessarily belong to one.
"What ends up happening is that church becomes this spectator-like event, almost like a football game or a basketball game or a baseball game, where we come and we sit in," he said. "Our expectation is to hear good preaching and hear good music, and for somebody to help our kids not get strung out on drugs or get pregnant as a teenager. We expect it to be high quality and good, and to really be there for us as a spectator."
But the Bible presents a "much different picture" of what the local church must be like, the pastor contended. Scripture says that the local church is meant to be a "place where men and women are sanctified as they know one another, that God is at work in the mass of the Church of Jesus Christ in a given location."
"The Bible is going to call us toward one another, toward commitment to one another. Not just in some kind of universal sense, but really in a localized sense that I am to be known, you are to be known, that our weaknesses should be seen, and our strength should be seen," he charged.
Chandler encouraged Christians to embrace all aspects of the local church — both the good and the bad. While First and Second Corinthians reveal that the local church will "always be messy," the pastor argued that the messiness "should not deter us from the primary method by which the spirit of the living God sanctifies us and grows us more into the image of Jesus Christ."
"I want to encourage you, if you're a man or woman who goes to a church but you don't belong to one, take those necessary steps to not just be a spectator, but to be a participant in God's story of redemption in that local body that you belong to, he said.
"Bring your gifts, bring your expectation," he continued. "Receive from that not just preaching of the Word, not just baptism, not just communion, but receive oftentimes what could be called a discipline or rebuke ... these are the ways that you will be sharpened and grown by other Christians. I want to invite you into the mess to be a participant rather than a spectator when it comes to your local church."
In recent years, a number of high-profile pastors have weighed in on the importance of local church membership — particularly amid the rise and convenience of "online church" and webcast worship services.
California megachurch Pastor Greg Laurie of Harvest Ministries previously explained that church is not "just a place to come and hear a message about God;" rather, it's a "place to talk to each other about God" and enjoy fellowship with like-minded individuals.
"When we get together and we talk about the Lord, the Lord sort of bends down and eavesdrops on our conversation," the pastor said. "He loves to hear us talk about Him. When you're walking with God, you want to be with God's people. Let me turn that around: When you're not walking with God as you ought to, you probably don't want to be with God's people as much."
"The stronger your vertical fellowship is, the stronger our horizontal fellowship will be," he emphasized. "If you find yourself out of fellowship with God, you'll also find yourself out of fellowship with other believers."
Laurie added that far too often, people say they don't want to attend church because congregants are "too judgmental" or "too hypocritical."
"Maybe you need to be judged a little bit," Laurie said. "Judgment, i.e. evaluation, is something we should do for one another, helping one another, encouraging one another, and if necessary, correcting one another."
He added, "Maybe the reason you feel judged is maybe you're doing something you shouldn't be doing and that's why you feel judged."
Scott Sauls, author and senior pastor of Christ Presbyterian Church in Nashville, Tennessee, told The Christian Post that another reason many Christians don't become members of their local church is because they're chasing the "wow factor" of "celebrity" church leaders from states away.
"While they may be gifted, they'll never meet them, have a relationship with them, or be shepherded by them," he said.
Sauls encouraged believers to become involved in their local church, even if it doesn't have the most impressive light shows, most respected worship bands, or the most well-executed sermons. True believers, he said, will be deeply satisfied with the simplest expressions of the Gospel.
"When Jesus entered the world, He didn't come flashy," Sauls said. "He came very simple, almost invisible, a poor man, a refugee. The Gospels themselves say that it's the little children and the poor who are the heirs of the Kingdom of Heaven. It says that God chooses the foolish things of the world or the weak things of the world to move the Kingdom forward as well."
"Staying anchored in the truth and the simple ordinary aspects of daily faithfulness, I think, is much more important than chasing spectacular sermons and spectacular worship events," he added.