Matt Sandusky Interview Reveals Horrific Abuse, Suicide Attempts: 'I Wanted to Die' (VIDEO)
Matt Sandusky's interview with authorities, done right before the infamous Jerry Sandusky trial for child sex abuse charges, was released to the public. In the 29-minute ordeal, Jerry Sandusky's adopted son, now 33, alleged that he was a victim of the pedophile for many years.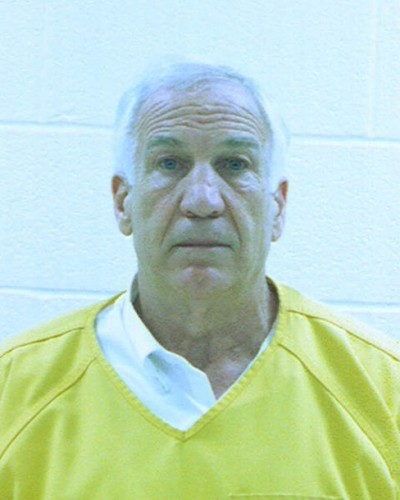 The Matt Sandusky interview, released by NBC's "Today" show, revisited the harrowing tale of the former Penn State defensive coordinator's twisted lifestyle – this time retold by a family member. Matthew was only 8-years-old when he alleged the abuse started, and from then until 15, he claims he was "repeatedly molested."
"With like the showering, with the hugging, with the rubbing, with the just, the talking to me, the way he spoke," the 33-year-old Sandusky started. "If you were pretending you were asleep and you were touched in some way, you could just act like you were rolling over in your sleep so you could change positions."
Although Matt would sometimes try his best to "avoid being touched," when the unnamed detective asked him if Sandusky would "blow raspberries on [his] stomach" and if "[Sandusky's] hand would rub down along or against [his] genital," Matt answered in the affirmative.
The constant sexual molestation – though devoid of oral sex or sodomy, according to Matthew – was enough to push him over the edge. Matt tried to escape, even "fleeing barefoot" at one point. He even considered suicide.
"I know that I really wanted to die at that point in time," Matt Sandusky explained.
Matt's coming forward was enough to trouble Jerry Sandusky deeply, and according to his lawyer, Karl Rominger, the allegations kept him from taking the stand in his own defense. The move turned out to be a costly one, as Sandusky was convicted of 45 of 48 counts of sex abuse after the jury deliberated for only 20 hours.
Sandusky's defense has pointed out perceived inaccuracies in Matt's claims, highlighting the fact that that previously, Matt stood by his father's side. Also, the younger Sandusky is revealing events nearly 20 years after they happened – a point that could shake his credibility.
"Did we believe what Matt Sandusky said? Absolutely not," Rominger told NBC.
However, Matt said his lying to a grand jury previously on his adopted father's behalf was "wrong," and that the victims' stories needed to be corroborated.
Matt is testifying against Sandusky so others can "see what the truth actually is. And just to right the wrong, honestly, of going to the grand jury and lying," he told officers
Jerry Sandusky is currently in custody at the Centre County Correctional Facility in solitary confinement. While prison inmates allegedly taunt him daily with the lyrics to Pink Floyd's "We Don't Need No Education," the convicted sex offender awaits a sentencing hearing that could imprison him for life.
Jerry Sandusky Perp Walk After Guilty Verdict