Matthew McConaughey Says Son Levi's Name Has Significant Biblical Meaning (Video)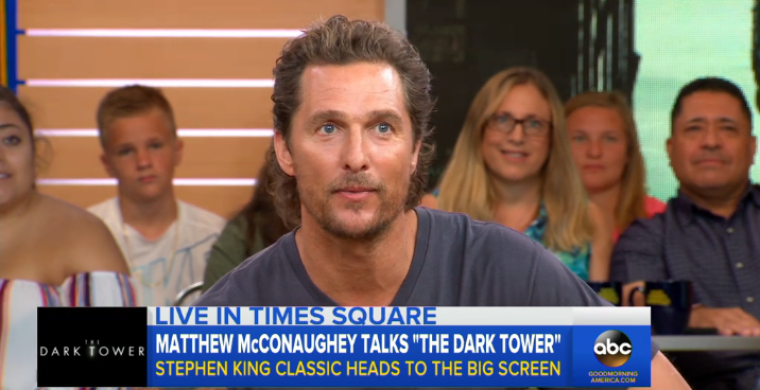 Well-known actor Matthew McConaughey revealed on ABC's "Good Morning America" the biblical significance behind his son Levi's name.
McConaughey's eldest son, Levi, turned 9 years old this month and during his interview on "Good Morning America" for his new role in "The Dark Tower," the actor revealed that his son's named came from his favorite Bible verse, Matthew 6:22.
The scripture reads, "If thy eye be single, thy whole body will be full of light."
The 47-year-old said he and his wife, Camila Alves, had several different names lined up for his son but settled with Levi.
"Levi's another name for Matthew in the Bible," McConaughey told "Good Morning America" host Michael Strahan. "We had talked about possibly Matthew, Jr. if he was a boy. And my favorite [verse] in the Bible is Matthew 6:22."
The decision was made when the new parents found out the time of the baby's birth which synced up exactly with his favorite Bible verse. They took it as a sign from above.
"We find out he's a boy when he's born. You're not thinking about the name, right?" he continued. "An hour later, the doctor comes up and he hands you that card to fill out: 'Blank was born at 6:22 p.m.' So we went, 'It's Levi.'"
McConaughey was on the daytime television show to promote the premiere of "The Dark Tower." In the movie he said he plays a sort of devil incarnate alongside actor Idris Elba. The fantasy film is an adaptation of Stephen King's wildly popular series.
"He's not the devil, but he's the devil impersonated," McConaughey said of his role which he pegged "fun." "The story is I'm trying to bring down this tower that holds the universe together. Idris [Elba] plays The Gunslinger. He's the only man that can keep the tower from falling and the only guy that can kill me. And you gotta go see the movie to see if he does that."
"The Dark Tower" opens nationwide Friday.