Maybelline sparks boycott calls over ad featuring bearded man applying lipstick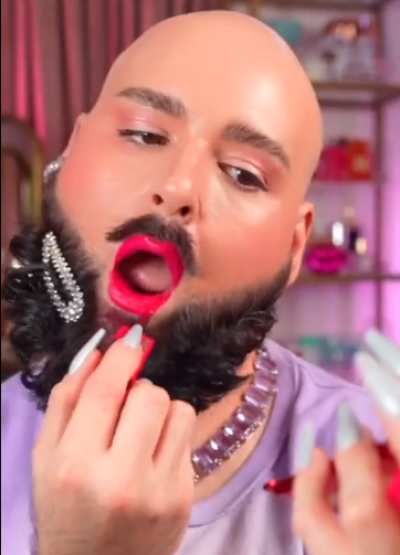 A prominent cosmetic brand faces new calls for a boycott from conservative influencers after publishing a video featuring a man applying lipstick.
Maybelline released an ad last week featuring a 30-second video of a bearded man applying lipstick. Posted on its Instagram account, the ad features beauty influencer Ryan Vita discussing the makeup company's Amazon Prime Day deals.
Vita, whose Instagram profile describes himself as "not like other beauty gurus" and uses the pronouns "she/he/they."
The ad features Vita with long, painted nails in addition to a full beard and mustache, applying lipstick as he touts the fact that "Super Stay Vinyl Ink is 30% off" in honor of Amazon Prime Day, which took place last week.
Expressing gratitude that "my favorite colors are in stock and ready to ship my Amazon order right the next day," Vita encouraged his viewers to "check out this color and shine" as he applied more lipstick.
"It's so comfortable and it will not budge or smudge for 16 hours," Vita added. "Let me know what you think and shop Maybelline Prime deals for 30% off right now."
The video concludes with Vita blowing a kiss at the audience. The caption accompanying the Instagram post, as well as the video itself, identified Vita as a "Maybelline partner."
The popular Twitter account Libs of TikTok shared the ad as part of a Twitter thread asking if Maybelline should get the Bud Light "treatment," referring to backlash the beer brand received for partnering with trans-identified influencer Dylan Mulvaney.
The conservative Twitter account Diamond and Silk remarked, "Looks like I have to Bud Light Maybelline," accompanied by the hashtags #GoWokeGoBroke and #SickBS.
Grazie Pozo Christie, an EWTN radio host and member of the Florida State Board of Education, also suggested that a boycott of Maybelline was warranted, tweeting, "Darn I love their BB cream. Will have to find an alternative. @Maybelline: hold my Bud."
Darn I love their BB cream. Will have to find an alternative. @Maybelline: hold my Bud.

— Grazie Pozo Christie, M.D. (@GChristiemd) July 13, 2023
Is this true? Looks like I have to Bud Light Maybelline! #GoWokeGoBroke#SickBShttps://t.co/q9kN0Ao3XR

— Diamond and Silk® (@DiamondandSilk) July 13, 2023
The Bud Light boycott saw the company experience a 21% drop in sales in the weeks following the outrage over the Mulvaney backlash, with an even larger decline among those who typically buy the product in bulk.
Prominent musicians took to social media to signal their intentions to drop Bud Light, with country singer John Rich removing the beer brand from the collection available at his Nashville-based Redneck Riviera bar while country singer Travis Tritt pulled all products made by Bud Light's parent company Anheuser-Busch from his tour hospitality rider.
Singer Kid Rock released a video of himself firing a gun at cases of Bud Light in a field by a body of water, in addition to dropping several expletives directed at Bud Light and Anheuser-Busch.
The outcry over Bud Light's partnership with Mulvaney led to the creation of Ultra Right Beer, branded as an alternative to the embattled beer brand that is "100% woke-free."
Maybelline's collaboration with Vita comes after the company sparked outrage for collaborating with Mulvaney in April. At the time, PublicSq, a conservative mobile application, shared a video of one American woman expressing outrage over Maybelline's collaboration with Mulvaney with her proclaiming "Bye, Maybelline."
Now that Maybelline has partnered with Vita, PublicSq has sent out a new message on social media stating that "Maybelline did not learn from the last time they hired a man in woman-face to promote their makeup so they're at it again." The organization encouraged women to shift their business to the cosmetic brand American Woman Beauty.
Accompanying the tweet is a video of the company's founder plugging her product and offering a promo code "DitchMaybelline," enabling customers to receive a 15% discount.
Maybelline did not learn from the last time they hired a man in woman-face to promote their makeup, so they're at it again!

Shift your dollars to the 55K+ businesses on @officialpsq, like @AWBCOUSA, that celebrate the beautiful uniqueness of women! ???????? pic.twitter.com/gAmMXwRNdE

— PublicSq. (@officialpsq) July 13, 2023
Polling suggests that most Americans oppose major corporations' embrace of LGBT ideology. A poll conducted by Summit Ministries, in conjunction with McLaughlin & Associates, found that 73% of respondents would prefer to do business with companies that remain neutral on hot-button political and cultural issues, while 52% supported efforts to boycott businesses that take a stance on such matters.
A separate poll conducted by the Convention of States Action in conjunction with the Trafalgar Group revealed that 61.9% of Americans believe businesses should not take a stand on political and cultural matters. In comparison, 23.9% think that companies should "continue to promote political themes during pride month." Additionally, 40.8% of those surveyed reported that they had "boycotted a company for taking woke or progressive stances."