McCain Blasts Obama's 'Temper Tantrum' Over Netanyahu's Re-Election; Obama Outlines Frustrations with Israeli PM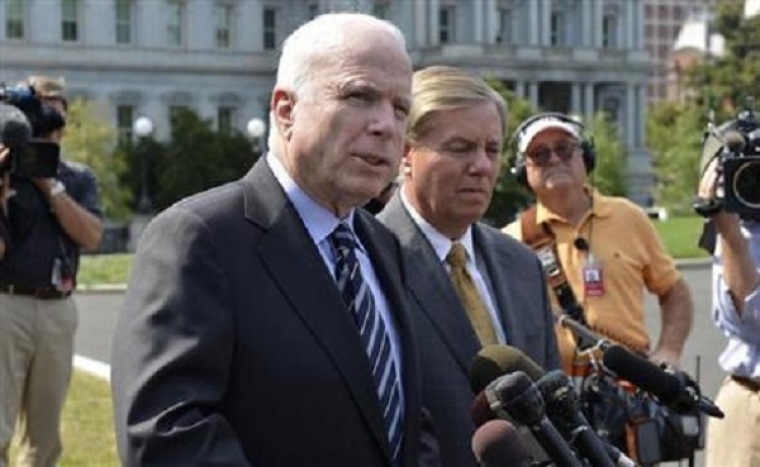 Sen. John McCain, R-Ariz., has said that President Barack Obama needs to get over his "temper tantrum" concerning Israeli Prime Minister Benjamin Netanyahu's recent re-election victory. Obama has said that Netanyahu has been misleading in his campaign plans for a two-state solution to create a Palestinian state.
"The President should get over it. Get over your temper tantrum, Mr. President," McCain told CNN's Gloria Borger on "State of the Union" on Sunday.
"It's time that we work together with our Israeli friends and try to stem this tide of ISIS and Iranian movement throughout the region, which is threatening the very fabric of the region," he added.
The White House did not release a statement in the immediate aftermath of Netanyahu's victory last week, but Obama spoke out on the issue in an interview with The Huffington Post on Friday. The president said that he believes that Netanyahu does not support the creation of a Palestinian state, despite post-campaign comments made by the Israeli PM indicating the opposite.
"We take him at his word when he said that it wouldn't happen during his prime ministership, and so that's why we've got to evaluate what other options are available to make sure that we don't see a chaotic situation in the region," Obama said.
He added that he spoke with Netanyahu over the phone on Thursday, and told him that "it is going to be hard to find a path where people are seriously believing that negotiations are possible."
Obama was also critical about Netanyahu's comments that characterized Arab Israelis as going to the polls "in droves."
"We indicated that that kind of rhetoric was contrary to what is the best of Israel's traditions. That although Israel was founded based on the historic Jewish homeland and the need to have a Jewish homeland, Israeli democracy has been premised on everybody in the country being treated equally and fairly," the president said.
In his interview on Sunday, McCain suggested that Obama's priorities are "so screwed up that it's unbelievable."
The Arizona senator argued that Israel is the only nation in the Middle East "where there was a free and fair democratic election," and told Obama that "the least of your problems is what Bibi Netanyahu said during an election campaign."
McCain added that a U.N. resolution for a Palestinian state should be off the table.
"Of course he shouldn't be considering it. And, second of all, if he does that, then — and it would be approved by the U.N., then the United States Congress would have to examine our funding for the United Nations," McCain said.
"It would be a violation because of the president's anger over a statement by Bibi, by the prime minister of Israel. It would contradict American policy for the last at least 10 presidents of the United States."
Netanyahu's re-election with his ruling Likud Party allows him to become Israel's longest-serving prime minister. Likud is expected to receive 30 seats in the 120-seat parliament, while the rival party Zionist Union will settle for 24 seats.
"The citizens of Israel rightfully expect that we will act quickly and responsibly to establish a leadership that will work for them in areas of defense, the economy and society just as we promised in this campaign — and just like we will now set ourselves toward doing," Netanyahu said after his victory.