Media React to Pope Francis' Social Work, Abortion, Gay Marriage Views
Pope Francis, the newly elected leader of the Roman Catholic Church, has been greeted by a wide array of media responses, and while many have focused on his record with social work, his stance on gay marriage and abortion has divided opinions.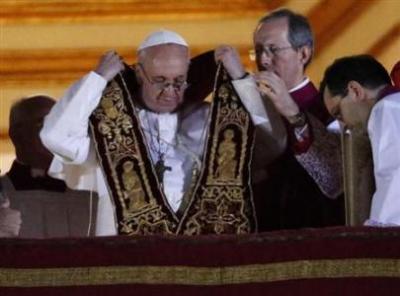 Jorge Mario Bergoglio, 76, had served as the cardinal of Buenos Aires, Argentina, since 1998 before he was elected Wednesday to succeed the retired Pope Emeritus Benedict XVI. He chose to be named after St. Francis of Assisi, the Catholic saint known as an early church reformer.
Many news websites have focused their coverage of Pope Francis on his social work with the poor – NBC News described him as prizing "compassion, humility and simplicity," reminding readers that back home in Buenos Aires he takes the bus to work instead of using the services of a private chauffeur. As a member of the Jesuit Society of Jesus, he has taken a vow of poverty and dedicated his life to working with the poor and suffering.
"A man who calmly stands for what's right and just," said Cardinal Edward Egan, the archbishop emeritus of New York. "A man of great compassion for the poor. That is what they point to first and foremost."
The Associated Press reported that on his very first day as pontiff, Pope Francis stopped by at his hotel to pick up his own luggage and spend his morning praying at a Roman basilica dedicated to the Virgin Mary, driving through the Vatican in a simple car.
The Knights of Columbus, a Catholic organization in the U.S. with over 1.8 million members, praised the election of the new pope for his emphasis on charity – which they say is their first principle.
"Both in our efforts for evangelization and in our charitable work, we will strive with him to bring the light of Christ to the people of our continent during his historic pontificate," Supreme Knight Carl Anderson said.
Others in the media, however, chose to focus on the controversial issues of abortion and gay marriage. Bergoglio has taken conservative positions while Archbishop of Buenos Aires.
TMZ.com described the pontiff as "anti-abortion, anti-gay marriage" while announcing news of his election, and noted that he staunchly opposes both. Gay City News called his record on LGBT rights "inflammatory," and reminded readers that he had voiced his opposition against same-sex marriage in Argentina, but was unable to stop the practice from becoming legalized.
Although saying that gay individuals' rights should be respected, Pope Francis has also spoken out strongly against gay couples being allowed to adopt children, saying that such a thing would be a "total rejection of God's law."
"At stake is the identity and survival of the family: father, mother, and children. At stake are the lives of many children who will be discriminated against in advance and deprived of their human development given by a father and a mother and willed by God. At stake is the total rejection of God's law engraved in our hearts," Francis said earlier.
Those comments stirred controversy in Argentina, with President Cristina Kirchner calling them "reminiscent of medieval times and the Inquisition."
GLAAD (Gay & Lesbian Alliance Against Defamation) President Herndon Graddick called out the new pope for once calling gay marriage "a move by the father of lies that seeks to confuse and deceive the children of God," but expressed hopes that Francis can be a more progressive spiritual leader than Benedict XVI.
"For decades the Catholic hierarchy has been in need of desperate reform. In his life, Jesus condemned gays zero times. In Pope Benedict's short time in the papacy, he made a priority of condemning gay people routinely. This, in spite of the fact that the Catholic hierarchy had been in collusion to cover up the widespread abuse of children within its care. We hope this Pope will trade in his red shoes for a pair of sandals and spend a lot less time condemning and a lot more time foot-washing," Graddick wrote.
Religious and conservative groups, meanwhile, have praised Pope Francis' defense of life and traditional marriage.
"He is a leader who has stood strongly for the values of religious freedom, the sanctity of human life, marriage, and the family, often under very trying circumstances. We appreciate his many strong statements over the years on the protection of marriage and the unborn and trust he will continue to be a powerful voice on the deep importance of these issues," said Alliance Defending Freedom President and CEO Alan Sears.
National Right to Life noted that last year, Bergoglio spoke out strongly against abortion, insisting that it is never the right choice.
"We listen, support and understanding from our place to save two lives: respect the human being small and helpless, they can take steps to preserve your life, allow birth and then be creative in the search for ways to bring it to its full development," Bergoglio said.
Carol Tobias, president of National Right to Life, praised those views, adding that she fully expects the pope to continue "furthering the cause of life around the world."
Richard A. Viguerie, chairman of ConservativeHQ.com called Francis' election "a life-changing, world changing event for Catholics, and all Christians" and praised his "humility and vigor," but noted that secular liberals will undoubtedly be disappointed that the Catholic Church "refuses to bend" on issues such as same-sex marriage.
"As American Catholics face a continuing battle with the Obama administration, and the President's secular liberal allies, over Obamacare's abortion mandate and President Obama's push for universal acceptance of same-sex marriage, we can take heart that we have a new pope who has already shown he is willing to stand before worldly leaders girded only in Christ's teachings to tell them they are wrong," Viguerie commented.
Almost all agree that Pope Francis has a tough job ahead of him at a time when many questions are being asked of the Catholic Church, in particular what steps it is going to take to tackle the sex abuse scandals that have rocked it for the past few decades.
Meet the New Pope - Jorge Mario Bergolio