New Pope Live Stream: White Smoke Marks Next Leader of Catholic Church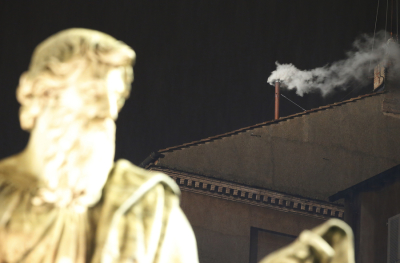 Thousands of faithful followers packed St. Peter's Square for the second day and witnessed history as 115 cardinals from all over the world selected the next leader of the Catholic Church.
The cardinals, who were isolated from the outside world while they deliberated possible successors to Pope Benedict XVI, signaled that the conclave ended after less than three days when thick white smoke was seen rising above the chimney of the Sistine Chapel.
While pundits did warn that there was no clear frontrunner to become the next pope- a situation that could have stretched the conclave for weeks and perhaps months- the quick selection will keep the record intact for the longest conclave, which occurred in 1268 and lasted nearly three years.
The sudden departure of Benedict XVI after serving eight years as pope had left many wondering who could bring the Church together during what many consider to be one of the most turbulent times in the Church's history. The announcement of the new pope was not expected even hours before the white smoke appeared.
Even with the outside world being prevented from interacting with the cardinals until after the decision was reached, it did not prevent famous faces from arriving in Rome to cast support for their choice of pope.
Dennis Rodman, fresh off his meeting with North Korea's ruler Kim Jong-un, was in Rome and was witnessed being a vocal supporter of Ghanaian Cardinal Peter Turkson, who, if selected, would be the first black pope in history.
In February, the Vatican revealed that the 85-year-old pontiff felt he was no longer able to carry out his duties as head of the Catholic Church due to his deteriorating health.
"After having repeatedly examined my conscience before God, I have come to the certainty that my strengths, due to an advanced age, are no longer suited to an adequate exercise of the Petrine ministry," Pope Benedict XVI statement explained.
The last pope to resign was Pope Gregory XII, who left his post in 1415 as part of a deal that went to end the Great Western Schism concerning competing papal prospects.
A live stream of St. Peters Square is available by clicking here.
Meet the New Pope - Jorge Mario Bergolio