Megachurch Pastor Frederick D Haynes III Slams Dallas Cowboys Owner Jerry Jones for 'Plantation Politics'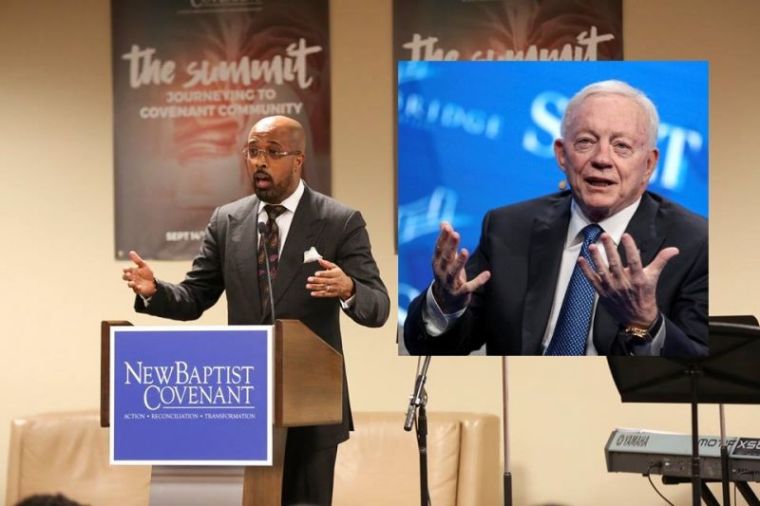 Megachurch pastor and social activist Frederick D. Haynes III of Friendship-West Baptist Church in Dallas has accused Dallas Cowboys owner Jerry Jones of playing "plantation politics" for threatening to bench any member of his NFL team who kneels during the singing of the national anthem.
"Mr. Jones doesn't mind cheering for those black players while they're on the field, but he's not concerned about the hell their communities are catching off the field," Haynes said during a news conference at the Dallas police headquarters on Monday, The Dallas Morning News reported.
"Slavery is over and your players should be free to express themselves," he continued in a recording of his remarks.
"Your players should be free to kneel during the national anthem because when they are kneeling during the national anthem, they are standing for what America is all about. Mr. Jones, you are the owner of America's team. Be true to what America is supposed to be about."
Unsigned NFL quarterback Colin Kaepernick began kneeling during the performance of the national anthem last season to protest social injustice and police brutality. While his protests attracted national attention, it had largely gone quiet after he opted out of his contract with the San Francisco 49ers to become a free agent in March then failed to get signed to a new team.
President Donald Trump set the take a knee movement ablaze again last month, however, when he urged team owners to fire players who kneel in protest during the national anthem.
"Wouldn't you love to see one of these NFL owners, when somebody disrespects our flag, to say 'Get that son of a b---- off the field right now, out, he's fired. He's fired!'" Trump said during a campaign event for Sen. Luther Strange, according to AL.com.
The response by the NFL was so strong in denouncing the president's comments, even Jones, despite dissenting fans, joined his team and staff in taking a knee in unison before the anthem played at their first game.
After pushback from the president and his supporters who argued that the players were disrespecting the flag by kneeling during the anthem, Jones ordered all his players to stand for the anthem or face consequences.
"If there's anything that is disrespectful to the flag, then we will not play," Jones said last week. "Understand? We will not ... if we are disrespecting the flag, then we will not play. Period."
Last Tuesday, he explained his position on the protests during his radio show on KRLD-FM (105.3 The Fan).
"If you do not honor and stand for the flag in the way that a lot of our fans feel that you should then you won't play," Jones said. "That's nothing new as far as that being my wish or want [for] the Cowboys.
"I don't want there to be any misunderstanding as to where I want the personnel for the Cowboys to be when we're at the No. 1 workplace we have, which is the field and the sideline on game day," he continued. "I want to do everybody a service, as I should in leading the team, and let's be really clear about what our expectations are."
The Dallas Cowboys are the most valuable sports team in the world, according to Forbes magazine, which estimated the team's worth to be some $4 billion.