NHL National Anthem Protester JT Brown Says He Asked God, Military Members Before Raising Fist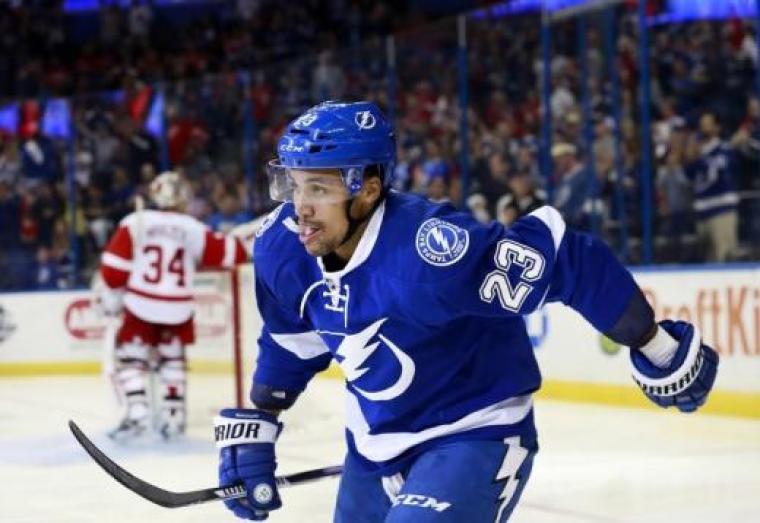 J. T. Brown, the Tampa Bay Lightning winger, says he prayed about the decision to raise his fist during the national anthem Saturday.
As a black man playing in a majority white league, Brown, 27, became the first NHL player to protest the national anthem in the game against the Florida Panthers. While NFL teams have been protesting the anthem this season and receiving backlash for doing so, Brown says he prayed to God before making the controversial decision to raise a fist instead of put a hand on his heart.
"While making my decision (to protest), I prayed and asked for God to guide me, and I spoke with my family," Brown told reporters after his game this past weekend. "I also talked to members of the military to have an empathetic conversation about the demonstrations during the national anthem."
Although people have accused athletes of disrespecting the flag when protesting the national anthem in similar ways, Brown insisted that those are not his intentions.
"This is not and has never been about disrespecting the military or disrespecting the flag," the NHL player said. "It is about police brutality, racial injustice and inequality in this country ... I love my country, but that doesn't mean I cannot acknowledge that it is not perfect."
The athlete said he received death threats on social media after hockey fans watched him raise a fist during the anthem, which he believes illustrates his point.
"My [mentions] on Twitter alone prove why this topic must be talked about," Brown said. "I have received racist remarks and death threats because they disagree with how I chose to raise awareness."
This isn't the first time Brown has used his platform to speak out against racial injustice. When NFL free agent Colin Kaepernick began the national anthem protest movement as a San Francisco 49ers QB last year, Columbus Blue Jackets coach John Tortorella said he would bench any players that followed suit.
Brown decided to chime in about the matter on Twitter.
"Wouldn't benching a black man for taking a stance only further prove Kap's point of oppression," he asked.
Some believe athletes should stick to sports instead of publicly commenting on social and political issues, but Brown explained why he couldn't do that.
"I'm not afraid of backlash. Everybody has their opinion on what people should say and when they should say it," he previously said in an ESPN report. "But if everybody stuck to what they're supposed to do, we wouldn't have made the strides we made to get to where we are."