Megachurch pastor gives sermon while skydiving to illustrate second coming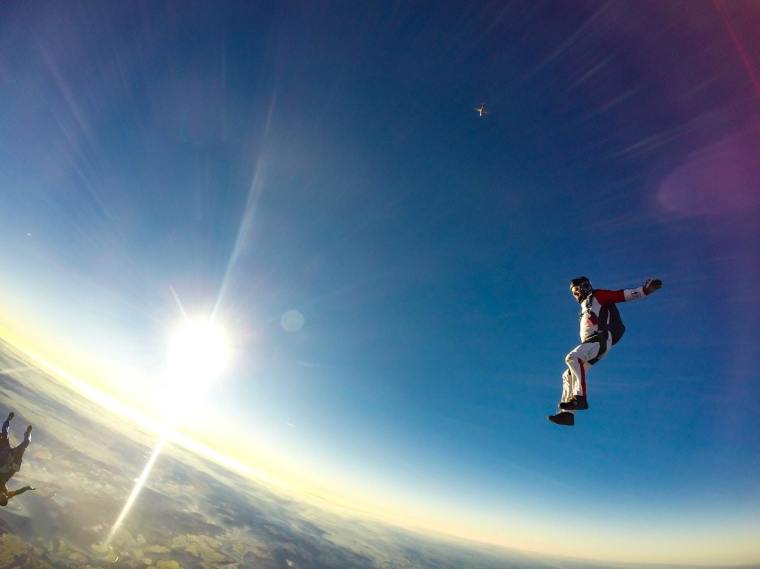 A Virginia pastor has done the unthinkable by becoming the first pastor ever to deliver a Sunday sermon while sky diving.
Just months after a Mississippi megachurch pastor ziplined from the ceiling of his church to illustrate the return of Christ, a retired Hollywood stunt double and former Navy fighter pilot turned megachurch pastor lifted the bar by jumping out of an airplane to wow his congregants.  
Attendees at New Life Fellowship in Virginia Beach this Sunday were left in shock and disbelief after their pastor safely fell from the sky onto the churchyard in a videoed sermon posted online.
Although the Rev. Al LeShon landed safely, it was not without landing on and denting the $200,000 Maserati Gran Turismo he recently bought for his wife to apologize for repeatedly forgetting to put the toilet seat down.
"We knew he was crazy," church member Regina George said as she left the service. "Now, I guess we know that he's nuts too."
The 57-year-old LeShon, who founded the church in 2016 after seeing Jesus in a dream, has become solely focused on his ministry.
He has always been a man of strong faith — first growing up as a Lutheran then switching over to Rastafari in college and now a nondenominational charismatic evangelical.
But a career as a Navy Blue Angel and then opportunities to do firey death-defying vehicle stunts for actors like Dwayne "The Rock" Johnson and Paul Walker kept him from pursuing his real dream of ministry until just a few years ago.
Although the church he launched in his hometown is relatively new, its membership has grown rapidly in the last three years thanks to LeShon's billboards along I-64 advertising himself as the "Hollywood Stunt Pastor: Come see what he will do next!"
LeShon is also working on launching a television ministry because Jesus told him in the dream: "If you build it, they will give you money for a jet."
In an effort to further increase membership at the 2,300-member church, LeShon launched a sermon series where he illustrates the Gospel in crazy ways. The series is called "Crazy Faith." On Sunday, LeShon was slated to preach about Christ's resurrection and His impending return.
Churchgoers were curious Sunday morning where their pastor was because they didn't see him before the start of the 9 a.m. service.
Their curiosity grew as the service began and the pastor was still nowhere to be found.
But after worship, the pastor's face appeared on the jumbotron and was greeted with applause from the adoring congregation.  
LeShon wasn't in a nice suit like he is on most Sundays. Instead, he was buckled into a parachute inside of his friend's Beechcraft King Air 90 with a GoPro camera affixed to his helmet.
He began his sermon inside the aircraft and explained to his congregation why he was there. As he had promised weeks before, LeShon went into greater detail about what the Bible says about the second coming of Christ.
He quoted from Revelation, which paints the End Times as bringing a lot of pain and misery. But it states that Jesus will return to Earth with the armies of Heaven to save Earth from the Antichrist.
"Now I saw Heaven opened, and behold, a white horse. And He who sat on him was called Faithful and True, and in righteousness, He judges and makes war," the pastor quoted Scripture.
It was at that point that LeShon was pushed out of the airplane in a seemingly unexpected manner by someone else in the aircraft.
His cheeks flapped as the wind slammed against his face at the speed of gravity. After about a minute, LeShon pulled the strap and the parachute halted his momentum.
For the remaining minutes as he floated back down to Earth and guided himself to land on the church campus, LeShon continued his sermon.
"Are you ready for the Lord's return?" the pastor asked the congregation. "Whether you are ready or not, Christ will make His return in Lord's time. Just like I was pushed out of the plane before I could complete my sermon, the Lord could soon return before you are ready. That day could come as early as tomorrow. I am ready. Are you?"
As LeShon landed, people rushed to the window to see if LeShon was in fact outside. When they saw that he was, they applauded.
"I think it went pretty well," LeShon said after the service, still visibly upset that he dented his wife's car. "I think my flock got the message I was trying to send. It's the same urgency that Paul was trying to teach to the church in Corinth."
As videos of LeShon's stunt circulate online, some have criticized it as being a waste of church money and distracting to the overall message he was trying to present.
LeShon responded to critics by saying: "A hater's gonna hate."
To read more about the church, click here. 
Editor's note [April 2, 2019]: This story was published as an April Fools' Day joke.