Megachurch Pastor Joel Osteen's 'Healthy' Physique Stuns Public (PHOTO)
Lakewood Pastor Joel Osteen Shown in Photos on Beach in Hawaii
Joel Osteen, pastor of Lakewood Church in Houston, Texas, has apparently stunned the world after being captured in a photograph on a beach in Hawaii wearing only his swim trunks, a hat and sunglasses.
The image, credited to Splash News, was first published online by celebrity news website TMZ in a report titled: "Good God, He's RIPPED!!!"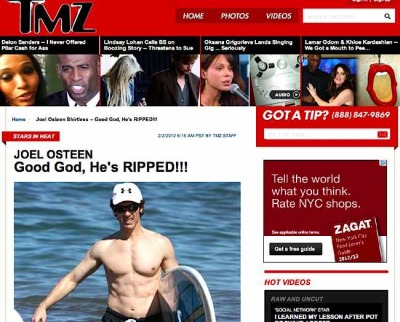 The report, which shows the megachurch pastor holding a surfboard, uses a bit of tongue-in-cheek religious talk in presenting the photo of Osteen's "shredded six-pack," re-working Psalm 23 to read "the Lord is my personal trainer, I shall not want." TMZ reveals that Osteen was on the beach spending time with his wife, Victoria, and their children, Jonathan and Alexandra. 
"Besides being one of the most famous preachers in the world, Osteen is also a health nut ... who dishes out diet advice on his web page. Judging by his sculpted physique, dude knows what he's talking about," the website reported. 
After TMZ published the photo at 6:15 Thursday morning, other media outlets soon picked up on the story, also expressing shock that Pastor Osteen appeared in good shape. 
The Houston Chronicle reported on the photo of Osteen's abs, eliciting a bevy of responses from readers. Some readers were less than impressed with the megachurch pastor's "shredded six-pack," with one commenter noting, "That's how you look when you don't eat."
ABC News also picked up the photo, running this caption with it: "Joel Osteen appears to be blessed with an impressive beach body."
The image of Osteen on the beach was even reported on by British newspaper the Daily Mail, with the publication issuing additional photos of the pastor and his family on the beach, including one of Mrs. Osteen wearing a pink top and shorts. 
"I'm healthy as can be – not an ache or a pain," the pastor of America's fastest-growing church reportedly told Dr. Mehmet Oz on his show last year. "A lot of my prayer is thanking the Lord that I am healthy. I pray for long life and good health." Osteen appeared on the daytime program to discuss how prayer and medicine mix.
The Osteens are in Hawaii for their "Night of Hope" event, which they have been holding in various cities across the U.S. since last year. The "Night of Hope" worship event takes place in Honolulu at Blaisdell Arena on Friday, Feb. 3.