Megachurch Unravels After Pastor Declares Major Doctrinal Shift in Lucas Hnath's 'The Christians'
NEW YORK — A pastor chooses to declare to his congregation during a Sunday service, and just as the megachurch is finally debt-free, Earth-shattering news that threatens to level their decade-old ministry and rend their relationships — so goes the synopsis of Lucas Hnath's "The Christians," enjoying its debut in New York City.
Although Christian history is chock full of the kind of schisms depicted on stage at Playwright Horizons, and in many modern news reports, rarely do those far removed from the situation get such an insightful look at the personal potential losses faced by those who choose to take a stand on a particular side of the pew when wrestling with theological doctrines.
That is what makes Hnath's "The Christians" a play for the times.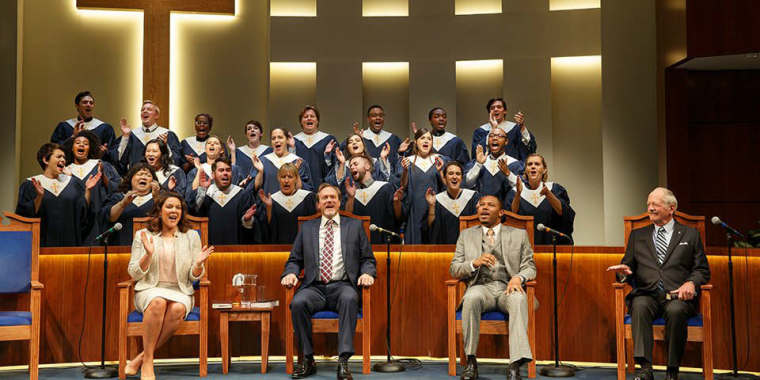 Andrew Garman portrays the sincere, well-intentioned and likable Pastor Paul, who along with his wife, Elizabeth (Linda Powell), Associate Pastor Joshua (Larry Powell), and Elder Jay (Philip Kerr), leads an average and diverse American congregation that grew from "a modest storefront" into a kind of mall that now "houses thousands, with a coffee shop in the lobby and a baptismal font as big as a swimming pool."
Paul, who also does a very fine job of narrating the story, relates in a four-point sermon a pivotal experience to his congregation that led to what he says was a God-inspired revelation on the truth about Hell — that it is a state of our own making and in the here and now.
The news obviously does not sit well with Associate Pastor Joshua. The young, fiery minister, played with visceral emotion by Powell, feels compelled to inform his beloved mentor, and their divided congregation, that he feels God has moved him to reject Pastor Paul's claims.
And what about Elder Jay? Well, the seasoned old church veteran who sits on the ministry's board does not mind Pastor Paul's "progressive" sermon — so long as the church's new and controversial direction does not mess with their money.
Speaking of money, was it not the fact that the church was finally out of debt that prompted Pastor Paul to decided that it was now safe to reveal his changed views on what Christian orthodoxy has affirmed for nearly 2,000 years? That is one of the many questions a choir member and consistent double-tither, Jenny (Emily Donahoe), wants answered. It is this particular face-off between the confused and yet bold and suspicious Jenny and the grasping Pastor Paul that presents a real kicker.
"Hitler's in Heaven," Paul says in response to one of the many questions Jenny drills him with about the logic of his Christian universalist view of Hell.
It is also in this scene where many of Hnath's most effective pauses, which make audience members feel as if they, too, are free-falling with Paul, begin to emerge.
Paul's response to Jenny is shocking to hear, or more likely, a shocking scenario to visualize, as the play's characters prompt the audience to do. But at the same time, Paul's statement seems so absurd that the audience, near maximum capacity during The Christian Post's matinee attendance, laughs — as they are meant to, because for some eternity-minded people, Hitler being in Heaven is as absurd as babies being in Hell.
But that is how certain Paul is of his newly revealed conviction that "Hell" in the Bible "is Greek for trash dump" (a reference to "gehenna," a word Jesus uses in places like Matthew 5:22 and 10:28 when talking about "Hell").
Pastor Paul spends most of the play pacing back and forth across immaculately carpeted floor. He holds a mic to his mouth when he is on the move, effortlessly guiding its long and black serpentine cord. At a later turn in the play, the ever-present cord seems to have ensnared him. The mics, which would otherwise be relics in such a modern megachurch, add another layer to Paul's own personal rather memorable chorus: "I have a powerful urge to communicate with you, but I find the distance between us insurmountable."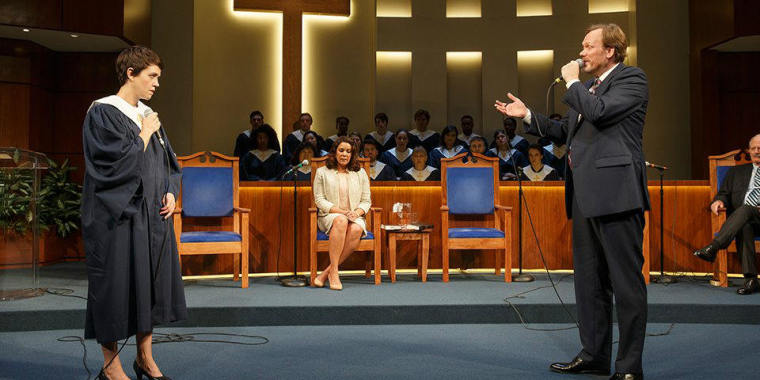 Does Paul believe in universalism because he believes God has said that it is so? Or, does he believe God has said that it is so because he wants to believe in universalism after the shock of that pivotal experience? The conflict with his wife, Elizabeth, who says she is willing to do whatever it takes to keep her husband from "falling away," does not offer any answers to those questions. Neither does Joshua's heart-to-heart (or mic-to-mic) with Paul offer any answers. Hnath is not interested in providing his audience with answers.
Hnath has shared that when he was younger, he "was supposed to be a preacher," but eventually decided against having to care for people's souls. He then switched to studying medicine, but decided that he "didn't want to worry about other people's bodies."
However, he grew up in the church and would sit in class with his mother during her time in seminary. Hnath "learned some Greek, some Hebrew" and "read books on stuff like hermeneutics."
"In seminary you learn a lot about translation. You learn about how there can be more than one way to translate a word. And you come to realize just how many words the Bible has that could be translated this way or that way," Hnath has said. "The act of interpreting the Bible carries with it a lot of responsibility."
The playwright shared that a school friend who was now a pastor told him "that pastors have to be very careful not to remake the Gospel into their own image."
But how does one even avoid it, Hnath wanted to know, especially when humans have a tendency to impose ourselves, our ideas and our experiences onto a text?
Hanath, who has declined to answer questions about his own convictions about the issues raised in his play, does believe church has a particular function, and shares that function on some level with the theater.
"A church is a place where people go to see something that is very difficult to see. A place where the invisible is — at least for a moment — made visible," he said. "The theater can be that too."
Although there are a few moments in "The Christians" where the dialogue lags, those moments prove inconsequential to the superb performances put on by the cast, most notably by Garman and Larry Powell. Also the choir featured in "The Christians" is a treat, especially when its members effortlessly transition from singing sleepy hymns like "God's Unchanging Hand" to foot-stomping songs like "I Wish Somebody's Soul Would Catch On Fire."
"The Christians" runs through Oct. 25 at Playwrights Horizons, with select performances followed by a discussion with Hnath and a panel of guests (watch one published online). The production crew includes Dane Laffrey (scenic design), Connie Furr Soloman (costume design), Ben Stanton (light design), Jake Rodriguez (sound design) and Marisa Levy (production stage manager). Les Waters directs. Hnath's other credits include "Red Speedo," "A Public Reading of an Unproduced Screenplay About the Death of Walt Disney," "Isaac's Eye," and "Death Tax." "The Christians" initially premiered in the 2014 Humana Festival of New American Plays at Actors Theatre of Louisville in Kentucky.