'Take my soul': Megan Fox says she drinks fiancé's blood as 'ritual'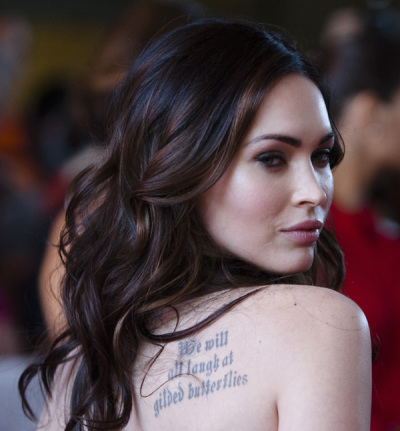 Actress Megan Fox said this week that she and her fiancé, recording artist Machine Gun Kelly, drink each other's blood for "ritual purposes."
The 35-year-old "Transformers" star first mentioned their ritual practices in January when she told Glamour UK that she and MGK, whose real name is Colson Baker, "drank each other's blood" on the day of their engagement. 
"So, I guess to 'drink' each other's blood might mislead people or people are imagining us with goblets and we're like 'Game of Thrones,' drinking each other's blood," Fox told the magazine. "It's just a few drops. But yes, we do consume each other's blood on occasion for ritual purposes only."
Fox, who was raised Pentecostal, also admitted to engaging in other occult practices. 
"I read tarot cards and I'm into astrology and I'm doing all these metaphysical practices and meditations," she added. "And I do rituals on new moons and full moons, and all these things. And so, when I do it, it's a passage or it is used for a reason. And it is controlled where it's like, 'Let's shed a few drops of blood and each drink it.'"
Fox then explained that MGK is "much more haphazard and hectic and chaotic" when he goes about retrieving his own blood during their "rituals."
"He's willing to just cut his chest open with broken glass and be like, 'Take my soul,'" she said, adding that, on occasion, "a version of that has happened many times."
The actress has made it clear in past interviews that she's strayed far away from her Pentecostal upbringing. In a 2013 interview with Esquire, Fox said she had witnessed miracles, healings and speaking as a child. 
"It feels like a lot of energy coming through the top of your head — I'm going to sound like such a lunatic — and then your whole body is filled with this electric current. And you just start speaking, but you're not thinking because you have no idea what you're saying. Words are coming out of your mouth, and you can't control it," Fox told Esquire of speaking in tongues. "The idea is that it's a language that only God understands. It's the language that's spoken in Heaven. It's called 'getting the Holy Ghost.'"
She added, "I have seen magical, crazy things happen. I've seen people be healed. Even now, in the church I go to, during praise and worship, I could feel that I was maybe getting ready to speak in tongues, and I'd have to shut it off because I don't know what that church would do if I started screaming out in tongues in the back."
The mother of three who's now dabbling in the dark arts told Glamour UK that she has been "manifesting" MGK since she was 4 years old.
"I'm also four years older than him, so I think I made him," Fox said. "My thoughts and intentions grew him into the person that he is. Who knows what he would've looked like or been like if it wasn't for me."
She also told the magazine that while on vacation in Costa Rica, the couple visited shamans who purportedly delivered MGK from a "demonic spirit."
Fox recently divorced actor Brian Austin Green and is often portrayed in the media as a sex symbol.