Mel Gibson's 'Hacksaw Ridge' Is a Masterful and Tortured Collision of War and Faith (Movie Review)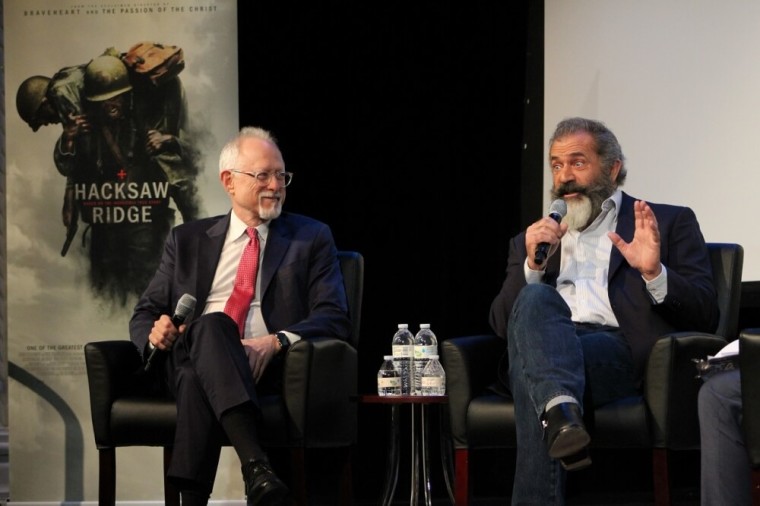 NEW YORK — Mel Gibson's latest directorial feat "Hacksaw Ridge," is a masterful depiction of an inspiring but violent collision between war and faith.
The film, rated R for its intense prolonged graphic sequences of war violence, is based on the true story of the late World War II U.S. Army medic Desmond Doss.
Doss was a devout Seventh-day Adventist played in the film by actor Andrew Garfield, who despite being brutally challenged for his faith, refused to bear arms or kill.
He would go on to become the first conscientious objector awarded the Congressional Medal of Honor.
On Wednesday night, just before a special advanced screening for members of the faith community at the Sheen Center, Gibson, in an appearance with Pulitzer Prize-winning screenwriter Robert Schenkkan, who worked on the script for 10 years, described "Hacksaw Ridge" as a "love story" that also delivers a powerful message on post-traumatic stress disorder and veterans.
Some viewers of the film, however, might get disoriented by the prolonged maelstrom of soldiers being torched, shot, blown to bits by bombs and gnawed up by rats.
Gibson says the graphic nature of the war scenes is intended to give an authentic sense of what war is.
"It's hell, it's war," he said.
"I wanted to give people an idea what that feels like and what our veterans and even the guys today suffer as a result of combat situations, the idea of PTSD. ... I wanted to accentuate who Desmond was in the midst of this maelstrom of violence that reduces most men to the level of animals. This guy just maintained his equilibrium and kept his faith. He was armed only with faith, no weapon. And he went in and he put his life on the line again and again for his brothers. So it's a love story, it's not a war film," he explained.
The film opens with a slow parade of soldiers being killed on the battlefield as Doss delivers a haunting Scripture reading before fading into the Norman Rockwell-like scenes from his early life featuring his father — a troubled war veteran — his mother and brother.
Doss was living in Virginia when he voluntarily enlisted in the U.S. Army. We learn from the film that he made a vow to God not to bear arms after almost killing his father with a gun for beating his mother.
His stance was revealed during cadet training when he tells Sergeant Howell, played by Vince Vaughn, "I was taught I don't have to carry a weapon," and refused to touch a gun on offer.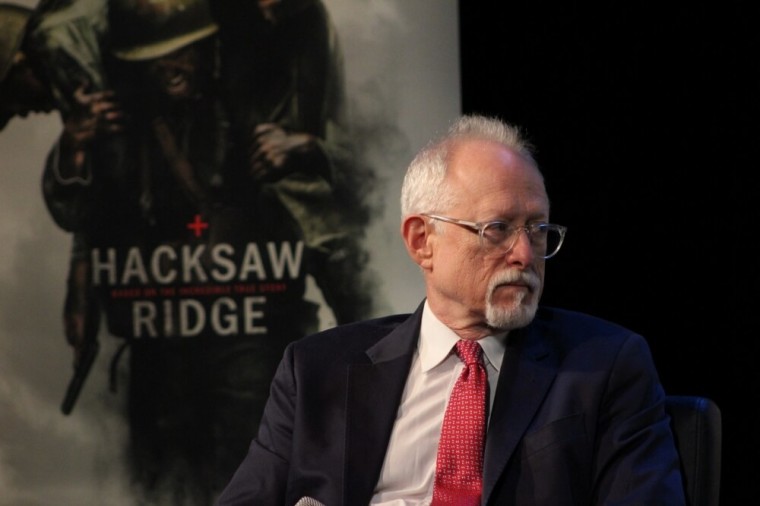 This quickly set off a backlash from other cadets and Army officers who ridiculed and physically assaulted him hoping he would quit, but he doesn't.
Even when his love-interest Dorothy Schutte, played by actress Teresa Palmer, challenged him over his actions after he is court martialed and jailed, Doss doesn't relent.
"They treating me like a criminal because I won't kill," he told Schutte in the film after she visits him in jail.
A frustrated Schutte, however, encourages him to give up his "pride and stubbornness."
"Don't confuse your will with the Lord's," she told him.
Doss is eventually allowed to complete his training after high-ranking Army officers intervene and he was sent off to Okinawa, where his unit was ordered to take part in the daunting task of capturing the massive Maeda Escarpment also known as Hacksaw Ridge.
At the top of the looming 400-foot cliff, Japanese soldiers heavily fortified by machine-gun nests, booby traps and caves fought a brutal war and Doss' unit comes under a blistering attack.
They are ordered to retreat but many of them were too injured to get out of the kill zone on the Ridge. Armed with his faith, it was Doss who remained behind and singlehandedly pulled an estimated 75 injured members of his unit to safety.
Schenkkan, who said Doss was initially reluctant to share his story, said he was "gobsmacked" when he first learned about it.
"It was brought to me in 2006 by our two lead producers … they had acquired the rights from a special committee that Desmond had tasked with overseeing the release of his rights. I didn't know anything about Desmond. I didn't know anything about this story," said Schenkkan.
"They sent me a black and white documentary that had been created by a member of the church, lovely work, and I was just gobsmacked by this story. I had never seen anything like it. And I said 'yes' immediately," he added.
Asked what was so special about the story, Gibson explained that it was perfect for the silver screen.
"It's very inspiring, this story, and it seemed to be suited perfectly for the cinema. If you're gonna spend 18 months of your life on something … almost two years, you want to make sure it's something that is worthwhile and this definitely was," he said.
Without Doss' faith, he said, it would have been difficult to give meaning to a story like "Hacksaw Ridge."
"That's intrinsic to who the man was and if you don't have that it's hard to understand the story. I mean, who could have done what he did without something greater than himself?" asked Gibson. "Desmond was an extremely humble man and the definition of humility is a belief in something greater than yourself. You can't ignore that."
"Hacksaw Ridge" will be in theaters nationwide on Friday, Nov. 5. Its run time is 2 hours and 18 minutes.