Melinda Gates Brings Good News to the Poor: 15 Years Will Bring More Improvement 'Than Any Time in History of the World'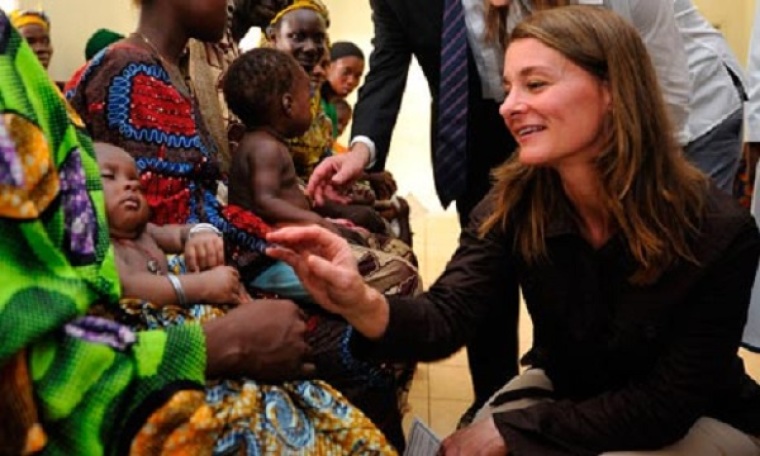 Melinda Gates recently revealed personal heartbreak over the millions of people living in poverty before issuing a powerful promise to improve living conditions in developing countries more than ever in the coming years.
The wife of Microsoft co-founder Bill Gates opened up about her charity work abroad in a new interview, describing visits to third-world countries where she's often moved to tears.
"When I am in a developing world, my heart absolutely breaks at times," Gates told the Evening Standard. "I've gone back to my hotel room sobbing."
It's the trips that the 50-year-old businesswoman takes and the people she meets that spurred the Bill and Melinda Gates Foundation — one of the largest private foundations in the world that aims to globally enhance healthcare and reduce extreme poverty.
"You say, 'How can I make a difference in this person's life and everybody around them,'" Gates explained.
Right as Gates' interview arrived this week, the Gates Foundation released its annual newsletter revealing the charity's goals for the future. In it, the organization revealed that health, agriculture, digital banking and online education will all see improvements through technological developments. Subsequently, millions of people living in poverty from now through 2030 will benefit.
"Our big bet is that in the next 15 years, the lives of the poor are going to improve more than at any time in the history of the world," Gates told the Standard.
The mother of three also focuses on women and children with the Gates Foundation. In 2012, Gates decided to support family planning — a decision she "wrestled with for a long time" because of her faith. A Roman Catholic, Gates spoke with countless women about contraceptives before landing on a decision.
Quoting women in impoverished neighborhoods around the world, Gates said, "'I have five children — I can't have another — I can't feed these five.' When you hear those cries, you say, 'I need to take leadership.'"
"I believe in contraceptives. I use them," Gates added.
Last year she emphasized that the Bill & Melinda Gates Foundation's family planning initiatives will not include the funding abortion.
"I understand why there is so much emotion, but conflating these issues will slow down progress for tens of millions of women. That is why when I get asked about my views on abortion, I say that, like everyone, I struggle with the issue, but I've decided not to engage on it publicly — and the Gates Foundation has decided not to fund abortion," Gates wrote on the foundation's site last year.
Established in 2000, the Gates Foundation is controlled by three trustees; Bill and Melinda Gates as well as Warren Buffett. The organization operates on donations and grants, and as of May 2013, Bill Gates had donated $28 billion to the foundation.