Melissa Joan Hart details 'born-again,' Holy Spirit' encounter, lives out faith with global missions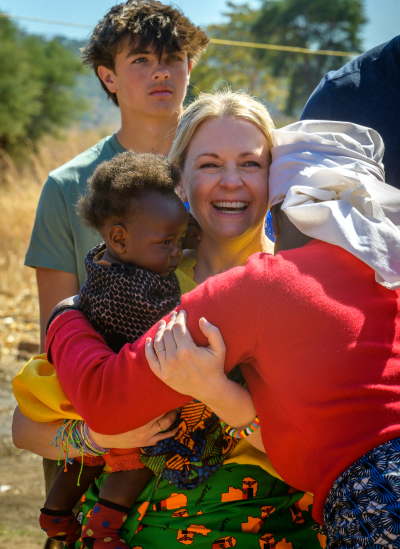 Actress Melissa Joan Hart says prayer has deepened her faith walk with Jesus exponentially and described a Holy Spirit encounter as her "born again" moment. 
In recent years, Hart has linked arms with World Vision to be a part of the life-changing work the organization does around the world to provide clean water and resources to those in need. The veteran entertainer said her work with the organization in Zambia has been immensely impactful to her and her family. 
She recently returned from a trip to the country where she, her husband and three sons visited with several families in need, including a family she has sponsored for the past several years. 
"It was really eye-opening. It was encouraging," Hart told The Christian Post.  
The difference in her sponsored family since her first trip in 2019 was noticeable. She praised World Vision because she could see firsthand that her sponsorship money was benefitting the family.
Despite her many years of mainstream success, Hart, who was raised Catholic, has managed to grow stronger in her faith in God. After marrying her husband, Mark Wilkerson, who was Baptist at the time, the couple decided to change their denominational affiliations and start attending a Presbyterian church where their faith continues to grow.  
Hart has been committed to the Community Bible Study program which she's participated in for the last 13 years. Relocating from California to Tennessee has also enabled her family to attend Sunday school, which she admittedly had never done before.
"Everyone's always talking about their moment of coming to Jesus or their moment of being born again. I feel like I've always walked with God, it's just gotten deeper and closer and more fulfilling," she explained to CP. 
The combination of the story of The Footprints on Sand, and the testimony of Katherine Wolf greatly impacted Hart and taught her how to pray.  
"While I was in a mom's group [at the church], Katherine Wolf fell into a coma because of an aneurysm. And we, the mom's group, wanted to pray for her. They wanted to surround her with 24 hours of prayer. Everyone had to take an hour. I just had my second son so I was breastfeeding at night, so I took something in the middle of night," Hart recalled. "I get my son out of the crib and I'm feeding him and I start to pray and I did my Our Father and my Hail Mary and My Glory Be and then I didn't know what to do and I had 55 more minutes." 
"I feel like that's the moment that really opened up my prayer life. I had a big moment there where my prayer life changed and where I started to understand more about how to pray and then my husband also helped me," she testified. "My husband taught me to pray for mercy."
The podcaster credited her husband and a friend named Jeannie for giving her spiritual guidance.
"My friend Jeannie, who leads the Community Bible Study up in Connecticut, she taught me to go to the throne before you go to the phone, always go to God before you go to a friend with stuff," Hart added.
As she shared her faith story, Hart remembered having a moment that she calls her born-again moment.  
"I did have a born-again, Holy Spirit moment," she declared. "I never really understood the Holy Spirit or the Trinity in a sense. One day, we were in Bible study and it just hit, like the Holy Spirit made sense to me all of a sudden!"
"One day, I just felt it and I was like, 'Oh my gosh, that's the Holy Spirit talking to me. I get it now,' she recounted. "Like a lightning bolt just hit me and I was like, 'The Holy Spirit! I don't know why it just hit me and I got it.' Then I better understood the Trinity and all that." 
"My father-in-law once said to me, too, about the Trinity — because I was struggling to understand that — he said, 'Well, I'm a father, but I'm also a son, and I'm also a brother, and I'm also an uncle. And he said, that's how God can be all these things, so that hit me too."
The Hollywood star has picked up bits of wisdom along the way, and now says her prayer life is thriving despite initially thinking of giving up on prayer altogether. 
"I actually wanted to stop praying for a while because I was having such terrible thoughts that would frighten me so badly," she confessed. "I was like, 'I'm not gonna pray anymore because I can't handle these thoughts. It's giving me anxiety. It's keeping me from sleeping. It's like, literally choking me with how scared it's making me. When I pray, these other thoughts are coming in. And that's when I realized that Satan is trying to take over so I have to keep doing it!"
"I fought through it and that doesn't happen anymore," Hart celebrated. 
During Hart's recent trip to Zambia with World Vision, she described a conversation she had with locals that struck her deeply concerning prayer.
"It's a Christian country and almost every household we went to they were praying with us. But they couldn't understand why we pray," Hart said.  
"They couldn't understand why we pray when we have so much. They're like, 'It's weird to see a family pray that already has everything, like what would you pray for, or how would you pray?'" she continued. 
"Sometimes I think, in our country [the United States], we hear people more likely say, 'Why would I pray, everything's a wreck? Everything's falling apart around me. God doesn't care. Why would I pray?" Hart illustrated. "But what they're doing, they're like: 'Well, we need to pray because we need our goats to be healthy. We need rain to come but not too much. We need our crops to do well. We need our children to be healthy. We need our school to be improved."
It's estimated that 800 children aged 5 and younger die daily from diarrhea caused by contaminated water worldwide, according to UNICEF. Hart and her work with World Vision has been an answer to prayer for the people of Zambia. 
The organization has been the leading nongovernmental organization providing clean water in the developing world and is on the ground in Zambia, responding to the water crisis.  
Along with being an ambassador, Hart has been a long-time spokesperson for the World Vision Gift Catalog which also helps contribute to helping those in need.