Melissa McCarthy's Oscar Nomination for 'Bridesmaids' Comes as Shock to Some (VIDEO)
Melissa McCarthy, who was just nominated for an Oscar for her role in "Bridesmaids," received a surprising reaction when the announcement was made Tuesday.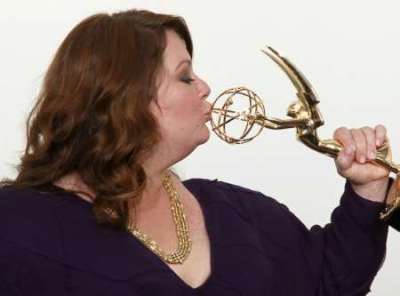 McCarthy was nominated for an Oscar as best supporting actress for her role as "Megan" in the comedy "Bridesmaids." However when the nomination was announced, a room filled with mostly reporters, gasped in surprise. Although the reaction can't exactly be explained, many attribute the shock to the fact the she did not receive any Golden Globe nominations.
McCarthy just recently won an Emmy for her work on the CBS sitcom "Mike & Molly." The actress, who began her career as a stand up comedian in New York, has come a long way from her roots. She was originally born in Illinois and raised on a farm.
Her first appearance on television was on NBC's comedy series "Jenny."  Perhaps her longest standing role was in the "Gilmore Girls" which aired from 2000-2007.
She was in "Samantha Who" from 2007-2009 and most recently took the leading role of Molly Flynn in "Mike & Molly." She has also appeared in films like "The Back Up Plan" and "Life as We Know It."
McCarthy has kept busy as a mother of two with upcoming roles in "ID Theft", "Tammy," and "This is Forty" a sequel to "Knocked Up."
The actress' nomination for an Oscar, after having been over looked by the Golden Globes, along with other unexpected nominations, has suggested that the Oscars will not be a duplicate of the awards given during the Globes.