Memorial Service Held for Arvella Schuller, Co-Founder of Crystal Cathedral Ministries and Force Behind 'Hour of Power'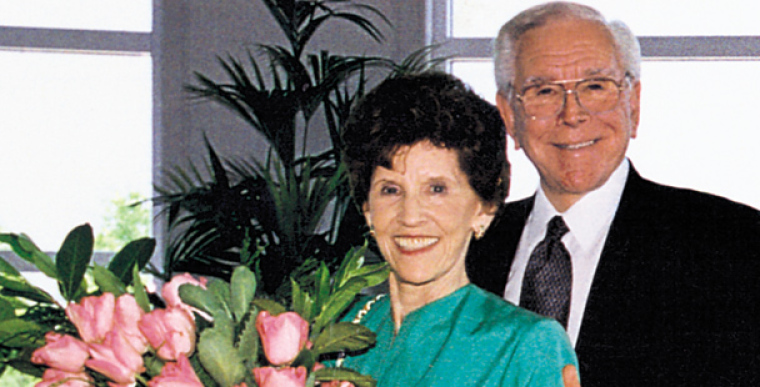 A memorial service for Arvella Schuller, who along with her husband, the Rev. Robert H. Schuller, was co-founder of Crystal Cathedral Ministries, was held late Tuesday afternoon. Considered the force behind the popular "Hour of Power" television program, Arvella Schuller unexpectedly died last week after a brief illness at the age of 84.
The service was held in the Arboretum at Christ Cathedral (formerly named Crystal Cathedral) in Garden Grove and "well attended," Dorie Mattson, a former director with the ministry for more than 20 years, told The Christian Post.
In a memorial tribute column by Mattson, she writes, "In her lecture entitled, 'Worship: The Inspirational Hour,' Mrs. Schuller spoke passionately on how the purpose of art was found in the priority of praise. This passion, was exemplified through her artistic endeavors on the 'Hour of Power' television ministry, as well as the children's and Glories ministries.
"Her passion embodied the words of Martin Luther who wrote that ... 'all the arts, especially music should be used in the service of Him who gave and made them.'"
Schuller was known as the "first lady" of Crystal Cathedral Ministries, the Orange County Register reported. One of her several roles in the church founded five decades ago, included being an organist in earlier times. Later, she helped create and produce the "Hour of Power" television ministry that began as a live, local broadcast that would reach millions of viewers globally.
"She was the power behind the 'Hour of Power,'" Anne Moore Waltz, who first met Schuller in 1956 and later became a singer in the ministry's choir, told the Register. "I give her credit for all of that."
The memorial service included a children's choir, vocalists, and an organist. "It reflected Arvella who was gifted in music herself," Mattson told CP. The Bible verse inside the program was "Love the Lord your God with all your heart" (Mark 12:30).
Words of encouragement were delivered by Richard Mouw, former president of Fuller Theological Seminary, and the message was given by Norbert Oesch. "A touching moment came with a video tribute of Mrs. Schuller that included highlights of her life as a wife, mother, grandmother, and producer of the Hour of Power television ministry," said Mattson.
The Register reported that Schuller had "her fingerprints on every element of production behind the 'Hour of Power' – from booking guests and editing content to fine-tuning her husband's sermons and crafting the music program."
"She was the brains behind the church," said broadcaster Ed Arnold, a volunteer announcer with the "Hour of Power," beginning it 1970, when it first aired. "[Robert Schuller] came up with the ideas, they would go over them together and she carried them out."
Arvella Schuller is survived by her husband of 63 years; son Robert; and daughters Sheila Coleman, Jeanne Dunn, Carol Milner and Gretchen Penner.