Message Bible Author Eugene Peterson: Homosexuality Not Wrong, Megachurches Aren't Real Churches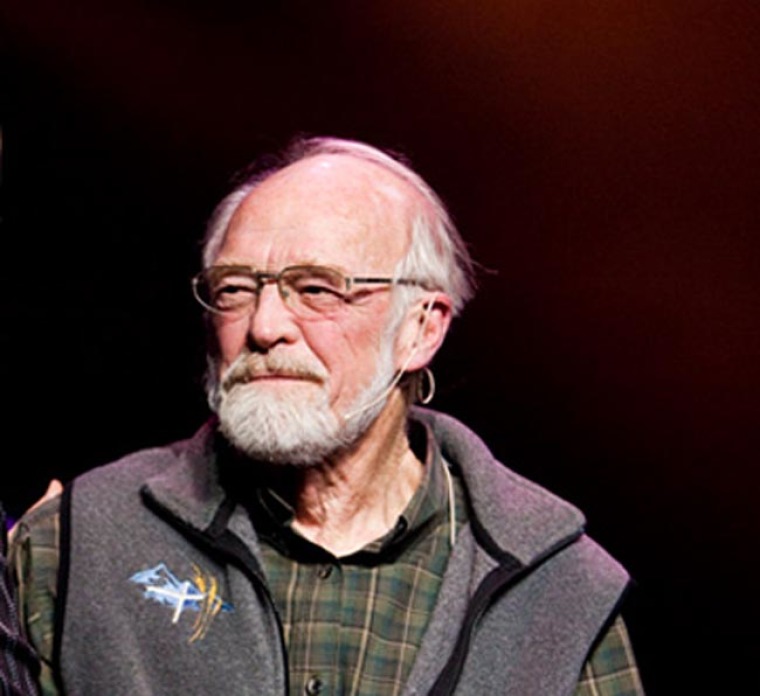 Eugene Peterson, the Presbyterian pastor who wrote the The Message, has come out in support of gay marriage, saying that he would officiate a same-sex wedding if asked.
In an interview with Jonathan Merritt at Religion News Service Wednesday, the author of more than 30 books said that he knows many gays and lesbians who "seem to have as good a spiritual life as I do," noting that he would not have said that 20 years ago. He added that he thinks the whole debate about gays and lesbians is probably "over."
"People who disapprove of it, they'll probably just go to another church," Peterson, who formerly pastored a PCUSA church, said.
"So we're in a transition and I think it's a transition for the best, for the good. I don't think it's something that you can parade, but it's not a right or wrong thing as far as I'm concerned."
He was asked if he were pastoring today and a same-sex couple in his church asked him to perform their wedding ceremony, would he do it. Peterson replied: "Yes."
The 84-year-old writer is perhaps best known for creating The Message, a reading Bible that uses contemporary language. The Message, as Merritt noted, does not use the words "homosexual" and "homosexuality" in key texts. 
Denny Burk, professor of Biblical Studies at Boyce College, argued that Peterson did more than leave out the words "homosexual."  
"[I]n the three New Testament passages that deal explicitly with homosexuality, Peterson obscures and conceals the Bible's meaning altogether (see Rom. 1:26-27, 1 Cor. 6:9-11, 1 Tim. 1:10 in The Message)," Burk, who wasn't surprised by Peterson's new comments on homosexuality, wrote on his blog.
Orthodox evangelicals across the Internet, meanwhile, lamented Peterson's new public stance.
"We have to be at least thankful for Peterson's honesty when he ends his answer with 'as far as I'm concerned,' but therein lies the problem. He's not the only one who's concerned. There is One who is infinitely more important than Peterson, who is also infinitely more concerned and has made Himself clear on this issue," said Colin Smothers, writing on the website of the Council of Biblical Manhood and Womanhood, referencing 1 Corinthians 6:9.
Similarly, Russell Moore, president of the Ethics & Religious Liberty Commission of the Southern Baptist Convention, called Peterson's words "so disappointing" on Twitter.
Merritt's own father, James Merritt, a Southern Baptist pastor who has served as president of the denomination, said of Peterson's words: "I'll change my mind when God changes his. His is the only opinion that matters and on this issue God neither stammers or stutters. #truth."
In a tweet Tuesday, Peterson said: "Exegesis is not mastering the text, but submitting to it as it is given to us."
John Mark Reynolds, senior fellow in the Humanities at The King's College, responded in light of the news Peterson now supports same-sex marriage: "Except when he doesn't like what it means."
"We will never forget how we had already almost forgotten Eugene Peterson," Reynolds noted in a subsequent tweet.
Sam Alberry, a celibate Anglican priest who has same-sex attraction, cited the words of Tim Keller, who has written that when Christians abandon their views about the moral wrongness of homosexuality after interacting with wise, loving gays and lesbians it indicates their previous views were already defective, and not grounded in scriptural teaching.
Meanwhile, Matthew Vines, who identifies as a gay Christian was elated, calling Peterson's move "huge" and an "amazing moment."
As part of that same interview with Merritt that was released Tuesday, Peterson had some strong words about the current American president and the state of evangelical Christianity.
"I think we're in a bad situation. I really do. Donald Trump is the enemy as far as I'm concerned," Peterson said.
"He has no morals. He has no integrity. But I have good friends who think he's wonderful. But I think they put up with it less and less. People are getting pretty tired of him, I think."
The author is reportedly finishing his final book and said that he is optimistic about what the future holds though he is most disturbed by megachurches.
"My feeling is that when you're a pastor, you know the people's names. When 5,000 people come into the church, you don't know anybody's name. I don't think you can be a pastor with just a bunch of anonymous people out there. In the megachurch, well, there's no relationship with anybody. I think the nature of the church is relational," he said.
"Now there's a lot of innovation in the church, and overall, I can't say I'm disheartened. I'm just upset by the fad-ism of the megachurch, but I just don't think they're churches. They're entertainment places."