Messiah College Professor Says Christians Should Study History, Stop Overreacting to 'War on Christmas'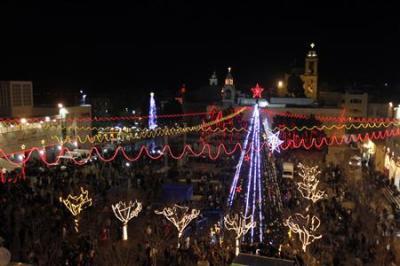 Holiday trees. Seasons Greetings. Carols devoid of religious references. Is there a "war on Christmas," as some cable news commentators and politicians believe?
John Fea, a Messiah College history professor, does not deny that there has been a shift in how Christmas is celebrated in the United States in the 21st century. But as he looks back into the country's past, investigating arguments by conservative political personalities like Sarah Palin and Bill O'Reilly calling for a return to the United States' "golden age" of Christmas, he is not convinced that such an era ever existed.
A scholar who specializes in early American history, Fea says that the claim that the U.S. once placed "the incarnation and the birth of Christ at the center of American culture," simply does not hold up historically.
"I would argue historically that Christmas in the sort of truly Christian understanding of the idea—that Jesus Christ came in the form of a man—that has never, never in American history been the primary motivation for why people celebrate Christmas," Fea told The Christian Post.
Fea, who recently authored Why Study History?, a book he hopes will convince Christians to delve more deeply and critically into the past, pointed to the earliest days of Americans history to illustrate the various ways that the holiday's meaning has been distorted.
Back in the 1600s, said Fea, Christmas was a week-long work-free "raucous" spectacle characterized by partying, drinking and parades. Fed up with its coarseness, the Puritans made it illegal to celebrate Christmas for 50 years that same century. When the holiday did take on a more national appeal, Fea said that it quickly became overwhelmed by consumerism.
While Fea is critical of the idea that a truly Christian version of Christmas was ever pervasive in the country, he finds it useful to examine America's observation of the holiday in light of the country's historical commitment to religious freedom.
"America has always celebrated religious freedom," said Fea. "There has never been a time in which the Christian religion was somehow privileged officially. However, culturally it has always been privileged."
Indeed, Fea believes that it is necessary to recognize just how much more ethnically and religiously diverse the country has become since the 1870s, when Ulysses S. Grant federally recognized the holiday.
"So when people get upset that Macy's is saying 'Happy holidays,' is there a change in the culture now? Of course there is. But the change in the culture reflects just broader changes in the culture like the diversity of American society," he said.
Fea also believes that celebrating the country's pluralism aligns with its original values.
"If you want to celebrate religious and ethnic freedom, which in many ways is at the heart of the Constitution and First Amendment, what's the big deal if you're trying to be as inclusive as possible by not focusing on one particular holiday, but saying 'Happy holidays' to everyone," he said.
The American history professor offered two takeaways for Christians to consider when trying to make sense of the war on Christmas.
First, Christians should take a step back from the spats over what the proper holiday greeting is and consider the copious ways the holiday manifests itself the entire month of December.
"Look around. Pick up your TV Guide and look at the TV shows on at night in the month of December. Drive down the street and look at the decorations. It's really, really hard to find Christmas taking a back seat to other religions. It's everywhere. It's ubiquitous," said Fea, adding that almost every radio station in the central Pennsylvania area where he lives is playing Christmas music.
Fea also challenged Christians to scrupulously study history, a task he believes enables individuals to learn how to "walk in the shoes of other people," and could help Christians better empathize with those outside the mainstream culture not celebrating Christmas.
"What does a Jew think about Christmas? What does a Hindu think, or someone who celebrates Kwanza? How are they perceiving it?" Fea asked. "If Christmas is the dominant cultural holiday in December, in what sense are we practicing Christian virtues, like hospitality, to those who are different? What if we were to simply listen to voices different than our own, rather than simply condemning those who we disagree with?"