Michael Brown Family's Church Torched, Destroyed; Pastor Suspects White Supremacists to Blame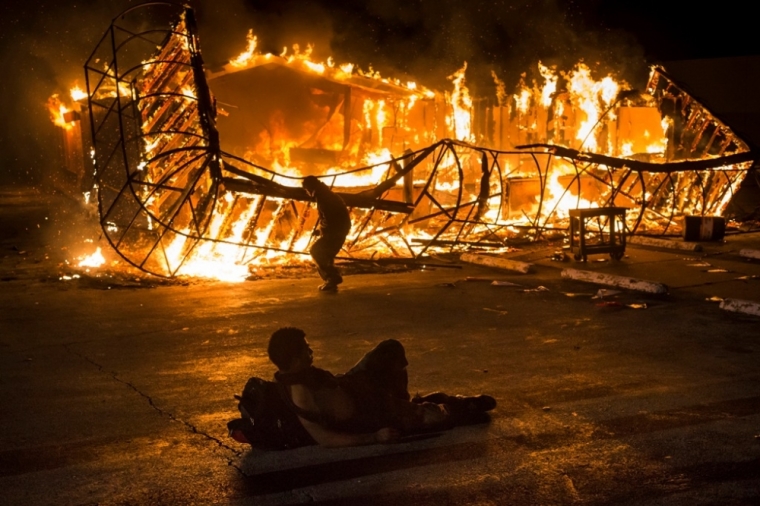 A Missouri church attended by Michael Brown Sr. was set ablaze on Monday night and the pastor suspects white supremacists are to blame.
Shortly after news of the grand jury announcement broke, activists across the nation launched demonstrations protesting the outcome. According to reports, looters in Ferguson smashed windows out of police cars as well as several establishments before setting them ablaze and The Flood Christian Church was among those destroyed.
Strangely, the church is located three miles away from the protests in a remote section of Country Club Hills and surrounding establishments were not damaged in any way. Pastor Carlton Lee, who has been advocating justice for the family of the late Michael Brown, also said he had received 71 death threats against himself and his church which has led him to believe that local demonstrators are not responsible.
"You go down this street, you see nothing else touched," said pastor Lee at a press conference on Tuesday. "There's significant structural damage. We don't know how bad it is yet."
On Monday, a St. Louis grand jury cleared Ferguson police officer Darren Wilson in the shooting death of 18-year-old Brown and as expected, the decision sparked nationwide protests.
Just one day prior, Brown Sr. (the father of Brown) had attended a service at the non-denominational church before being baptized at another church. Rev. Lee baptized Brown Sr, his wife, Cal, and their children.
"Sunday, we do the baptism, Monday, the church is on fire. It just doesn't add up," he said.
Lee, who participated in a number of demonstrations along side Brown Sr., believes his church was targeted simply because he openly supported the Brown family. He has known the family for several years after having officiated at their wedding ceremony.
"I'm very vocal in regards to the Michael Brown case," said Lee before recounting the moment he learned his church was torched. "The police called me and told me the church was on fire. I was in complete disbelief. I didn't think anyone would set a church on fire."
Lee said he invested a great deal emotionally and financially into his church and seeing it burn down has been understandably heartbreaking. Brown Sr. is also said to be "devastated."
"To see that it was taken down in a few minutes is really heartbreaking," he said. "I feel like one of my children has died. I put my blood, my sweat, my tears into this church, getting this church built from the ground up."
 Lee has vowed to rebuild the church and Brown Sr. is said to have offered to help him do so.
"We rebuild. We do not stop."