Al Sharpton Slams Grand Jury Decision After Darren Wilson Is Cleared; 'We Are Going to Continue to Pursue Justice'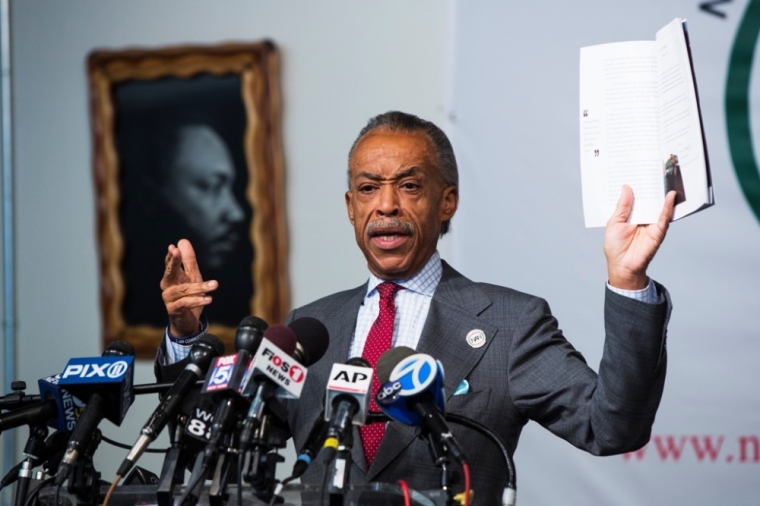 Al Sharpton slammed a St. Louis grand jury's decision to not indict Ferguson police officer Darren Wilson at a press conference on Tuesday.
The civil rights activist appeared alongside the parents of the-late Michael Brown, Michael Brown Sr. and Lesley McSpadden, and their attorneys at St. Marks Missionary Baptist Church in St. Louis. The grieving parents were initially expected to make a statement, however, they did not speak.
"Let the record be clear," Sharpton told reporters. "You have broken our hearts, but you have not broken our backs. We are going to continue to pursue justice."
On Aug. 9 Wilson fatally shot 18-year-old Brown on a Ferguson street and the case divided the nation. Supporters of the-late teen said the killing was unprovoked while the six-year veteran police officer claimed self defense.
Several witnesses who saw the shooting substantiated Wilson's account of the incident in their testimonies, which were supported by the three autopsy reports and evidence collected at the scene.
Many others who originally claimed to be witnesses to the shooting told investigators that Wilson stood over Brown's body and fired several rounds into his back, and some even claimed that Wilson shot Brown as he was running away, but later retracted their statements after revealing that they hadn't witnessed the altercation.
On Monday, 12 jurors, nine white and three black, cleared Wilson of any wrong doing. The jury convened and weighed evidence for three months and heard 70 hours of testimony from 60 witnesses, including three medical examiners, and experts on blood, DNA and firearms, before reaching a decision.
Nine of the 12 jurors had to agree on the indictment in order for the case to proceed in criminal court where Wilson would've been convicted or acquitted.
The jurors considered whether Wilson should be charged with any one of several possible crimes, including first-degree murder, second-degree murder, voluntary manslaughter, involuntary manslaughter, unlawful discharge of a firearm, or no charges if they found that Wilson acted in self defense.
Sharpton, along with attorneys for the Brown family, wasted no time criticizing the legal process and St. Louis prosecutor Bob McCulloch's handling of the case, which Sharpton said was "supposed to give clarity."
"A first-year law student would've done a better job," the MSNBC "Politics Nation" host who allegedly owes $4.5 million in unpaid taxes to the IRS boasted.
Prior to the grand jury announcement civil rights attorney Benjamin Crump, who represents the Brown family, slammed the process as "unfair." Tuesday he reiteratedhis accusation, adding that the parents of Brown were not surprised by the outcome.
"Let's be very honest about this process. We have the local prosecutor, who has a very symbiotic relationship with the local police. We could foresee what the outcome was going to be," Crump argued.
Shortly after the jury announcement, the parents of Brown released a heartfelt statement. They called for justice and peaceful protests.
"We are profoundly disappointed that the killer of our child will not face the consequence of his actions. While we understand that many others share our pain, we ask that you channel your frustration in ways that will make a positive change. We need to work together to fix the system that allowed this to happen," the statement read. "Join with us in our campaign to ensure that every police officer working the streets in this country wears a body camera. Answering violence with violence is not the appropriate reaction."
Shortly after news of the grand jury announcement broke, activists across the nation launched demonstrations protesting the outcome. According to reports, in Ferguson some looters smashed windows out of police cars as well as several businesses before setting them ablaze.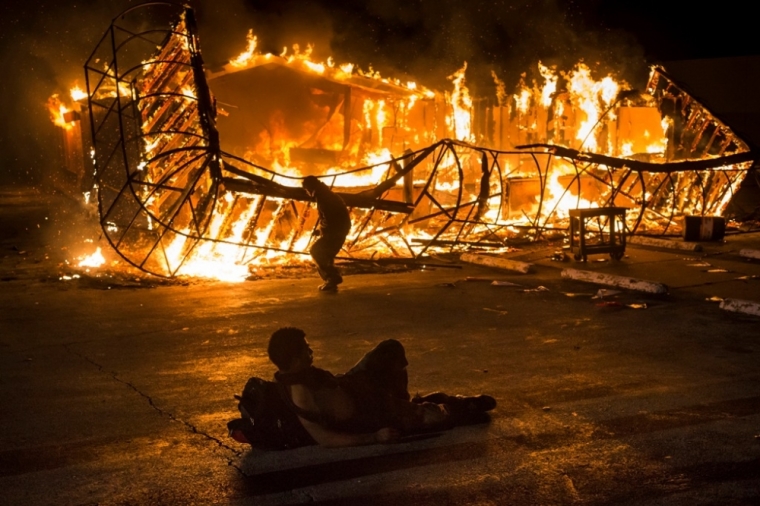 President Barack Obama called for peace in Ferguson during an address after the grand jury announcement. He also said the case signifies bigger issues that are still facing the nation.
"We need to recognize that the situation in Ferguson speaks to the broader challenges we still face as a nation," Obama said in a press conference. "We need to accept that this decision was the grand jury's to make. It's an outcome that, either way, was going to be a subject of intense disagreement not only in Ferguson, but across America."