Ferguson: Local Churches Serving as Safe Havens; Pastor Says Christians Should Respond to Civil Unrest by Promoting Prayer, Peace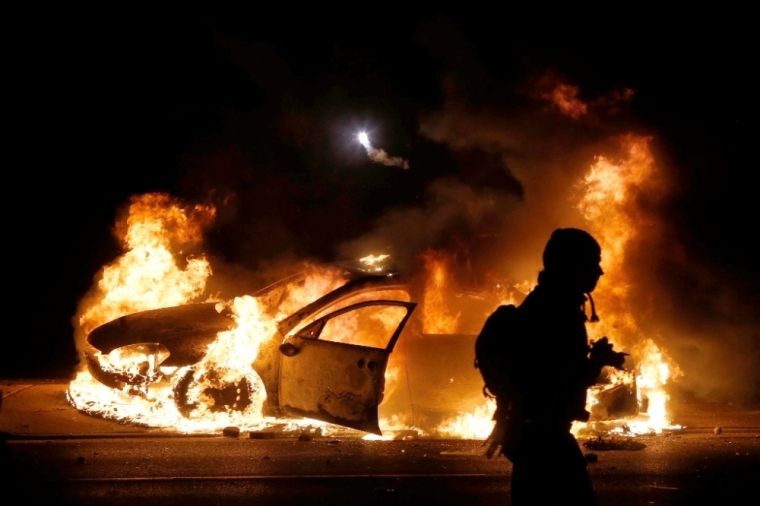 Local churches in Ferguson, Missouri are serving as safe havens for the community in the midst of turmoil and one local pastor is calling on Christians to promote peace and healing.
St. Stephen's Episcopal Church is among several local ministries that have opened their doors to the public in the wake of civil unrest and Rector Rev. Steven Lawler called for compassion and lots of prayer.
On Monday, a St. Louis grand jury in the Michael Brown case announced that it would not indict Ferguson police officer Darren Wilson over the shooting death of the-late teen.
Lawler's church has been a safe haven for local school children amid growing "fear and frustration." On Tuesday an estimated 50 children came.
"We are a safe haven for children who are out of school because the schools closed yesterday. We have some teachers here and some food and we've been responding to families who have their kids with them today because schools were closed," Lawler told The Christian Post. "We partnered with some other churches. [The] concern is to be here for kids and families, so we wanted to be a place of hospitality and we certainly have people here praying but this was a way for us to work with the community to provide a safe place for kids."
Since the Aug. 9 shooting death of Brown, protesters have taken to the streets daily demanding justice in the form of Wilson's arrest.
Shortly after news of the grand jury announcement broke, activists across the nation launched demonstrations protesting the outcome. According to reports, some looters smashed windows out of police cars as well as several businesses before setting them ablaze which has left local residents in fear.
Lawler said church volunteers were working to help clean up the damage created by looters.
"Yeah I think fear and frustration, both are pretty high. I think that today there's been some hopeful things happening and a number of people have shown up to help clean up. Folks have been out helping businesses that have been damaged, to clean up and board up and do the things that they can," he said.
Flames engulfed several businesses, including a beauty supply store, a pizza shop and a storage facility. The Flood Christian Church, where Mike Brown Sr. is a member, was also set ablaze.
"There are three churches that are partnering to do this: a southern Baptist church, a non-denominational Christian church and an Episcopal church, so it shows that connection of churches in the body of Christ working together which is hopeful," he added.
For months the case of Michael Brown divided the nation, however, Lawler believes now is the time for everyone to come together to promote peace.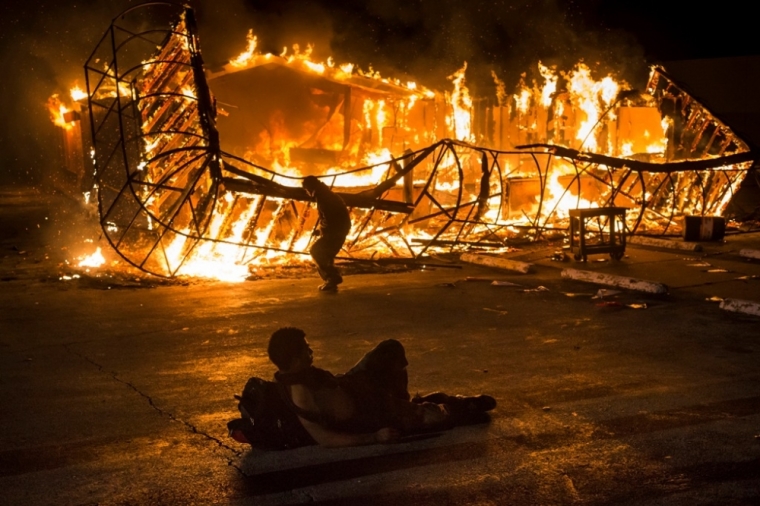 "I think this is really an important time (because we're people of compassion and reconciliation) to find some small peace. Whether it's the neighbor you've been in conflict with or someone whose life is different than your own …," he said.
"Last week in our readings the gospel was very clear," he continued before going on to quote scripture Matthew 25:44. "When Jesus' followers said to him 'when do we see you hungry, when do we see you naked, when do we see you as stranger.' So I think finding those ways to be faithful in this time is our call but it also is our contribution to knitting together the world that God intends."
Matthew 25:44 reads: "They also will answer, 'Lord, when did we see you hungry or thirsty or a stranger or needing clothes or sick or in prison, and did not help you?'"