#PrayForFerguson Trends on Twitter After Jurors Decide Not to Indict Darren Wilson and Violence Erupts in the Streets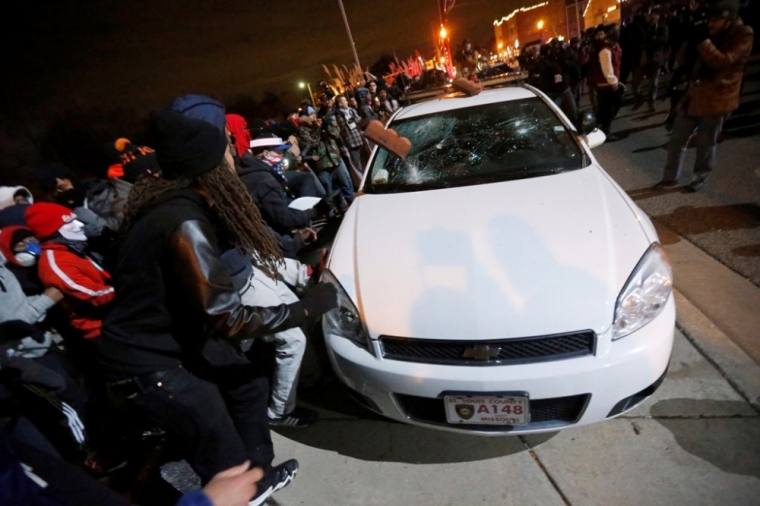 The hashtag "#PrayForFerguson" was trending nationwide on social networking site Twitter Tuesday morning as people shared their pleas for peace, love and healing following Monday's announcement that police officer Darren Wilson will not be indicted for fatally shooting an unarmed African-American teen.
In the moments following the announcement, #Ferguson was used more than 50,000 times a minute.
Those following the unrest that erupted in Ferguson streets Monday night used the hashtag #PrayForFerguson to share prayers such as @johnlcooper's "God, help us LOVE"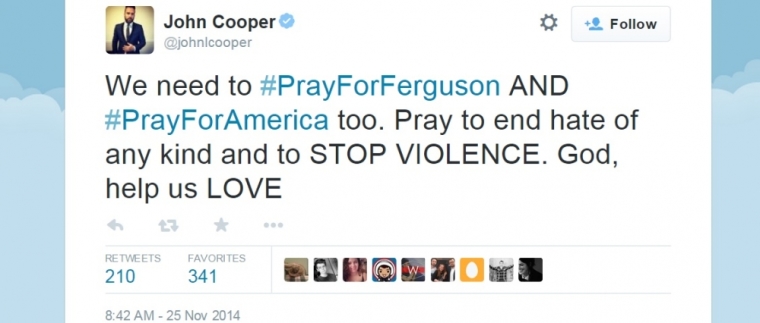 @scottmccown tweeted a similar prayer for nonviolence. "Father, may people put trust in you, not violence, not government but YOU."
Like McCown, many used the tag to voice their dismay at the looting and car fires caught by cameras. @korey_klien tweeted "Whatever 'side' you agree on, this is not how Americans should act" @ChrisGadlage also stated "Disappointing 2 see violence as response. How is justice served by destroying neighborhood?"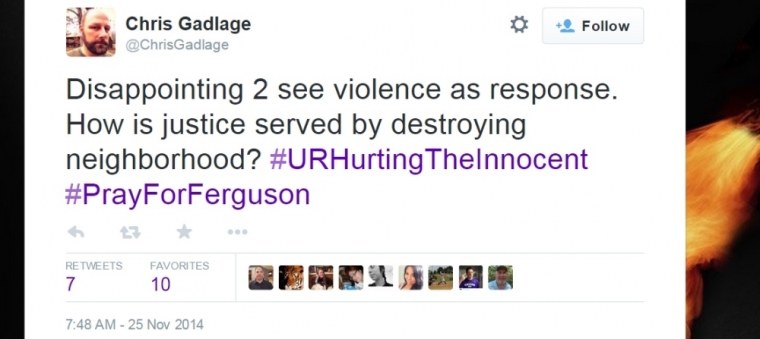 Some like @JC_0333 used the #PrayForFerguson tag to express well wishes to those affected by the looting that followed the peaceful protests "My heart is heavy for all the people who no longer have jobs as they were to the ground last night."
Monday night's street protests broke out after St. Louis County prosecuting attorney Robert McCulloch announced that the 12-member grand jury decided not to indict Officer Wilson for the fatal shooting of 18-year-old Brown on Aug. 9.
Wilson, a white police officer, shot the African-American teenager dead after an altercation inside the officer's car. Wilson argued that he felt threatened by Brown.
The grand jury, comprised of nine white and three black St. Louis County residents, weighed evidence for three months before making their decision. Nine of the 12 jurors had to agree on the indictment in order for the case to proceed in criminal court where Wilson would've be convicted or acquitted.
"The grand jury considered whether Wilson was the initial aggressor, in this case, or whether there was probable cause to believe that Wilson, as an officer, was authorized to use deadly force in this situation, or was acting in self defense," McCulloch explained, noting that jurors heard 70 hours of testimony from 60 witnesses, including three medical examiners, and experts on blood, DNA and firearms, among others.
The incident has taken on national significance as many in the African-American community rail against police brutality.
Brown's mother, Leslie McSpadden, was visibly shaken by the news that there would be no trial and cried aloud during a protest. President Barack Obama expressed sadness for Brown's parents Monday night but called for peace and calm.
Notable ministry leaders and celebrities also took to Twitter to talk about the decision as well as offer prayers for the city. Jesus is Greater than Religion author Jefferson Bethke tweeted "Watching CNN & my heart is breaking. To my black brothers and sisters, I stand with you. #BlackLivesMatter. Praying for shalom. Jesus, come."
Ed Stezer wrote "Christians must listen, understand, love and come alongside the Hurting in #Ferguson"
Former NBA player Earvin Magic Johnson revealed his disappointment with the decision stating: "We must work together to stop the unnecessary loss of young men of color. Justice was not served in Ferguson."
NFL player Reggie Bush tweeted: "Thoughts and prayers to people of Ferguson tonight."