Michael Brown's Parents to Address Police Brutality at UN Conference; Darren Wilson Indictment Decision Expected as Early as Next Week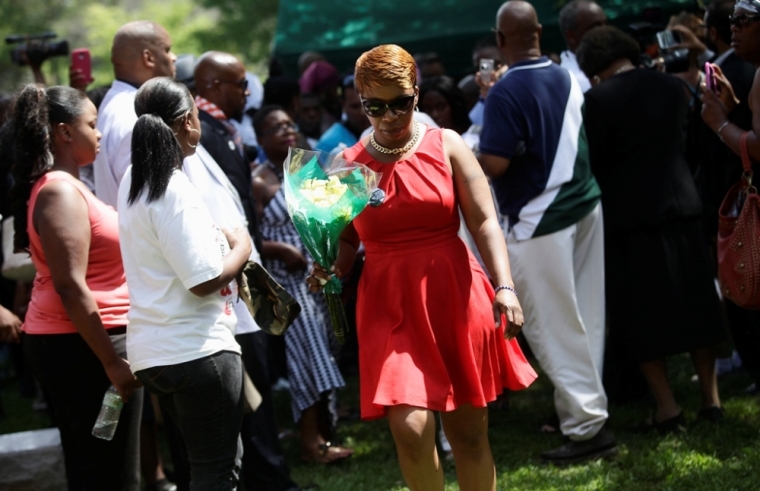 The parents of late teen Michael Brown are scheduled to speak at an upcoming United Nations human rights conference in Switzerland, and a grand jury indictment decision could come as early as next week.
Michael Brown Sr. and Lesley McSpadden will travel to Geneva on Monday where they will speak at the 53rd Session of the United Nations Committee Against Torture on Nov. 12 and 13. The grieving parents will take a stand against ongoing issues in the U.S. including civil rights violations, racial profiling and police brutality, according to a St. Louis University assistant law professor who is helping organize the trip.
On August 9, 18-year-old Brown, who was unarmed, was shot and killed by Ferguson Police officer Darren Wilson in what some witnesses said was an unprovoked attack. Wilson, on the other hand, is claiming self defense.
Brown Sr. and McSpadden have requested public donations to help cover costs for their U.N. trip to Geneva.
"In the absence of justice from the local, state, and federal government, the family of Michael Brown and Ferguson protesters are ready to take our case before the global community," states their 'Ferguson To Geneva' donation website. "We have submitted a brief to the United Nations (UN) … The goal is not only to achieve justice in Ferguson, but to unite governments around the world against the human rights violations that result from racial profiling and police violence."
Since the shooting death of Brown, protesters have taken to the streets of Ferguson everyday due to racial unrest, demanding justice in the form of Wilson's arrest.
A St. Louis County grand jury is still hearing evidence in the case and an indictment verdict could be reached as early as next week, according to Ed Magee, who is a representative for St. Louis County Prosecuting Attorney Robert P. McCulloch. Magee also confirmed that the St. Louis County Prosecutor's office has been in constant contact with the Brown family.
Rev. Osagyefo Uhuru Sekou, of The First Baptist Church in Jamaica Plain, has been arrested twice while protesting in Ferguson. He said that regardless of the grand jury outcome, protesters will continue with demonstrations because there are much greater issues facing the community.
"Well, the people are going to continue to resist, indictment or no indictment. They will continue to resist in various forms, whether it be in the courts or in the streets because this is not simply about an indictment," pastor Sekou told The Christian Post exclusively.
"The indictment of Darren Wilson would be the beginning of the possibilities of a just Ferguson, a just St. Louis, a just Missouri, a just nation, because you know it's not just about one bad cop, it's about an evil system, a draconian system of policing," he added.
Sekou said that while supporters of the Brown family initially began demonstrations in Aug. to protest the late teen's death, the rallies have also become about other issues facing the African-American community.