Michael Youssef holding worldwide evangelistic events to combat fading Gospel understanding (pt. 2)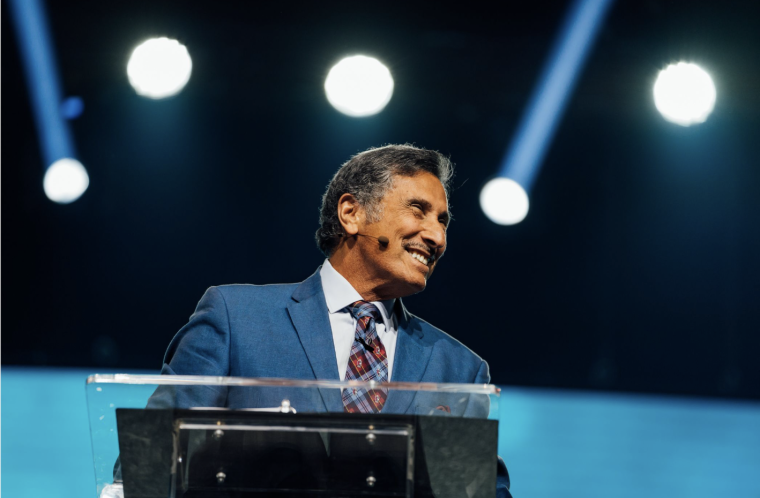 Read part 1 of Pastor Micahel Youssef's interview with The Christian Post here
As he holds evangelistic events around the world with the goal of bringing 1 million people to Christ by 2025, Pastor Michael Youssef is issuing a wake-up call to a Church he fears is becoming "inoculated" to the Gospel. 
In an interview with The Christian Post, the 74-year-old pastor of The Church of The Apostles in Atlanta, Georgia, revealed that at an evangelistic event in Macon, Georgia, earlier this year, 195 people responded to the invitation to follow Jesus Christ as their Lord and Savior — including some lifelong church attendees.
"A 71-year-old elder in his church came forward and he said, 'I never knew that I needed to be born again,'" Youssef shared. "A 64-year-old deacon in another church came forward and said the same thing after I explained why nobody is going to see the Kingdom of God without being born again. They said, 'We've been going to church all our lives and never knew this.' Stories like this abound in many ways."
It's this kind of pervasive "inoculation" to the Gospel, coupled with the growing number of young people leaving the Church, that has compelled Youssef to hold evangelistic events as an initiative of his ministry Leading the Way. The ministry now broadcasts Christ's message of hope to people on six continents and in 28 languages. 
"It's inoculation to the Gospel," he said. "I read a recent statistic that said 60 percent of churchgoers believe there are more ways to God than just Jesus. Now, I read the statistics, I have a Ph.D. in the subject, and I've done statistics and research in the sociology department. So, I'm very familiar with it theoretically, but now I'm experiencing it firsthand, where people literally have been in church and they come to these events thinking that they're going to bring their unsaved friends, but they themselves come to Christ because they realize that they are into 'churchianity,' but not the Christian faith."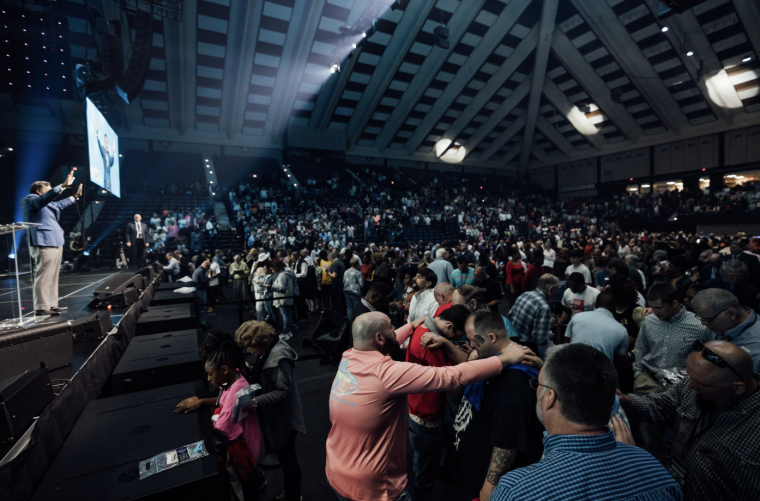 Youssef and his ministry partner with local churches to hold evangelistic events. Drawing from a training program designed by Rod Barnett, who has extensive experience with the Billy Graham organization, Youssef ensures that every individual who comes forward is paired with a counselor. 
The objective, he said, is to ensure that those new to the faith are incorporated into local church communities. In Georgia, 90% of those who embraced the Gospel are now active in churches.
"It was amazing; 400 churches that had never talked to each other, blacks and whites, became united in this effort," he said. "They did not know each other before the event and after the event, they were walking around the Colosseum holding hands and praying. When God's Holy Spirit transforms a life, we see so many other benefits that come out of it." 
Over the next several months, Youssef will be holding similar events in Ireland and in Cairo, Egypt with plans for more events next year. Though the message of the Gospel remains the same, the pastor said his messages are tailored to each individual audience. 
Born in Egypt, having lived in Lebanon, and spending significant years in Australia and the U.S., Youssef has a keen awareness of the adaptability required for cross-cultural communication, even within the Church.
"In the United States, I preached to a predominantly very intelligent, biblically informed congregation. And therefore, I preach an in-depth Bible expository, I go deep into the text," he said. 
"In the West, it's not just preaching the Word of God, but applying it to an affluent culture where everything is easy, where there's no suffering, there's no persecution. Persecution is coming, but at least it's not here yet. Therefore, the challenge and the application are very different when I'm speaking to a group of people who may be really feeling the pressure of being killed literally for turning to Christ."
Youssef lamented the lack of sound doctrine in both mainline and Evangelical churches today. He noted that before the "woke movement" began infiltrating churches, mainline denominations in the '60s and '70s began moving away from traditional Bible preaching toward moralism. He highlighted a long-standing movement, referencing the National Council of Churches, where churches have embraced social justice teachings over the Gospel for over a century. 
"Injustice, inequality — that is going to be solved when we get to Heaven," he said. "But meanwhile, we as faithful believers are called to take care of the poor, to minister to the needy, to visit the widows and orphans, and all of the things that the Bible said we do. We must do them as a result of the preaching of the Gospel, not in the place of the preaching of the Gospel."
Youssef expresses concern over modern Evangelicals questioning foundational beliefs and emphasizes the necessity for pastors to stay true to the biblical text as churches face the challenge of staying grounded in traditional teachings while addressing modern concerns.
"The Evangelicals who have preached the Gospel, who have called people to repentance, and now saying, 'Well, we don't really know. We're not really sure,'" he said.
"There's only one way to Jesus, and that is why it's vitally important for pastors to preach the text, to preach the Word and not use it as a springboard to jump into their little hobbyhorse," Youssef continued. "Let the text speak for itself. Tell them how the original hearers understood it, why it was spoken that way, and then bring it to application to the modern day. That has been lacking in churches for a long time."
"I want people to come to Christ, absolutely, but come to the right, real Christ, the Christ of the Bible," he said. "And then, once you come to Him, feed on the Word of God, because that is our nourishment. Spend time daily in the Word of God, because biblical illiteracy is the greatest problem in the Church in America. That is really my biggest burden for us."