Michelle Obama and Daughters Light Candles in Milan Cathedral for Charleston Church Massacre Victims
Michelle Obama and Daughters Light Candles in Milan Cathedral for Charleston Church Massacre Victims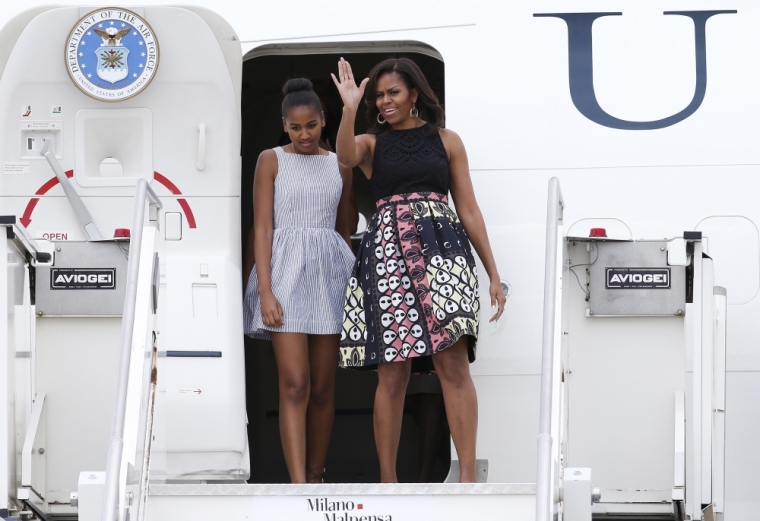 Michelle Obama and her daughters Sasha and Malia paid their respects to the nine victims of the church massacre in Charleston, North Carolina by lighting candles at the Duomo Cathedral in Milan, Italy on Thursday.
Although the first lady made no comment nor issued a statement, an official at Duomo said Obama and her daughters lit candles in memory of the victims along their unannounced stop at the Gothic-inspired church, according to the Associated Press. The trio were also joined by Obama's mother, Marian Robinson, the official said.
On Wednesday night, suspected shooter Dylann Roof opened fire during a prayer meeting at Charleston's historic Emanuel African Methodist Episcopal Church, killing nine people and injuring three. The 21-year-old South Carolina native has been taken into custody where he admitted to the crime on Friday, and his gun charge alone was set on a $1 million bond, while the nine counts of murder are ineligible for bond. Roof's next court date is set for Oct. 23.
Before the First Lady paid her respects to the nine victims in Milan on Thursday, President Obama said the shooting was "particularly heartbreaking" before renewing his efforts for stricter gun laws.
"We don't have all the facts, but we do know that, once again, innocent people were killed in part because someone who wanted to inflict harm had no trouble getting their hands on a gun," said the Commander in Chief.
Obama added: "Any death of this sort is a tragedy. Any shooting involving multiple victims is a tragedy. There is something particularly heartbreaking about the death happening in a place in which we seek solace, and we seek peace, in a place of worship."
Friday afternoon, an emotional hearing saw statements from victim's family members, including many who offered Roof forgiveness. Roof, who appeared in court via video-conferencing for safety reasons, remained impassive.