Michelle Obama Introduces Help for Caregivers of Wounded Veterans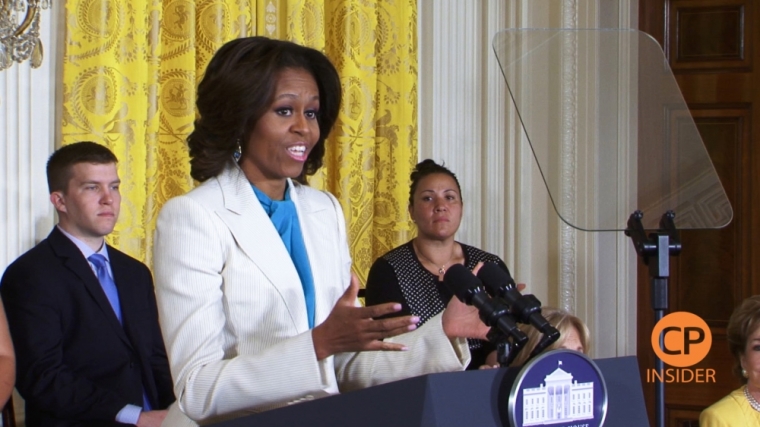 WASHINGTON — First lady Michelle Obama was joined Friday by former first lady Rosalynn Carter, former Sen. Elizabeth Dole (R-N.C.) and Jill Biden to announce new initiatives for Joining Forces, a program to help the caregivers of wounded veterans.
Wounded veteran caregivers should connect with the resources they need, Obama encouraged at a White House event introducing the new initiatives. Some of these resources can be found at caregiver.va.gov or militaryonesource.mil.
She recalled meeting with a group of veteran caregivers at Fort Belvoir. It was the military base's first meeting of its kind, she said. Soon, those at the meeting discovered that "talking to peers" who are dealing with the same struggles was "powerful."
As the caregivers shared stories and information with each other, "pretty soon, they forgot I was in the room," Obama joked as the audience laughed.
The success of that meeting will now be emulated at U.S. military installations. Over the next 14 months, the Department of Defense will set up in-person peer-to-peer forums at every U.S. military installation around the world that cares for wounded veterans. There will be additional online resources for those caregivers who do not live near one of these installations.
Obama added that she is encouraged by the broad support Joining Forces has received, including Republicans and Democrats, business and labor.
Faith communities are also partnering with Joining Forces. Pastor Joel Osteen of Lakewood Church in Houston, who had originally planned to attend the event before it was rescheduled, will dedicate a service on April 27 to bring attention to the needs of the caregivers of wounded veterans.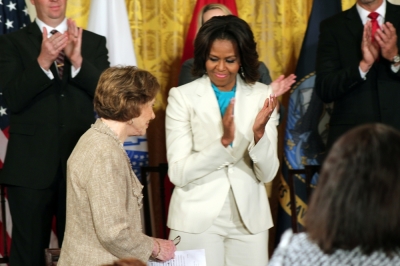 The recent shooting at Fort Hood by a military veteran who was being assessed for mental health problems was mentioned by some of the speakers at the event.
After mentioning her prayers for the families of the victims, Carter said, "We must honor them" by increasing support services for wounded veterans.
In addition to the peer-to-peer support initiative, Joining Forces is working with other groups to train 10,000 peer mentors, 50 trainers and 10 master trainers for a peer mentorship program, to implement a series of bi-monthly online training seminars, and to launch a website to provide caregivers free financial, legal and social resources. Additionally, the U.S. Chamber of Commerce is helping Joining Forces with a job fair program to help caregivers find jobs with the flexibility they need to continue providing care for wounded veteran family members.
You can watch part of Obama's speech below: