Mike Huckabee Leaves Fox News to Mull 2016 Presidential Bid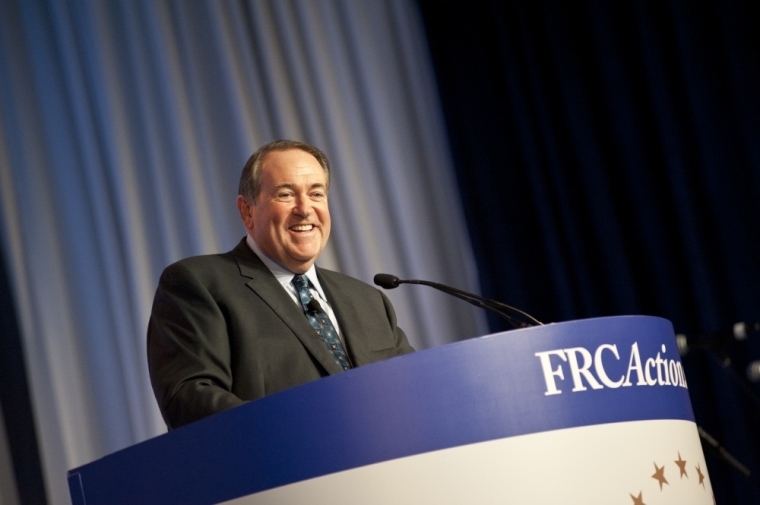 Former Arkansas Gov. Mike Huckabee told his viewers Saturday night that he is leaving Fox News to explore another bid for the White House in 2016. He said he won't decide until late in the spring.
"That's it for the 'Huckabee' show," he said Saturday night. "As much as I have loved doing the show, I cannot bring myself to rule out another presidential run."
However, Huckabee, who is leading polls for the Iowa Republican Presidential Caucus as per a survey of data by Real Clear Politics, clarified that "I'm not making that announcement right now and my timetable is still just what wait was before, later this spring, but I agree with Fox this is the right thing and now is the right time."
At the end of the last show, Huckabee said he would like to make guest appearances on Fox News.
He also thanked the network chairman Roger Ailes for his program, which ran for about six years. He has been with Fox News since just months after the end of his first presidential campaign in 2008.
Huckabee made the announcement about his exit from the network earlier on Saturday.
"This evening I wanted to share with you some news that is very personal to me. Because you have been such a good friend and a strong supporter of all my efforts, I wanted you to know first that tonight I will do more than just say goodnight on my Fox show. I will say goodbye," he said in a statement.
"It has been the ride of a lifetime, and I have never had so much fun in my life," he added. "But I also realize that God hasn't put me on earth just to have a good time or to make a good living, but rather has put me on earth to try to make a good life."
He acknowledged that there has been a great deal of speculation as to whether he would run for President next year. "I won't make a decision about running until late in the spring of 2015, but the continued chatter has put Fox News into a position that is not fair to them," he explained.
"The honorable thing to do at this point is to end my tenure here at Fox so I can openly talk with potential donors and supporters and gauge support," he said.
He said he is leaving the show "to enter a zone of comfort to engage in the conflicts that have almost destroyed the bedrock foundations of America."
"As we say in television, stay tuned!" he concluded.
Huckabee had earlier told a group of pastors he'd let the Lord decide if he should run for president.
"The first question he was asked was whether or not he was running for president and he said he'd let the Lord decide," ABC quoted Warren Watkins, pastor of Westside Baptist Church, as saying, of pastors' interaction with Huckabee at a meeting at the Convention Center in Little Rock, Ark. In December 2013.
"I think most of the evangelical pastors are already behind him, but I thought this was a great event for him to do that probably," added David Insell, pastor of Believer's Community Church in Batesville, Ark., who was also at the meeting.