Mike Pence Ridiculed for Practicing 'Billy Graham Rule'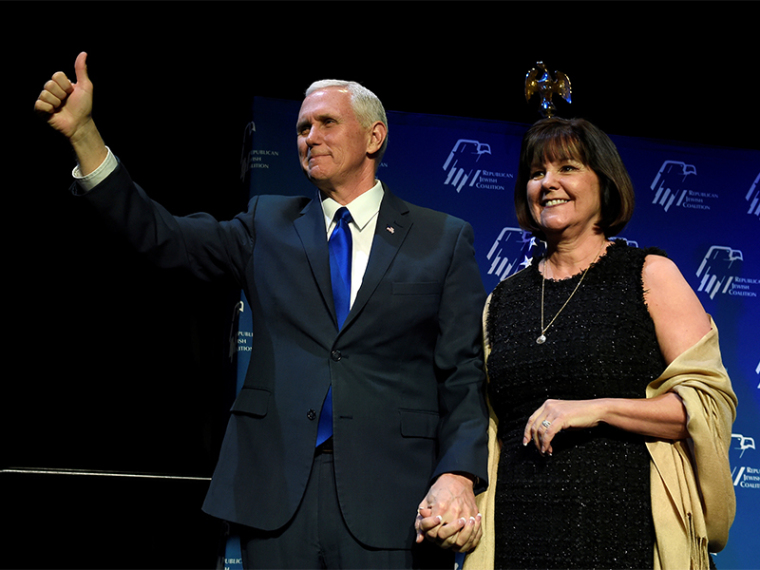 Vice President Mike Pence has become Internet fodder this week for how he and his wife steward their marriage. Pence reportedly does not dine alone with any woman other than his wife and will not attend social events where alcohol is present without her, what some call the "Billy Graham rule."
A Tuesday Washington Post profile of Second Lady Karen Pence described the closeness of the Pences and referenced a 2002 Hill article when then Congressman Pence said that in DC "if there's alcohol being served and people are being loose, I want to have the best-looking brunette in the room standing next to me," referring to his wife.
Reaction across the Internet highlighted the deep divide that exists on the left and the right regarding gender and relationships, and resurrected the debate over a "rule" by which the most famous American evangelist governed his affairs and ministry.
Mike Pence never eats alone with a woman other than his wife. This says a lot about how he views himself and his self-control. https:/t.co/Tg7gMxOiDd

— Laila Lalami (@LailaLalami) March 30, 2017
Many liberals mocked the safeguards the Pences practiced as evidence of outdated gender roles, with several on Twitter intimating he was some kind of animal who cannot control his sexual urges.
But not everyone on the left joined in. Michael Wear, a Democrat and evangelical who served in the Obama White House, chided liberal publications mocking the Pences' approach to their marriage, tweeting: "If your outlet has been publishing 'the case for open marriage' every week for the last five years, maybe sit out this Pence convo."
On the conservative side, the Pences received applause and several writers decried the mockery he received. Senior Editor of The Federalist Mollie Hemingway said of the sneering that the "people mocking Pence for the protections he puts on his behavior must not know the people I know or suffer the temptations I face.
"They must not read the headlines about marriages ending due to infidelity. I have far too many friends who found their inhibitions lowered by alcohol and distance from a spouse. The end result of their lapse in judgment has in some cases been the destruction of their marriage. As it is, Pence's smart tactics for avoiding the kind of marital failure that could destroy him, his wife, their family, and the lives of those around them is to be commended and celebrated."
Hemingway's husband, Mark, who writes for the conservative Weekly Standard, observed that many of the journalists lambasting Pence have themselves been unfaithful.
Kind of amazing that I've now seen multiple journalists who have had public problems with infidelity attack Pence.

— Mark Hemingway (@Heminator) March 30, 2017
Political comedian Tim Young joked, "Geez.. for people who say no one should care about someone's sex life, the Left sure is obsessed with Mike Pence's."
Much of the contention, however, centers on what is known as the "Billy Graham Rule," which Saddleback Church Pastor Rick Warren follows. As The Gospel Coalition noted Thursday, according to Graham's biography in 1948 in Modesto, California, "Graham initiated discussion with the men (close friends and associates) about problems they had witnessed among other evangelists, actions that had undermined the integrity of the gospel message, revealed hypocrisy, and ruined lives."
Money and sexual immorality were the biggest dangers pointed out by Graham and his colleagues. They "pledged among ourselves to avoid any situation that would have even the appearance of compromise or suspicion." "From that day on, I did not travel, meet or eat alone with a woman other than my wife," Graham wrote.
While expressing respect for Graham who created the rule as a safeguard against immorality, San Francisco writer Laura Turner nevertheless argued that it dehumanizes women and is "anti-gospel." The Billy Graham rule, she said, places wedges between the sexes, reducing females to sexual temptations men must avoid at all costs.
What the Billy Graham rule does is reduce women to sexual temptations, objects, things to be avoided. It is dehumanizing, anti-gospel.

— Laura Turner (@lkoturner) March 29, 2017
Does Pence eat alone with men for work? If so, he's not practicing the #GoldenRule. #EgalChurchhttps://t.co/dUcBPvCmS8

— Julie Walsh (@EgalChurch) March 30, 2017
But all this fussing yields a revealing cultural moment, confirming the conservative evangelical Christians' beliefs that the secular left cannot relate to them at all, according to The Washington Post's Aaron Blake.
"The commentary on the left" on this subject reveals that "plenty of people in the United States simply don't understand [evangelicals] and have dismissed them as Neanderthals — deplorables, even. The fact that this kind of arrangement is so foreign and unthinkable to some people in this country reinforces what separate worlds we live in," Blake said.
"But then, we already knew that, right?" he concluded.